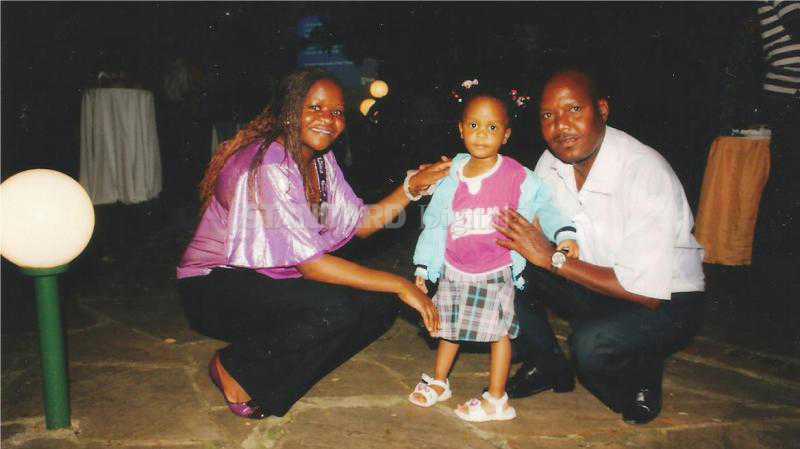 "Your death left a heartache no one can heal/but your love left a memory no one can steal," reads a poem that was published in the local dailies. It is a poem of a grieving Letangule to his late wife, Esther Kagwiria, a heartfelt tribute to a lost love.
I wish Esther was here. What if we had caught the symptoms earlier?... What if I'd have transferred her to a better facility in time? Maybe she would still be alive.
When she died, Esther's sister, other relatives, and friends stepped in to help with the children. Namunyak, the newborn then, was raised for a year or so by her aunt. I have two house helps now, who help with the chores and managing the household.
I know the children must feel the gap that their mother left, but I do my best. Even though I'm a very busy man, I make time to show up for their school events and spend time with them over the weekends. I know the value of a father in moulding the characters of his children. It is a role I don't take lightly.
I met Esther Kagwiria, through a mutual friend in 2006. She was a sweet girl with a welcoming nature. She was the perfect match for me. She was also deeply religious and prayerful, which I admired. After the birth of our first child in 2007, we got married in a traditional ceremony. She was my second wife.
Esther gave birth to our second child, without incident soon after. Her third pregnancy, which was to cost her life, was also initially a relatively smooth one. Apart from swelling of hands and feet, which we assumed to be normal in pregnancy, she didn't have any other complaints. At that time, at IEBC, we were busy with the post-election disputes- we had over 2000 complaints. I was working long hours as we looked through files and prepared for cases.
The worrisome blood pressure
The day she died began like any other. I recall rushing off to work without breakfast. Esther was to accompany our eldest daughter, Brigel, to school before attending to other errands. That was the last time I would see her alive.
I later learned that after she had dropped Brigel off at the school, she had asked the driver to take her to Family Care Medical Centre and Maternity Home in Nairobi West where she had an antenatal appointment. She was worried about her blood pressure.
Our other children had been delivered at the same facility without a hitch, so we didn't see any need to go to a different one. But with the benefit of hindsight, I wish we had. As an IEBC commissioner, I had an amazing health cover and Esther could have been treated at any facility in the country.
At around 3pm, I received a text message saying "We want to refer your wife, please call me back."
The text sent me into panic mode. On calling back, the hospital representative didn't divulge any clear details, but alluded that both Esther and the baby were fine. It was a raining heavily- which made Nairobi traffic even worse than usual as I made my way to the hospital.
As we were on our way, I received another text from the hospital. They wanted to know if they could transfer Esther to another hospital. I suggested Nairobi Hospital but we settled on Nairobi West Hospital as it was nearer. A few minutes later, they told me to proceed to Family Care Medical Centre and Maternity Hospital first.
At the Madaraka Estate roundabout, I got anxious. The traffic had come to a standstill. So I alighted and ran the rest of the way, through the rain, to the hospital. On getting there, I immediately knew that something was terribly wrong.
The doctor was stammering and avoiding eye contact. He finally blurted out that they had lost Esther. That hit me hard. Just that morning my wife was OK and now she was no more! I couldn't process it.
While I was happy to meet my daughter, who I named Namunyak "the lucky one" my joy was overshadowed by grief.
Brigel was old enough to understand what was happening but our son Warren was too young to know what was going on.
As I thought about the events leading to my wife's demise, I was convinced that her death was due to medical negligence. I consulted with another lawyer who advised me to report the case to the police and record a statement immediately.
Esther was finally laid to rest on 20 April, 2013 at our home in Nakuru County.
My advice to other men is to be more involved in their wives' pregnancies."