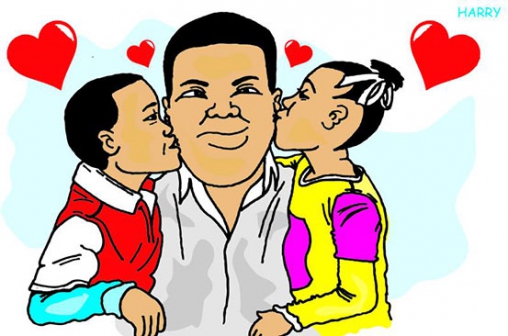 NAIROBI: Today is Father's Day when we celebrate the impact fathers and father figures have in the lives of their children.
Unlike similar occasions like Valentine's and Mother's Day, Father's Day has over the years passed without as much as a mention. However, this year seems different as there is a lot of media hype about it.
Indeed, modern society is becoming increasingly ungrateful for the role fathers play in bringing up strong families.
Do not get me wrong though. There are many bad examples of what fatherhood is all about. These include those who drink themselves silly and totally neglect their parental responsibilities. On the flip-side, there are many fathers who are authentic and love their families unconditionally.
Read More
I believe I am one of the millions of well-meaning fathers who work their backsides off in search of a better future for their children.
But more than toiling to meet the material well-being of their families, there is an emotional side of fathers that has gone largely unappreciated. Yes, men also have a softer side that just needs to be stoked to produce fire! I am a father of two boys and one girl. My last child is autistic. Now, those who God has given the onerous responsibility of bringing up a child with autism will agree that taking care of an autistic child is comparable to handling at least two active children.
Do not even mention the massive financial load that one has to carry to cater for the special needs of autistic children as they grow up.
While helping to take care of my six-and-a-half year old autistic son has been the biggest challenge in my life yet, it has also been a very rewarding experience.
As a man, it woke me up to the reality of what mothers go through nurturing our children. I can now confidently say I am an expert in baby-sitting and all that goes with it.
Short of suckling my autistic son, I have done all what is practically possible for him — from changing diapers to bathing and toilet-training to feeding — and I can authoritatively say I have been in the trenches of parenting.
I have spent sleepless nights when the boy was turning and tossing due to gastro-intestinal disturbances and I have put on a brave face amid curious stares when he suffered meltdowns and threw tantrums in public. It is not an obvious thing to do. I am in a couple of social support groups of parents with autistic children where some mothers fall short of cursing their spouses for neglecting these children.
Sadly, these mothers have been left to undergo the emotional drain and physical exertion on their own. The men simply throw money at the problem without offering the necessary physical support.
I do not feel extraordinary for rolling up my sleeves and doing what a father needs to do. Rather, I feel a priceless fulfillment that, in my old age, I will look back with pride for rising to the occasion and performing my duties as a father as a father to the best of my ability. I hope that I am now a model father to my teenage first son and other young men who might have been following what I do.
There is a lot of hope that fathers are rediscovering themselves and it is now normal to see men hurrying with their children to some place because their mothers are either at home relaxing or are engaged in something else.
Go ahead and give your father a hug today. Ignore the malicious stereotypes created by those who want to undermine the role of fathers.
Fathers have a special place in the lives of their families and are irreplaceable. Let all conscientious fathers stand up to be counted and walk tall.
The writer is the executive director, Centre for Climate Change Awareness. [email protected]