Kenyan rugby has mauled and rucked its way to the top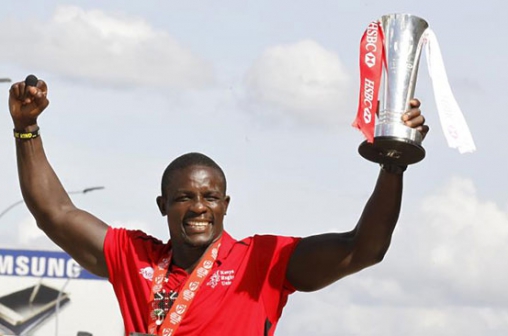 NAIROBI: On Sunday, April the 17, Kenya's Sevens rugby team entered the history books in the most spectacular way by winning the Main Cup in the highly competitive HSBC Sevens World Series circuit.
The result excited and united the entire country considering that the Kenya Sevens team ran over World champions Fiji in a pulsating match at the Singapore Sevens leg of the series
For the past week, accolades have poured in with politicians with absolutely no sporting credentials, elbowing each other for a piece of spotlight with opportunistic congratulatory messages.
In far flung places like New Zealand, All Black legend and 1987 Rugby World Cup winner Sean Fitzpatrick told BBC Sport that Kenya's win was mind-boggling. Kenya's moment had arrived at the World Rugby Sevens stage but not many people, both in Kenya and abroad, understand how long the journey had taken.
To paraphrase wartime Prime Minister Sir Winston Churchill, "never before was so much owed to so many by so few."
Churchill was paying tribute to the Royal Air Force (RAF) for having kept Adolf Hitler's Luftwaffe Air Force from capturing Great Britain during the Second World War.
Three years earlier, it was the RAF who introduced Seven-A-Side rugby to Kenya at their base in Eastleigh in 1937. The game would grow from strength to strength over the years but in the last 30 or so years, this phrase would aptly describe Kenya's victory in Singapore.
EARLY BEGINNINGS
While the history of Rugby Union in Kenya, the 15-a-side version of the game can be traced to 1925 when Kenya Colony played the Royal Navy, it was not until 1982 that black Kenyans played in Sevens tournaments held locally.
The tournaments were the Royal Armed Forces Sevens held annually from 1937. The other tournaments included the Harlequin Christie Sevens and the Gestetner Sevens.
The history of Kenya Sevens starts in 1977 with the formation of Mean Machine which revolutionised the game of Sevens as we know it in Kenya today.
Tom Oketch, Wycliffe Mukulu, Absalom "Bimbo" Mutere, Ben Mukuria, Godfrey "Chief" Edebe and George "Kajiwe" Mng'ong'o were members of the two-month old University of Nairobi outfit that won their first Christie Sevens in March 1977.
The formation of Mwamba RFC a year later reinforced that revolution when the black shirts captured the Christie Sevens in July 1978, their first piece of silverware.
Notably Oketch, Mukuria, Mutere, Kadir Shapi, Coutts Otolo, Mng'ong'o and Dave Awimbo were at the heart of that victory as pioneer members of Mwamba.
They brought in a new flair of open play and an entertaining style of rugby that challenged the traditional formations favoured by predominantly European sides.
It was a statement of defiance and proof that Africans could play rugby just as well as anyone else. The two African teams, Mean Machine and Mwamba, would go on to dominate Sevens and maintain a stranglehold on the RAF, Christie and the Gestetner tournaments.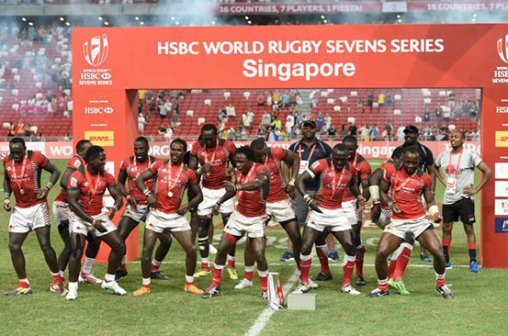 Seven-A-Side was turned into a see-saw battle between Mean Machine and Mwamba.
Nowhere in the country did the new ideas and methods flourish more productively than at Mean Machine, Mwamba RFC and to a lesser extent Blak Blad of Kenyatta College.
Miro RFC, the black invitational team's 1979 victory against touring Blackheath, only served to illustrate the successes of these methods even at 15s rugby.
It was not until 1981 that Kenya Harlequins would break the Mean Machine — Mwamba stranglehold on Sevens when they won all three tournaments.
By the 1981/1982 season, these tactics, ideas and methods had seeped and trickled into Kenya Harlequins and Impala.
The transitioning of players such as Jackson Omaido, Beth Omolo, JJ Masiga, Edebe, Mukulu from Mean Machine and Blak Blad to Harlequins and Impala made the transfer of methods complete.
It was this open and athletic style of play that would eventually morph into and launch Watembezi Pacesetters successfully onto the international stage. The new breeds of players coming out of high schools such as Mike "Tank" Otieno, Max Muniafu, Daniel Kimoro, Evans Vitisia, Pritt Nyandatt and company transformed into eager adherents of this style.
Kimoro would later recall: "We were students of the game. We sat for hours talking rugby, reviewing games, tactics and discussing training."
The excitement of local clubs' successes inspired students in public schools beginning the start of steady stream of young talent aspiring for club rugby glory.
In March 1982, the Seventh East African Tuskers went on their final tour to Zambia and Zimbabwe. As one door closed, another would soon open.
Mukulu, a Mean Machine and Mwamba founder member, came to learn of the Dubai Sevens while working for a bank in Dubai.
He shared the idea of participating as a Kenyan side when he returned home.
"I spoke to Dennis Awori, George Kariuki, Richard Njoba and a few other friends about forming a team to play in Dubai," Mukulu said in 2013. "If we won the tournament we would get an invite to the Hong Kong Sevens."
Many were doubtful that the enthusiastic Kenyans could pull it off. Mukulu's resolve would pay off and an invitation to Dubai Sevens arrived at the Kenya Rugby Football Union which gave its blessings albeit without a budget. It was in the background of these challenges that the Watembezi Pacesetters was formed.
FORMATION OF WATEMBEZI
The founders of this team were some of the more renowned African players of their time.
Among them, Jackson Omaido, Richard Njoba, Mukulu, Bethuel Alunga Omolo, Oketch, Edebe, Jimmy Owino, Dennis Awori, Max Muniafu and JJ Masiga.
Watembezi participated in the 1982 edition of the Dubai Sevens and took the game by a storm.
They thrashed the hosts Dubai Exiles Club 18-0 in the semis and subdued the Bahrain RFC 24-8 to win the Dubai International Sevens in their first attempt.
The robust Kenyans left an indelible mark with their rampaging three quarter play.
Winger JJ Masiga won a one-foot long golden trophy for the best player. Masiga was by then a renowned international football who turned out for AFC Leopards and the national team, Harambee Stars.
Watembezi would go on to replicate this victory in Muscat-Oman in February 1983 and again defend the title in Dubai.
The victories opened the doors to Hong Kong Sevens in 1986. In 1986 Watembezi morphed into Kenya Sevens with its first shot on the world stage in Hong Kong. The Kenya team was pooled alongside Australia, Bahrain and Malaysia.
Kenya's Sevens exploits were well-known and pundits expected the African nation to present a formidable challenge against established sides such as Australia in Hong Kong.
"I was in Hong Kong 30 years ago and there was a buzz about the Kenyan team.
It may have emanated from the press corps that had covered us in Dubai with Watembezi the past three or so years," Beth Omolo said.
Both Kenya and Hong Kong had won their pool openers. However, the expected upset did not take place as a David Campese-inspired Australia defeated Kenya 31-10 to consign them to the Plate competition.
Kenya's debut on the world stage was well received.
However, world politics inspired an international sports boycott of South Africa due to the apartheid system and it would be another six years before Kenya Sevens was seen on the world stage again.
Locally, rugby hit a sharp decline in the early 90s. A freak accident resulting in the death of Ken Kanyi at the Impala Floodlit in 1992 resulted in almost a whole generation of rugby players quitting the game.