Nairobians do not know the city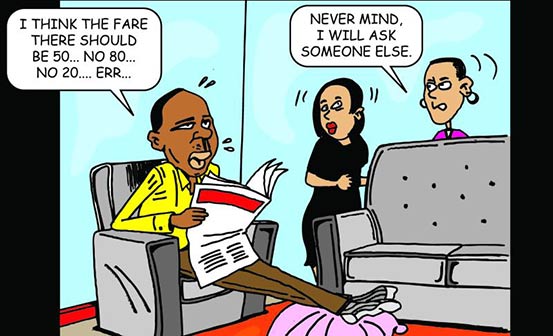 It is now close to two decades since I settled in Nairobi, the green city in the sun. It has been a tumultuous ride, and it gives me tremendous pride to identify myself as a Nairobian.
Nairobi is the heart of Kenya and is famous for its rich cultural heritage. It boasts of a unique reputation as the only capital city with a game park, where residents and wildlife occasionally visit each other.
Granted, my years in the city have taught me many of the city's ways. I have lived in several estates, patronised numerous drinking joints, survived a car-jacking or two, witnessed several muggings and attended a couple of presidential inaugurations.
I have become fairly popular, as there are many people who actually know me by name.
And being a true Nairobian, I can claim to know almost every kona mbaya in the city, as well as the cheapest hotels in town and the shortest shortcuts.
Now, that, dear reader, is the hallmark of a city dweller. With such an impressive history, I should rightfully lay claim to being a consummate Nairobian.
However, it is becoming clear that, despite my expansive knowledge of this metropolis, my knowledge of Nairobi is extremely low.
Take a quick survey and help us improve our website!
Take a survey
My crystal ball tells me that there are many Nairobians who cannot tell between Komarock and Donholm, or Lavington and Hurlingham, or downtown Nairobi from the other leafy suburbs.
There are many more who find their way back home in the evening by sheer luck.
On Sunday morning, our house help, Maggy, woke up in high spirits. It was her day off, and she was raring to go out and explore the world.
Her cousin who lives in Dandora had asked her to attend their cousin's son's birthday party in Huruma.
Since this was Maggy's first time to the outskirts of the city, she was looking forward to the trip.
By 8 am, she had showered, donned her favourite garb and wore the relevant make-up.
Trouble is, she did not know how to get there.
"Baba Jim, magari za Huruma hupandiwa wapi?" she asked respectfully. Alas, in all my years in this city, I have never known where to find the matatus that ply that route.
"Wewe enda upandie town tu," I snapped.
"Ok. Ziko town upande gani?" she pressed, looking slightly piqued. I explained that matatus plying those sides are boarded at Kencom or Railways matatu terminus.
And if she was not lucky, her best bet would be Muthurwa.
"Panda minibus ama matatu ndogo," I said, adding that a boda boda would not be appropriate, as it would charge more for the trip.
Miss Mboch listened patiently as I explained.
She then looked at me and asked how much the fare is. I was caught off-guard, but as I did not want to look rural, I quickly came up with a figure.
"It has to be fifty shillings, but carry some extra cash just in case it rains," I said, and I should add that this was pure guesswork.
Mama Jimmy seemed to read my thoughts. She regarded me critically for a while, before demanding: "How well do you know Nairobi, Baba Jim?"
"Er, I know it pretty well," I replied timidly, feeling even less confident.
By now, the two women had run out of patience and I suddenly felt like a real sheep in a sheepskin.
In the end, however, I swallowed humble pie and conceded defeat.
"Ok, I don't know that part of the city," I conceded. I used to brag that I know Nairobi like the back of my hand, but this event left me wondering if I had ever set foot in the city in the first place.
Miss Mboch picked her handbag and mumbled something about people who claim to know too much yet they know nothing, after which she promptly left.
In our days times were ever lean
On pay day, salaried people seemed to forget the hardships of the previous month and went on spending sprees until their pockets were empty.