Cultural significance makes Got Ramogi a beacon for tourists
A story is told in Ramogi Hills of a dispute between two women over a grinding stone locally known as pong' in Siaya County. One woman pushed the other to her death on the grinding stone.
The grinding stone then became an isolated and sacred site from where people could take oaths in case a dispute within the clan.
If an evil event occurred, or whenever two clan members quarrelled over an issue, the parties involved would head to the grinding stone and swear by it.
They would each take a hammer stone, locally known as nyatieng', and hit the grinding stone. The guilty party would bleed after this act was performed.
Eric Odhiambo, a local, says the stone is associated with ancestral spirits can torment evil people. In local folklore that has been passed down from generation to generation, it is believed that the grinding stone can kill.
Yet the Ramogi Hills has always occupied a special place in the history of the Luo. The name Ramogi is not only equated to the hill as a physical feature— it is the name of the forefather of the Luo people.
Ramogi is believed to have settled on the hill when he emigrated from Sudan, hence the name Got-Ramogi (Ramogi's Hill).
Situated in East Yimbo in the north eastern shores of Lake Victoria basin, Got-Ramogi is a hill of multiple purposes. For the archaeologist, it is a historical site rich in traditional artifacts which tell of a people's early life.
Recently, about 200 Luo elders from Siaya, Migori, Kisumu and Homa Bay counties made a pilgrimage to Got-Ramogi as a way of uniting the people of the four counties.
Speaking at the pilgrimage, the elders suggested that each Luo clan should have a shrine at the hill to symbolise that they are one community.
"A shrine for every clan will help trace where each one of us belongs," said Mzee Aketch Chieng'.
Got Ramogi has what is considered a sacred forest that covers an area of about 283 hectares and is home to more than three historical sites.
Another unique site in the forest is Rapogi (sharpening stone) which is said to have belonged to Ramogi and was used to sharpen spears before the community went to war or during hunting expeditions.
"Before such activities, the stone would be consulted by the elders and if it 'requested' for a sacrifice, a female goat or a cockerel would be offered to ensure that no one got hurt during war," Anyango said.
Rapogi would also be consulted during prolonged drought, further validating its supernatural powers.
A story is told of how a priest from the Legio Maria sect was struck by lightning when he attempted to burn the sharpening stone, claiming it had evil spirits.
Got-Ramogi is also a favourite for hikers. Climbing the hill can produce anxious moments for those who fear heights but can offer moments of joy for adventurous hikers.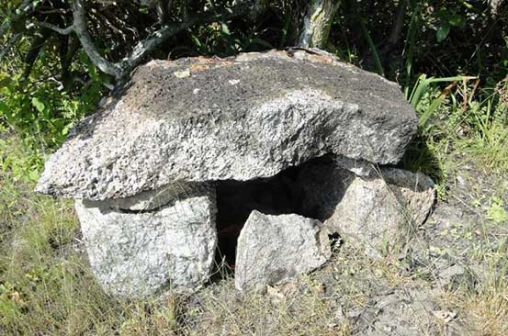 It also hosts a resort that is popular with local and foreign tourists. To attract more tourists, the Siaya county government will dole out Sh12.3 million to renovate the resort.
Joseph Ogutu, the county's chief tourism officer, says the facelift will include branding key sites and landscaping the resort. "This place has more than four unique sites that if well packaged can attract visitors," says Ogutu.
Ramogi, which is one of the few remaining indigenous forests in Nyanza, boasts of rare tree species used for medicinal purposes.
To the locals, the hill is not only a historical treasure, but also a source of herbs.