'I woke up one day and all was dark', the story of Winnie Awino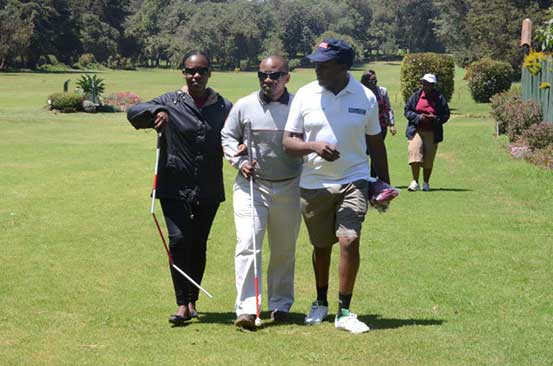 "I retired to bed but when I woke up the following day, all was dark..."
That is how Winnie Awino, 24, summarises her loss of vision five years ago.
She describes her life as a journey of small deaths, and big resurrections: the death of her sight, loss of friends and a resurrection of a personality that was laying inside.
"I cannot explain the feeling that engulfs you when you wake up one morning and you realise that you are surrounded by total darkness. It is beyond explanation..." her voice faded as she recalled the loss of vision during the interview at Limuru Golf Club.
She recounted that it was six days after completing Kenya Certificate of Secondary Education examinations at Annointed High School in Kariobangi, Nairobi, and she was staying with her elder brother.
"I woke up, and I couldn't see anything. Everything around me was foggy, and my eyes felt different."
When Awino realised that she couldn't see, she asked for assistance from her elder sister.
At that time, there was no pain. In fact, she thought that it was a minor infirmity that would fade away.
When her family took her to Kenyatta National Hospital, she was admitted for further check up.
"It is at the hospital that the pain began. I fell that like my skull was cracking. Then there was a sharp pain that spread all over my body, especially the area around my jaws and eyes. It was terrible," she says with her hands clasped together, the memories evidently still quite painful.
She was immediately wheeled in for eye surgery, but sadly, she walked out of the operation table blind.
Awino's brother Samuel Ogutu explained that she had an infection in the pupil that spread to the nerves.
"The doctor told us the surgery was unsuccessful because the infection had reached the nerves," said Mr Ogutu.
It is from that point that Awino's life changed. "There were moments when I felt overwhelmed. The whole world around me was moving and people were going on with their lives, but I had stagnated inside my shell. I didn't know how to live with my current condition".
After being admitted to KNH for almost three months, it was time to leave and start a new life.
She went through counseling sessions to prepare her for life as a visually impaired person. Awino registered at the Machakos School for the Blind to study Shiatsu massage – a form of Japanese massage that uses finger pressure to ease muscular pain.
"The first few days in a school where every student is blind was tough. Many nights, I prayed to regain my sight," she said.
Within two years, she had completed the course and was ready to look for a job.
It wasn't long before she got a job as a part-time massage therapist at USAID and Parklands Sports Club.
She says the job is more than a means to earn a living. To Awino, it is a symbol of acceptance, and more importantly, it is her message to others that disability is not inability.
"When I conduct a massage, I let the muscles and nerves talk to me. It is a connection I create with the client's body so that I know where to concentrate on," she explains on why she thinks her technique works.
Asked if she is dating, she lets out a hearty laugh, pauses and then says: "Of course I am. He is a great guy."
Her laughter fades almost immediately and she lowers her face and whispers: "He tells me every day that I am beautiful. Sadly, I cannot remember how I look. Images of myself are beginning to fade at the back of my mind..."
"Even the people I stay with like my brothers; I am forgetting their faces."
Awino hopes to get married and have children someday. "I may never see them, or know how they look like, but motherhood is special. I know it will be great."
She cooks almost ever dish except chapati, the likelihood of an accident would be too high.
Before I leave, I ask her what motivates her.
"No matter how difficult life gets. Things always get better." She believes that losing her sight has made her a better person. Awino connects with people by paying attention to what they say and listening to their tone.
She also creates a mental image of what she thinks they look like. "Blindness makes you a form of god. We create humans in our minds and make them come to life. We immortalise those images and carry them in our hearts and minds. See? I am a goddess...." she says.