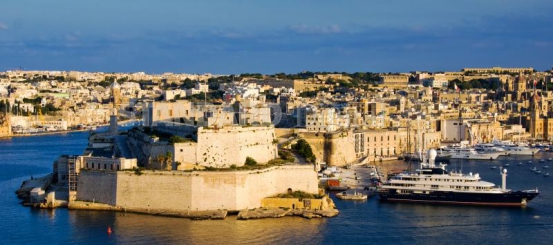 The past and the present live passionately together on the picturesque Islands of Malta, a southern European island country in the Mediterranean Sea, which lies south of Sicily, east of Tunisia and north of Libya.
With 7,000 years of rich history behind it, this small nation is a mosaic of colours and cultures intertwined with its rich past.
This is one country where the history of savage warfare is so evident — all just because of Malta's geographical importance.
There is an amazing array of things to discover and wherever your holiday mood takes you, the islands' scenery and architecture provide stunning surroundings mixed with the deep Mediterranean blues.
Read More
Away from the freezing European winters, Malta is an all-year-round holiday destination where you can laze on the beaches, try a new sport or just take long walks on the miles and miles of pristine coastline.
These offer an exhilarating contrast of colours ranging from the clear blue skies, azure of the Mediterranean and the honey-coloured limestone characterising the architecture. Truly the islands are a feast for the eyes.
The islands' forts, temples, palaces and churches are a living history which you can almost touch.
Valletta, the smallest national capital in the European Union, is ranked fourth among best European destinations.
The magnificent 800 metres square city is the administrative and commercial heart of the islands.
This splendid fortress city grew on the arid rock of Mount Sceberras peninsula which rises steeply from two deep harbours — Grand Harbour and Marsamxett.
Commercial centre
Valletta is one of the most concentrated historic areas in the world and ranked as World Heritage City. It also has the distinction of having been named the European Capital of Culture 2018. On November 27, Heads of State from 52 countries will attend the three-day Commonwealth Heads of Government meeting in Valletta. They will be hosted by Prime Minister Joseph Muscat.
Meetings will take place at several historical venues around Malta.
On the final day, the Heads of Government retreat will be held at Fort St Angelo in the Vittoriosa Waterfront area of Valletta.
Described as the "jewel in the crown of The Maltese Islands" this large fortification in Birgu right in the centre of Grand Harbour has been part of Malta's history dating as far back as the 13th Century though there is confusion as no one knows exactly when it was built. It is currently closed to the public as renovations are going on.
During the day, Valletta is a bustling commercial centre, but it still retains a timeless atmosphere and its narrow streets have some of Europe's finest artworks, palaces and churches.
While walking in Valletta, I came across an intriguing cocktail of historical sites around every corner ranging from coats of arms raised high up on parapets, votive statues and fountains.
Also not to be missed are the tiny quaint shops and cafes along the narrow streets. For those in search of larger international stores selling branded fashion, jewellery and music, head off to the city's main streets which are busy most of the times.
Every February, Valletta is the heart of action when the annual Carnival is held. Throughout the week, one sees extravagantly coloured floats atop trucks in a procession with children darting around happily in fancy costumes.
The action spills into the night as carnival goers head for Paceville's clubs and bars still donning their outrageously coloured outfits! This is the time to let your hair down and enjoy a good party.
The sister islands of Gozo and Comino have their own charm. Gozo is a quaint island than its bigger brother Malta. Gozo means gladness or delight and it is no surprise that visitors are spellbound by its special magic. It is known for its tranquillity and beauty which is apparent by its amazing panoramas, greener, more rural and compact size where life is laid-back and where the locals fish and farm for a living.
Prehistoric temple
This island is steeped in myth and it is generally believed that Gozo is the legendary Calypso Island featured in Homer's Odyssey.
Ggantija is the island's best-preserved prehistoric temple.
The paradise island of Comino is popular with adventure-seekers ranging from snorkelers, divers and ramblers. The tiny three and half kilometre square island, with its turquoise waters, featured in the film Count of Monte Cristo starring Richard Harris.
The island is car-free and there is just one hotel!
Comino is pollution-free and you can easily smell the scent of white thyme and other herbs. It is very thinly inhabited and is more popular with day-trippers who visit is main attraction Blue Lagoon — a sheltered inlet of shimmering aquamarine water dazzling over the white sand.
In its heyday, Comino was the staging post in the defence of the Maltese islands against the Ottoman Turks.
Malta is certainly worth a visit. It is full of holiday ideas, sports activities, and yes, romancing visitors can also hold their weddings on these islands.