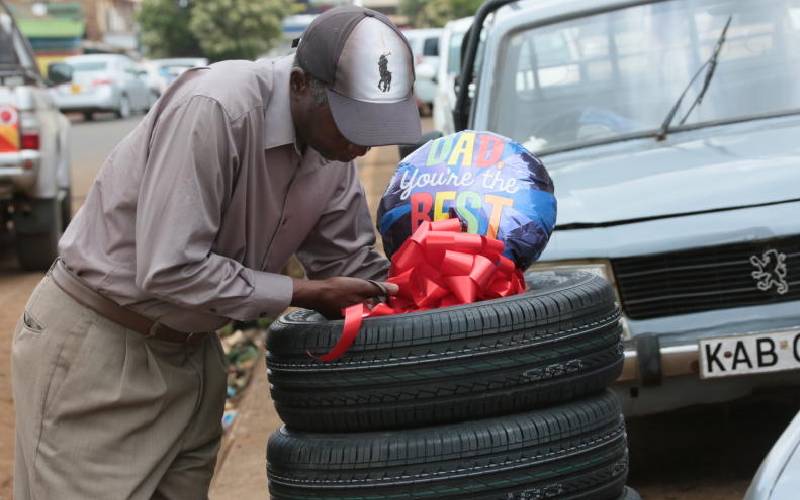 Kenyan female celebrities led the way in the slow-drift from Father's Day to "Husband's Day", serenading their spouses for being wonderful fathers.
On Father's Day, fathers are honored by their children, while Husbands Appreciation Day is celebrated on the third Saturday of every April.
Yesterday there was no letup in this drift, as sons and sons-in-law replaced grandfathers from the definition of father, together with attendant benefits.
"Wow words cannot explain my gratitude to you my friend and love. You have been the best dad to these little ones. Your love, care and concern for them is beyond my expectations... You work so hard for them to give them a better life than you ever had... May God bless you for being there for them," singer Size 8 wrote to DJ Mo.
The celebrity couple have two kids together.
Singer Wahu Kagwi posted a hilarious message to celebrate her husband of 15 years, singer Nameless (David Mathenge). "Happy happy Father's day babe! I'm so grateful that you're in our lives... and that our girls didn't inherit your forehead."
Singer Vanessa Mdee told her fiancé; actor and singer Rotimi, for being an "incredible father." The Tanzanian songbird posted a video of Rotimi dancing with their son.
"What a divine joy, honor and pleasure it is to experience you as Dad. Baby, you checked yet another box this past year and my love you do it so effortlessly. Baba Seven you're an incredible Father, hands down the best of the best. Seven and I are so blessed to have you," said Mdee.
Social media personality Sara Kamy took to her Instagram stories and posted a video of her partner, celebrity hairdresser George Dufanda, carrying their twins while dancing. "Thank you for always being here for our family. We love and appreciate you," she captioned the video.
Content creator Georgina Njenga, who recently became a mother, posted a photo of her boyfriend, Machahari actor Tyler Mbaya holding their daughter Astra, saying: "For the past few weeks I've seen the effort and love to learn things. We love you."
Socialite and businesswoman Vera Sidika was out to tell the world what an amazing father singer Brown Mauzo is after showering him with loving words. "I adore you with all my heart and that feeling will never go away. Seeing what a great father you are only makes me love you more," wrote Sidika.
Khaligraph Jones's wife Georgina Muteti wished the rapper a happy Father's Day, telling him,: "You deserve every good thing in your life baba Amali."
Ivy Nyamu told media personality Willis Raburu that carrying his children "has been nothing short of magical." "Thank you for being a consistent, intentional and present dad; and for everything you do to make sure your family is safe and comfortable. I don't take it for granted," Ivy wrote on Instagram.
Actress Jackie Matubia celebrated her fiancé Blessing Lungaho following the arrival of their baby early this month. The Zora actress shared a photo of Blessing holding their baby in the company of her six-year-old daughter and captioned it: "We love you and appreciate you."
YouTuber Maureen Waititu, however, saved the day for grandfathers, killing two birds with one stone.
She posted a photo of her mother and father with the caption: "Best Father's Day wishes from a daughter, an auntie and a mother to all fathers, father figures, fathers to be and everyone who has stepped up to be a father in one way or another."
The social media influencer also celebrated the father of her two sons, Frankie Kiarie, aka Frankie JustGymIt.