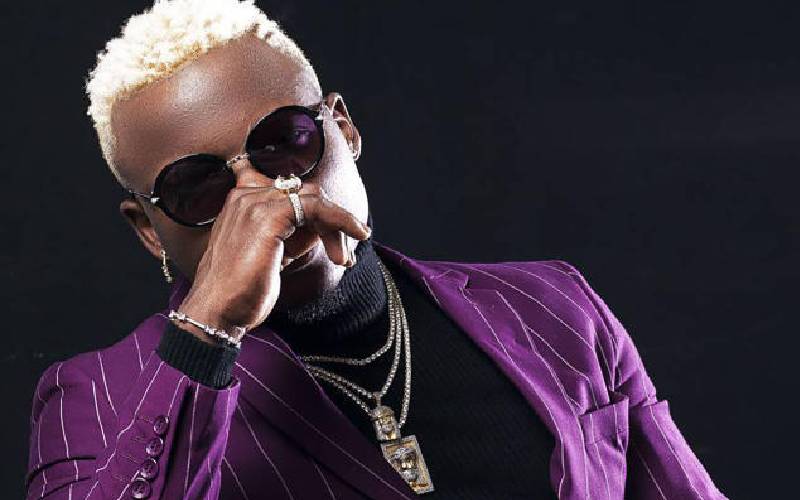 Police have dismissed reports that Tanzanian Bongo Flava artist Rajab Abdul Kahali, popularly known by his stage name Harmonize has been arrested.
This comes after reports that the artiste had been arrested after he failed to appear at an event within Nairobi.
Comedian Eric Omondi had made the claims that Harmonize had been arrested, and he hoped he would be detained until they went to court on Wednesday.
Omondi said that he had gone to the police station to bail Harmonize out but the singer punched him in the face. He showed what looked like a cut on his left lip, allegedly as a result of the punch from Harmonize.
"Harmonize has punched me in front of the OCPD of Kileleshwa…in front of Mike Mbuvi Sonko. Inside the police station. And it's because I gave him money and he refused to perform. So we told him to return the money," said Omondi. "He was trying to con four clubs. I took money from 33 Havens, I took money from Mike Mbuvi Sonko, I took money from Kokoriko and he took money from Captain's. Yesterday he refused to do the show."
Omondi claimed that he spent the night outside the hotel Harmonize was staying at to shield him from the embarrassment, but that four clubs had the singer arrested in the morning. He said that Harmonize would not be leaving the station until Omondi's lawyer arrived and the comedian got paid.
"I use my mouth to tell jokes. I'm not a boxer, bro. I'm not a runner, I talk," said Omondi.
But Kilimani Police Commander Andrew Muturi this afternoon said Harmonize briefly visited the station over a personal matter.
"They were here but they left a long time ago. He had not been arrested. They were solving another issue," said Muturi.
Harmonize headlined the Afrika Moja concert at KICC on Friday, but allegedly failed to appear and perform at several other expected venues or only appeared briefly.
"I paid Melamani Limited sh450,000 to bring Harmonize to the club to have a party, to be with the fans, for one and a half hours," said Captain's Lounge director, Jor Barsil.
"But when Harmonize came, he stayed at the club for a maximum of five minutes and left, which angered my fans to the point that they wanted to beat him up but I protected him. He wasn't beaten. So I'm complaining and I would request to be refunded my money," he said.
Comedian Eric Omondi, had been hired to hype the Africa Moja concert in KICC, but Barsil rubbished the comedian's claim that Harmonize was only supposed to make a technical appearance at Captain's Lounge.
"I have a contract which says a minimum of one and a half hours, so that cannot be a technical appearance," said the lounge's director.
Former Nairobi governor, Mike Sonko downplayed the issue when he spoke to the media at the police station.
"Harmonize was here, as he had been summoned for a short time. There were some clubs where he was to perform at, but he was not the person who had signed the contracts. It was various brokers," said Sonko.
He added, "We are also in business and we had requested him to come and perform as friends, and he will still do our performance. The rest is just a communication breakdown, where people take money from clubs and then don't deliver him on time. It's just a petty issue."
Sonko denied having made a complaint against Harmonize and said that the singer was going to perform in Mombasa as scheduled.
He said that he hoped Omondi and Harmonize would resolve the issue amicably.
"I wish both of them were here to shake hands and reconcile. These things are normal, they are both young people, they are both stars in the entertainment industry, and I think we have resolved this issue. They have forgiven each other and no one was arrested," he said.
Captain's Lounge director, Barsil, laid the blame on all parties, including Eric Omondi and Melamani Limited, who organized the Afrika Moja concert.
"Even Harmonize himself. He stayed on stage for about one minute and 30 seconds, which angered the fans so much. He should have even stayed in the club as we had agreed but my biggest complaint with the whole team is a conspiracy to defraud. Because I paid money and we never received service personally as the club and also my customers, who never got what they wanted to see," he said.
Barsil said that he was asking to be refunded the money he spent to organize the event, which he said cost him sh1.5 million, in addition to the sh450,000 which I paid and marketing costs of about sh300,000.
"I lost business that day and also reputational loss," he said, adding that he had reported the matter to Athi River police and would be taking the case forward.