Nakuru artists' website to promote talent
STANDARD ENTERTAINMENT
By Daniel Chege | Jan 16th 2022 | 2 min read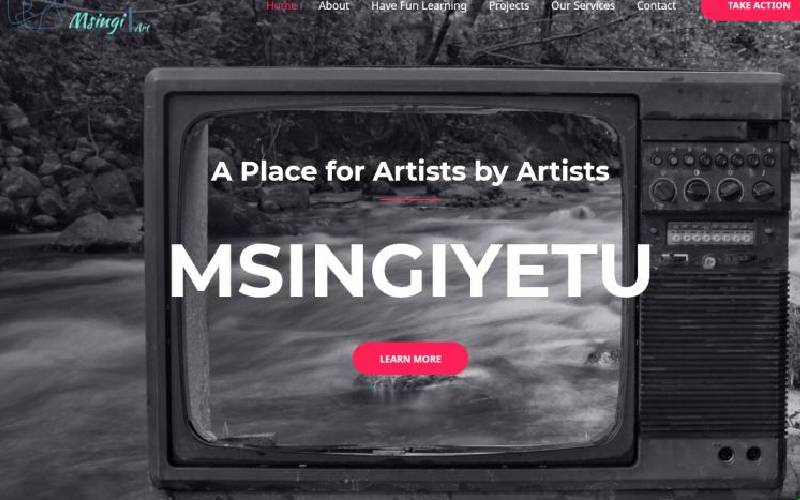 A group of nine artists in Nakuru have created a website to promote local talent. The website dubbed, 'Msingi Yetu (msingiyetu.com)' will showcase short films from the region.
Speaking to The Standard, Jacob Endurance, the Chief Executive Officer Msingi Yetu, said the website will provide arts education.
"We are targeting those who want to learn forms of art, get entertained and artists who want to be empowered. We will turn hobbies into income-generating activities by providing a 'visit and earn' platform," Mr Endurance said.
He said the website will also provide mentorship programmes, E-commerce- selling and buying of entertainment services and entrepreneurship. "We want to change the status quo of artists, noting artists have been ignored by the government while upcoming ones are unable to afford platforms to showcase their talents," said Endurance.
He said art spaces in Kenya are minimal when compared to the number of talented artists.
"Sponsors and sectors within the county and the nation have ignored the art space and invested in other businesses, leaving artists struggling to feed themselves and their families," he said.
He said the group targeted Nakuru first before expanding the idea to neighbouring counties. "For the last two years we have been having the idea of creating the website and it has been a tough journey to where we are," he said.
Daisy Kiptoo, the website developer said the website, which went live in late December 2021 will be an income-generating platform.
As the creators, the artists will give upcoming and famous artists a space at a small fee per every sale made through the website. "We will earn 15 per cent on every sale of films or music made using the website while 85 per cent will go to the artists," she said.
Short films targeted are those between 10 to 40 minutes.
"We own the platform and our first assignment is to bring together artists, and use their contribution and influence to lift the needy artists within the county," said Kiptoo.