Sarah Hassan scoops honours in Kalasha Awards gala night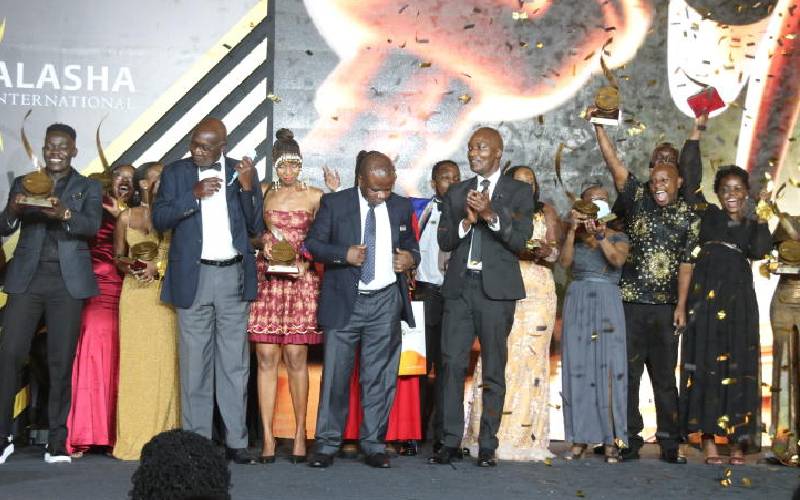 For the second year running, celebrated actress-cum-film director and producer Sarah Hassan carried the day during the Kalasha International Awards, after winning the coveted Best Lead Actress in a film award.
The star made her dominance in Kenyan film and TV industry felt as she swept all top honours with different productions that were among the best 31 awarded slots during the glitz ceremony attended by the cream of the entertainment sector.
Her Showmax aired series, Crime and Justice, got her the Best Lead Actress in a TV Drama, while her Just in Time film produced the Best Lead Actor in a Film, an award that went to actor Mawuli Gavor. Just in Time went ahead to win the Best Feature Film category.
Sarah was, however, missing in action as she had flown to Nigeria where she is working on upcoming film projects. However, members of her team were present.
Just in Time is a romantic-comedy movie directed by Dolapo Adeleke and Sarah Hassan. Celebrated thespians Stycie Waweru, Mawuli Gavor and Pierra Makena form part of the cast.
Last year, another Sarah Hassan production, 40 Sticks, carried the day at the awards. It won the Best Feature Film, Best Original Screenplay, Best Sound Design, Best Editor, Best Supporting Actor in a Film, Best Lighting Technician, Best Director and Best Production Design among other categories.
However, the Friday night gala was not just a Sarah Hassan win.
Another 2021 favourite film, Kutu, won the Best Supporting Actor in a Film, a role played by John Ndegwa as well as the Best Supporting Actress in a Film accolade that went to Catherine Kamau.
House of Secrets, a feature film by the United States International University (USIU-Africa) shared the spoils taking Best Sound Designer (Kelvin Osoo), Best Director (Michelle Donde and Steph Sevani) and Best Feature by a Student. The Best Kids Production win went to Bururi wa Ciana by Susan Njoki.
In a night that saw many female filmmakers triumph, leading film director, Judy Kibinge, received a standing ovation as she was named the Kalasha International Awards Lifetime Achiever for her immense contribution in the Kenyan film industry.
Shocked and equally excited, the media-shy Kibinge was escorted to the podium by David Campbell, who won the same award last year. Her words were few as she let the crowd engage in an animated applause.
"Thanks, thank you for this," said Kibinge.
Kibinge has received numerous international recognition for her projects.
In 2009, her documentary film Coming of age won the Best Short Documentary category in the Africa Movie Academy Awards.
Dangerous Affair also won an award at the international Zanzibar Film Festival. Kibinge has also been an Oscar Awards judge.
Her works include Something Necessary (2013), The Aftermath (2002), Dangerous Affair (2002), Project Daddy (2004), Bless this Land (2005) and A Voice in the Dark (2005).
During the pomp night that was accentuated by music performances and dances, the Kenya Film Commission (KFC), the government arm under which the awards fall, pledged to support the film industry by helping increase film production in the country.
"KFC, and by extension the Ministry of ICT is making the strategic intention to grow the sustainability of the Film industry through strengthening existing institutional frameworks and increasing the production of
films in Kenya through the active involvement of film industry stakeholders," said KFC board member Ernest Kerich in a speech delivered on behalf of KFC chairperson, Dorothy Ghettuba.
Adding that: "With a vibrant film and TV industry, we are certain that the industry will be more alive offering increased job opportunities and sustainable wealth creation more so for industry professionals.
"I take this opportunity to encourage corporate entities to support and partner with government agencies in advancing youth development agendas."
Timothy Owase, Chief Executive Officer of the KFC said the past one year has had some exciting activities to stimulate growth in the film industry.
"Our key mandate as a commission is to develop a vibrant local film and television industry, which in turn creates jobs and wealth in our country," said Owase.
[For the full list of the winners go to https://www.standardmedia.co.ke/entertainment/news/2001431549/kalasha-awards-2021-winners-full-list]