The dream built on a love for dancing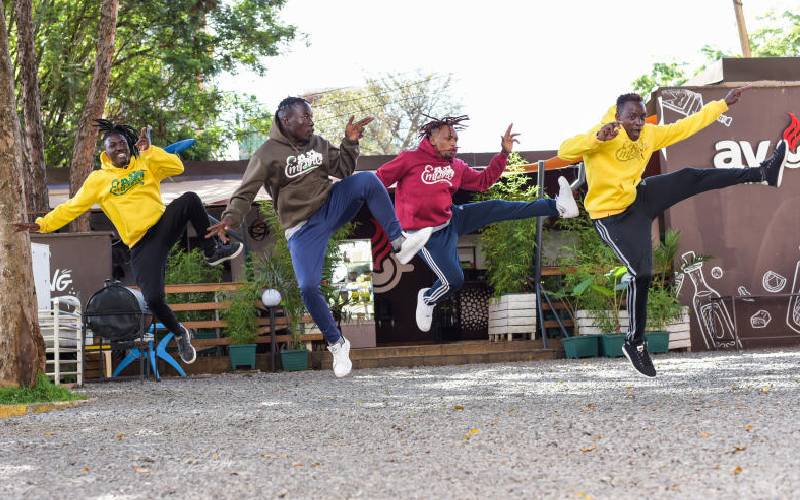 Having heard a friend rave about the dance fitness class I am about to attend and having seen their videos on Instagram, I could not wait to be part of it. We are at the Arboretum, where, in my view as a lover of dance, actual magic in dance happens courtesy of The Kenya Dance Empire.
It is the brainchild of four talented friends – Samson Gome, Benjamin Oketch, Joshua Yoga and James Wanjohi.
Samson Gome, also known as Papa, is trainer today, while the other three members dance together with the attendees.
You would never guess the personal struggles that each of them has been through individually before they met.
From dealing with abject poverty to Gome being orphaned at an early age, and running away from Uganda to Kenya; to James surviving the 2007 post-election violence by the skin of his teeth and living in internally displaced person camps.
The thread that ties them together is one of three cords, which are a passion for dance as a career, a desire to never go back to the things they have been through and a friendship forged in the fires of scarcity.
The groovy 'Sitya Loss' rends the air for the first few lines and everyone gets into a rhythm, in unison. The trainees, who are doing this for fitness and fun, do the complex-looking steps with ease.
I came in late, so I feel like I will never learn, but one of the four trainers, Joshua, comes to the back and shows me and a fellow latecomer the starting moves and by the end of it, she (I decided to watch instead) is grooving along with the best of them.
They have dance training down to a science. They also still perform on stage professionally as a crew. On October 31 they performed at the Dance Life Festival with the renowned Ugandan dancer and choreographer, Catherine Nakawesa.
They are now reaping the benefits, but it was not always like this. Getting to this point was harrowing. Each of them could write a book on triumphing against odds in their lives and it would be a bestseller.
I get to hear their individual stories over tea at a roadside kiosk they lovingly refer to as 'KFC mwitu'.
After a treacherous journey to live their dream of dance, Sarakasi Trust was the ultimate dream for all four.
However, they quickly learnt that while they got the opportunity to hone their talents, they could not make a living from Sarakasi itself, as they were hardly getting any shows and would be given Sh200 to share among three people on Mondays, Wednesdays and Fridays.
Papa was the only one earning a little from his nightshift job as a waiter, which the other three admired. They would walk home from Ngara to Huruma.
"Ben and I would go home discussing Gome. We would tell ourselves, 'If he can go to work and still come here cannot he also get us jobs?'" says Joshua. "So one day I followed him and asked him if he could get us jobs."
Gome had not realised that the two (James came later) would either stay hungry or share one cup of tea and the snacks popularly known as KDFs over lunch and then walk the long distance home.
"I would spend about Sh60 alone on lunch, so I decided that we would be sharing what I had. I would come with mandazis as I got off work and we would share," says Gome.
"I needed that friendship and I could see they were good people and understood me so I figured maybe they were the ones who could be friends in that place."
He would walk home with them, get into a roadside restaurant called Mama Mercy to eat and then they would see him off to work.
"That is why we call him Papa," says Ben.
The four became friends over a period of one year and would go to Gome's to have a meal. Eventually, they started living together in Huruma.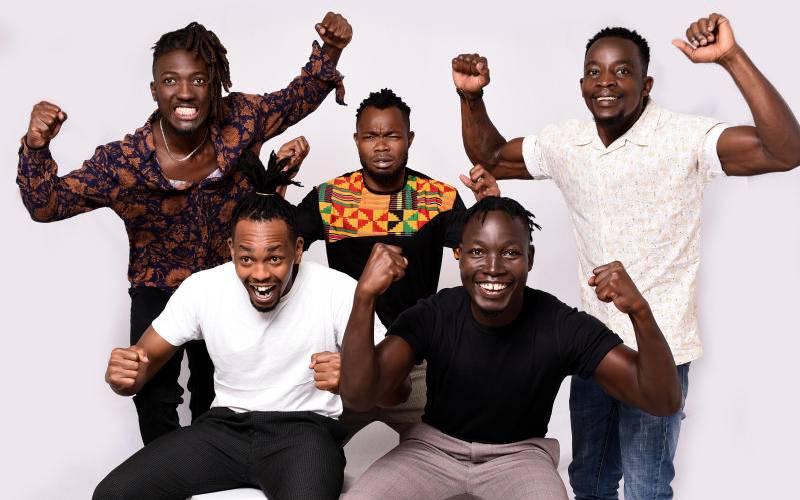 They left Sarakasi in December 2015.
"We would look for shows and events as a dance crew, in clubs, as LXD'z. But we were not getting any. We would be told, 'Go and come back in these costumes' then we would show up as instructed and there would be no show. We would train at home because we had nowhere to train from," says Joshua.
When they did get shows, they would not get paid as agreed, even winning a competition where the prize money has never been paid to date.
"That is why we decided that if we did not get a 75 per cent deposit of the total fee, we wouldn't do the show. Before we used to trust people too much. We were driven so much by passion that we would accept any show," says James.
At a loss over what to do, Joshua contacted someone he met at the 2014 Sakata competitions.
He introduced them to Kenya Dance Academy CEO Jermaine Nickson, who, after hearing their story, gave them a platform to train, at YMCA.
"We were still walking from Huruma to YMCA, but at least we had a place to train. We would go and create dance routines then go back home. Then he introduced us into teaching choreography," says Ben.
After an event, Jermaine asked them to remain behind for one of his evening classes and eventually trusted them to teach even without him present. That was when they began to sculpt their vision.
"We used to go and wait at the Aga Khan Walk, waiting for bus fare to reduce. We would talk and talk; when a guy with coffee passed by we would buy the Sh10 one. We would tell each other stories about dance and talk about how one day we would build a dance studio," says Papa.
"We would talk about the life we are living now," Ben chimes in. "This used to be just a dream. We still cannot believe it. The only thing left is that building that will house the dance studio."
"Aga Khan Walk was everything. Where we used to dream about having our own class," says James.
At around that time, the TV series, Empire, was all the rage, so it inspired them as they envisioned something similar about dance.
James says: "One day, we were walking from St Mary's unhappy about how things were going, telling ourselves how we would have our own dance empire. We were testing the feel of the name on our tongues as we walked. 'Kenya Dance Empire.' And then we thought, to add 'THE.' The only one! The Kenya Dance Empire."
"Yeah, we just love that concept of an empire that is about art – music, dance. We want to create something like that," says Joshua.
While at Kenya Dance Academy, they got to perform on big platforms, but while they were then known, they were not getting money from it despite being full-time dancers. They had no other source of income, as even Gome had lost his job by then.
The group finally started their own class when a client connected them to someone at ABC Place, where they could hire out the Shani Active gym for classes.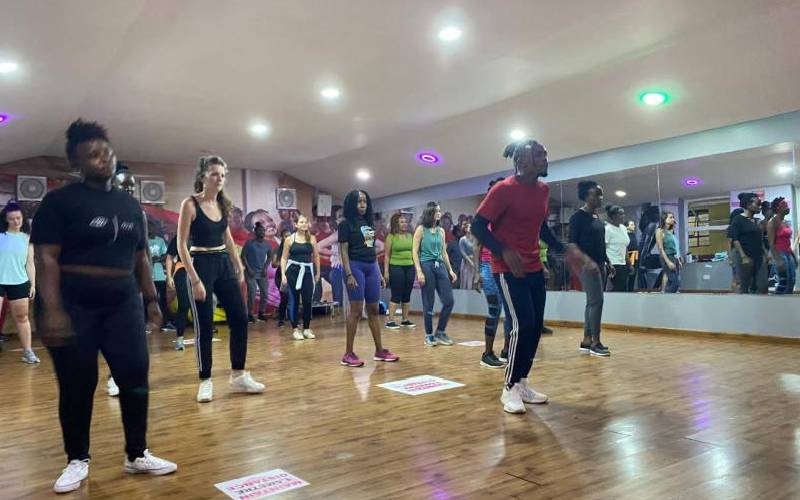 "We met a very cool guy called Kevin. He paid attention, listened and gave us a very good deal of Sh10,000 per month. It was still very expensive for us but because we only had Sh2,000 in savings, so we asked clients to pay in advance, as a monthly subscription," says Ben.
"He told us that for day one it would be free of charge, just so that he could see if we had clients or not. On day one we had many clients, some that we had never even seen. So we were able to pay him the Sh10,000 on that day. We bought a cake with the rest of the Sh2,000 to celebrate the opening of Kenya Dance Empire!"
"We made a lot of money at Shani Active because of their good deal and people were paying monthly. We would save a lot so that if problems returned, we would be okay," says Joshua.
They kept walking home even though they could afford to take matatus, so as to save and to keep themselves grounded.
"Because of our experiences, even after getting that money, we would still walk from town because we wanted to maintain that spirit. We did not want to go back to the struggles we had known," says Papa.
That was 2017.
"We rented a house in Ngara just before the elections. And even when they closed the original venue for training we had enough money to shop around for a new training venue without panicking," says James.
The prices that gyms actually charged shocked them as they had had a great deal at Shani Active.
"We eventually found Arena at Sarit Centre. It was Sh2,500 per hour and that was down from Sh4,000 after we negotiated."
All that brought them to where they are now, training fitness enthusiasts in dance. They charge Sh700 per class.
"What brought us together as a group was that we all had the mentality that we wanted to make this a full-time job for us and for other people who want to be professional dancers. We want to transform the Kenyan dance industry the same way comedy in Kenya has changed and is now taken seriously," says James.
"We do not want to shift into another career. We just want to focus on a dance career that will build each of us a house; people will drive through dance and we shall have our dance building called Empire. And that does not come easy. It needs a lot of dedication, consistency and some struggle. If we are not driven, we won't achieve that. That is what we are trying to do every day."