Want to be mugged? Try a live music concert
STANDARD ENTERTAINMENT
By Kirsten Kanja | Nov 19th 2021 | 3 min read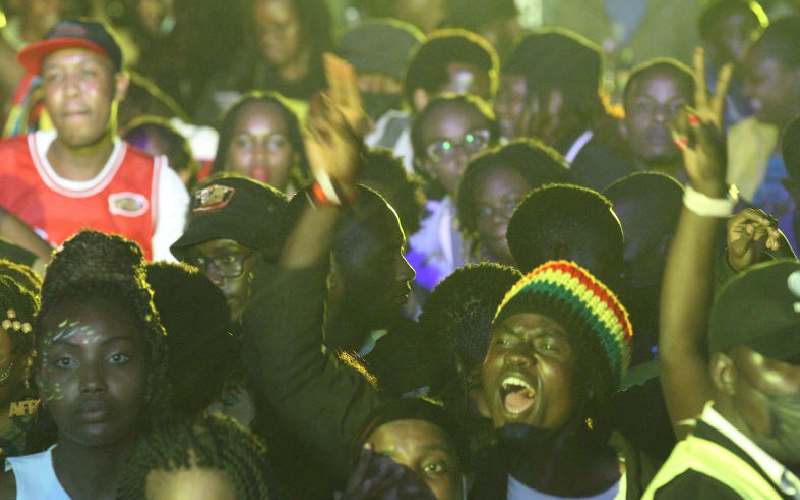 When reports circulated that Nigerian superstar Adekunle Gold was coming to Kenya on November 13, fans were excited. It was yet another shot in the arm for the entertainment industry after nearly two years of silence.
Dubbed the Destination Festival Africa, the event held at Ngong Racecourse, promised a good time.
Also lined up to perform were Kenyan stars Nyashinski, Otile Brown and Fena Gitu.
But the star-studded festival would be tainted by reports of rowdy attendees, theft, sexual violence and claims of harassment.
A social media user, @Malcandi, took to Twitter a day after the concert, claiming that his friend was raped at the event.
"Whoever raped my friend at Adekunle's Concert parking lot! May you never know peace," Malcandi tweeted.
The concert attendee also called out a hospital, which he said refused to admit his friend after the ordeal.
The post attracted a lot of reactions, with many city residents raising questions of safety at live concerts.
"Our rules when heading out. Keep an eye out for each other, never leave anyone behind or alone or unaccounted for... male or female, watu wawatch their alcohol intake, also at least make sure either one or two of you isn't drinking...mtahitaji mtu sober kwa group. Pole sana kwake," responded a Twitter user, Bryan.
Another person urged friends who go out to be each other's keeper.
"Take care of each other. Someone can even turn up dead because you let them wander off. There are feral humans out there, wanyama kabisa!" wrote Caroline Achieng.
The risk of sexual assault at a night concert is a frightening, yet unfortunately real.
Under the cover of darkness, chaos and confusion, ill-intentioned crooks and bandits lurk.
In a 2015 feature titled There's a rape problem at music festivals and no one seems to care, Canadian-American lifestyle magazine Vice castigated the persistent, yet under-discussed problem.
The website recommended that festival organisers need to be trained on potential situations and ensure all incidents are investigated and reported.
"Many things happen at festivals that organisers don't want to publicise. We want them to openly acknowledge problems and make it clear they are doing something about them. We want the whole music industry to be open about issues as a first step to doing something about them. The music industry must not make matters worse by pretending incidents are one-offs," an activist said on the report.
Dan Odhiambo, an events planner behind the popular Kikwetu Festival, says concert goers should never have to worry about their safety while attending a live event. This, he insists, is the responsibility and burden of the event organiser.
"If a customer has to worry about his well-being, it takes away the fun and the purpose of attending the function," says Odhiambo.
He says different venues call for different precautions.
"Safety varies from venue to venue. Some places are completely covered, especially if owned by an institution that had already put in its own security measures. Different venues also attract different audiences," says Odhiambo.
Sharon Odero of CateChris Limited, an event planning and management company, says organisers should put in place a security team that will alert them if anything is amiss and or needs to be done to make the event a success.
She agrees with Odhiambo, who says a successful event is characterised by the safety of attendees.
John Chacha Don, popularly known as The Don, operates Sifam Concept, a local events organising firm. He says the security budget should be the second biggest in a live event, after crucial elements like sound and lighting.
"In a secure event, there is one bouncer for every 20 people. That means that if there are 100 people there should be five bouncers, and so on. This ensures that should anything come up, it can be contained," he says.
Don says a well organised event is most critical of its exit and entry points.
A key factor that organisers need to consider while planning a live event is a comprehensive emergency response plan, he adds.