When celebrities turn into sexual predators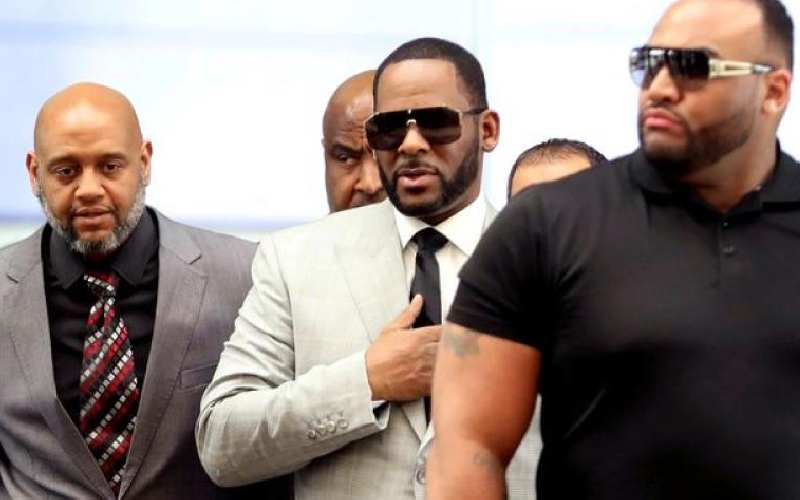 When disgraced singer R Kelly was found guilty of sex trafficking and sexual assault earlier this week, it was a win for the Me Too movement.
The social justice initiative that started out as a quiet hashtag online in 2006, has grown to be a key instrument for sexual assault survivors to find the courage to speak up against abusers.
Kelly had used his power, fame and influence to lure vulnerable women, girls and men for decades. This narrative, unfortunately, feels too familiar not only in the entertainment industry but also in households and workplaces across the world.
While he maintained a reputation as a successful artiste and continued to travel the world, made millions and won awards, his victims suffered in silence and hopelessness.
Witnesses in the now completed trial testified about inhuman acts by Kelly, including extreme violence and humiliation.
"One woman described Kelly as a 'controlling and intimidating' man, who 'could put the fear of God in me very quickly, as she described a relationship she had with Kelly in 1999, when she was 17 and he was 32," The Guardian reported on Monday.
In Kenya, cases of sexual assault by prominent personalities, while not rampant, are often quickly dismissed.
Not only are famous personalities; athletes, artistes and actors highly respected, but their word is sometimes quickly taken to be the 'gospel truth'. Their victims, too scared to speak out, live with the scars for the rest of their lives.
Instances of 'victim-shaming, such as asking victims what they were wearing at the time of being violated or questioning any possibility of 'deserving' the horrific experience are common.
Just like most of Kelly's victims, young girls view their tormentors as idols and safe shoulders they can lean on.
Being naïve and desperate, they discover much later they were being manipulated into sex terror.
In Kenya, young girls have been falling victims to sex traffickers most of whom lure them through online scamming.
Desperate for the good life and out of peer pressure, high school and college girls have found themselves falling into the traps of sex pests, who end up coercing and exploiting them sexually.
It could be a false promise of a job or a better life to a minor from a poor background. It could still be a false placement into a lucrative career opportunity.
Mental and physical scars
Such acts result in physical and psychological abuse, which can last a lifetime.
A year ago, two Kenyan models and other beauties from across Africa found themselves in such a scam racket after they were lured into joining a fake beauty competition, which they enrolled for online.
With an enrollment fee of about Sh30,000 each and double amount the expense, the girls had to book their own flights to Ghana, where the continental finalists of the pageant were purportedly supposed to be feted.
The overall winner was to receive a brand new car.
On arrival in Ghana, they were subjected to hardships, coerced to have sex with the men, and even conned out of the money they had.
They later discovered that they had fallen victim to a ratchet of scammers, who were operating between Nigeria and Ghana.
"It was a horrific experience. We were moved from house to house and forced to buy food with our own money. They would bring men to the houses at night, force us to cook and wash the dishes. On the last day, we were all taken to a guesthouse in Accra, where we were left alone till 3pm when they organised what was a fake competition, before asking us to leave the following day," says one of the Kenyan models, who was a victim.
With victims of sex trafficking estimated at 4.5 million worldwide, Kenya has been cited as one of the countries in Africa with major links.
In 2020, the government reported initiating investigations into 18 trafficking cases, including at least four child sex trafficking cases and one child labour case.
Last year, 11 alleged traffickers, a decrease from at least 42 arrests in 2019, were reported. The arrests included a German national involved in child sex tourism and six Kenyan nationals for exploiting Ethiopian victims in forced labour. Other arrests included charges of child sex trafficking and child labour trafficking.
In the recent past, the music and film industry in Kenya has also been faced with cases of sexual abuse.
According to sources, some film directors and music producers demand sex from upcoming, new female artistes.
Nyce Wanjeri, a popular award-winning actress, known for her role in the Kenyan TV drama series, Auntie Boss revealed how directors demanding sexual favours have made it difficult for up-and-coming actresses to exploit their dreams.
"Sex pests pull the 'sex me to get the job' line on ambitious girls and emotionally manipulate them. If one turns them down, then, that is the end of your career," claimed the actress.
Difficult to suspect
Data from National Sexual Violence Resource Center (NSVR) states that most of these celebrities who commit sexual crimes seemingly have a good reputation and are difficult to suspect.
"Anyone can perpetrate sexual violence, and anyone can be a victim. In fact, people who sexually assault others are charismatic, seemingly empathetic, and successful. They may also feel confident that they can get away with harassing someone as a result of their social status, and feel more empowered committing the crime," NSVR's post reads in part.
According to NSVR, it is easy for fans to idolise their favourite athletes, actors and musicians, assuming that the role they play in their craft means that they are automatically good, morally sound people.
"The stigma of sexual violence comes with a great deal of shame. This shame can sometimes impact an individual for the rest of their life. Only two to ten cases out of 100 are classified as having insufficient evidence to the degree that they may be classified as "false" — meaning that false accusations are generally a very rare phenomenon."
Laura Palumbo, Communications Director at the NSVR, says that most of these celebrities leverage their status and image to lure their victims.
"It's a great foundation of trust and admiration similar to when children are abused by coaches and teachers, who they look up to. One's fame and celebrity status can distract us from realising they can be sex pests," she said.
The Centres for Disease Control and Prevention, CDC, reports that crucial sexual violence prevention steps include promoting social norms that protect against violence, teaching skills like healthy and safe dating to adolescents, promoting healthy sexuality and creating protective environments at workplaces and homes.
New milestone for oraimo
The company boasts of 3 awards in the year 2021 alone. What other way to prove that the quality of their products is top tier?