Hamlet where villagers are part time film stars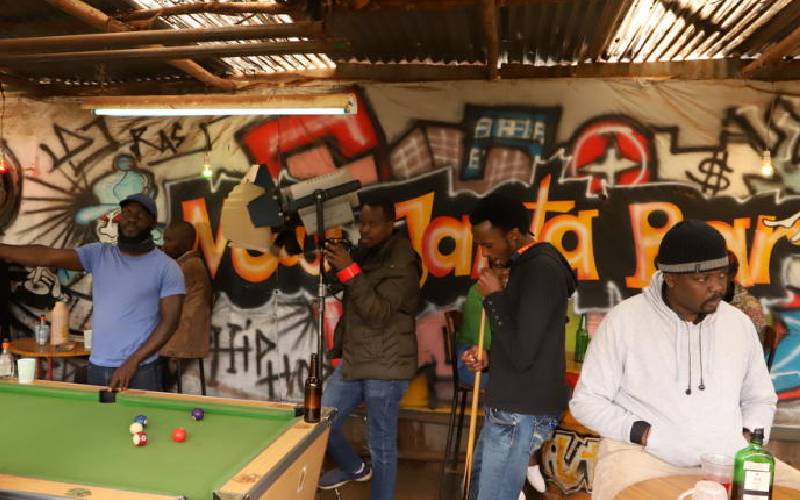 Different roles. Most of them are youth from the area who have for years now depended on the filming site to make a living through acting roles and other activities created by dozens of film production teams using the venue for productions.
"Almost all the actors and some crew you are seeing here are from this locality. The elements that were used to build the filming village were sourced locally and there is a deep connection between the locals and the entire eco-system something that makes our production fit in effortlessly," says George Mungai, the Kina production supervisor.
The site plays host to more 15 production groups every week.
"People here have understood the filming culture that has now become a major income generating venture for them. From the young to the old, everyone here is involved in movie making in one way or another. Families lend their houses out with some moving out for months to allow production teams use them for filming. Film has changed the economy of this place," Mungai says.
John Karanja, a film producer and the lead consultant at the Nderi film village, has been here for 24 years watching the dream of creating a filming village come true. He recalls how major TV series of yesteryears like Tushauriane and Waridi were recorded here.
"We have had a lot of growth in film production here because the eco-system has accepted us. Even the donkeys here understand the 'action and stop' director's cues. Here, filming has become a culture. Locals allow filmmakers use their houses as sets and if you go in most of them, you will find that they have paintings created to fit into those sets," Karanja says.
"In this place, when you are a film maker they know and respect you. Unlike what you would experience in most informal settlement, they guarantee you security as they know the benefits that come with film production here.
"From shops, bar owners and other entrepreneurs, it is always a good day as the money left behind here during a production is really much. It is a film hub that has created hundreds of jobs for locals and supported livelihoods," adds Karanja.
For most productions, the youth who play various roles get paid Sh1,000 per day while the now established ones take home between Sh10,000 and Sh20,000. Technicians are paid a bit higher. Those who rent out their houses get between Sh3,000 and Sh10,000 per day.
Out of this awakening, young people have sought training in film making, with the Nderi Film Village having trained 250 producers to-date.
The community - around the 10 kilometres squared location that is home to 30,000 people - has also formed an association that works closely with the film village.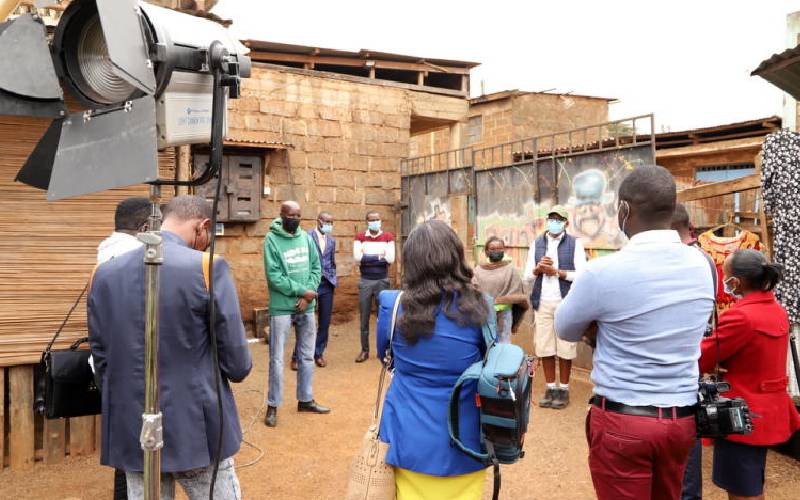 Magdalena Agwanda, a Nderi resident who dropped out of school due to lack of school fees has been taking roles every time a production team comes here. On this day, she is playing an extra. A mother, this is how she raises money to take care of her family's financial needs.
"When there is a team shooting, my friends and I are guaranteed to make some money and we take the opportunities to learn more about film making every time we get involved. When there are no activities for me to play at the film village, I hustle elsewhere to make ends meet," Agwanda says.
"Seven years ago, there was an 80-year-old lady living here who helped create a mini movie and sold over 25,000 DVD copies. While the financial gains went to her, the rest of the money was ploughed back to the community and that is the replication effect the village has on the community here," Karanja says.
He says it is such filming hubs that will help turn Kenya into a filming destination.
The Kenya Film Commission has been engaging county governments with the aim of developing filmmaking activities.
The latest film hub will be established in Bomet County. "The roll out of the new curriculum has contributed immensely to the growth of the creative industry, since it mainly focuses on talent development as well as putting in place the necessary infrastructure to create an enabling environment to support growth of talent. Bomet County has the capacity to grow based on its cultural heritage, especially when it comes to the creative industry," says Timothy Owase, the CEO, KFC.
Machakos and Kiambu as well as Nakuru and Nairobi are some of the counties that have opened doors for film makers by waiving some of the filming permits and licensing fees for film makers.
And even with Kenya's great history, diverse culture and breathtaking natural landscapes positioning the country as the home of some great films the world has seen such as the Gun Runners, Nowhere in Africa, The Constant Gardener, Cry Freedom, The First Grader, Born to Be Wild, Sense8 and Tomb Raider: The Cradle of Life, the exorbitant rates and tedious process expected to be followed by film makers make it hard even for the locals to engage in the business of film making.
"We have to create the culture of filmmaking. If you have to be an actor, you have to wake up thinking as an actor and you have to keep on consulting producers. Here in Nderi, we have been getting like five enquiries of students wanting to come for attachment and we attach them on ongoing projects.
"They are trained on packaging stories and scripts for film or TV. They end up getting credits as associate producers, camera men and the like. This is how you start creating the future of the film industry in Kenya," says Karanja.