Popular family vlogger Khalid Al Ameri in Kenya
STANDARD ENTERTAINMENT
By Peris Wambugu | Aug 21st 2021 | 3 min read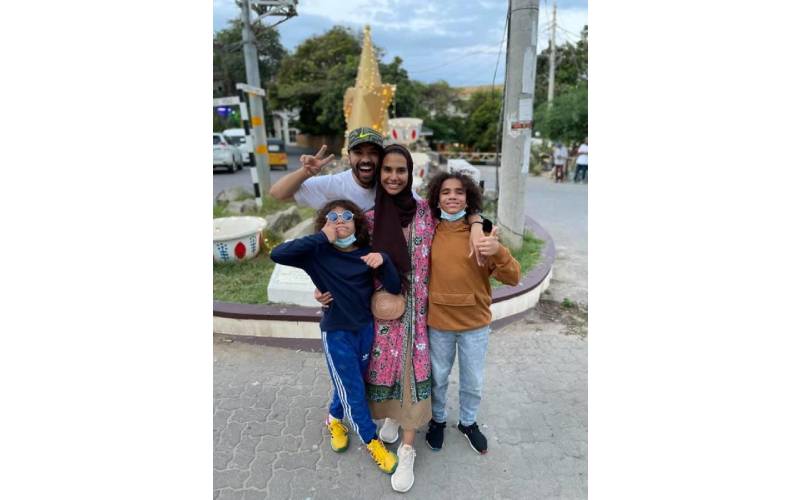 Khalid Al Ameri, a popular United Arab Emirates YouTuber and vlogger, is in the country. Al Ameri, who is accompanied by his wife and two children, is known for his daily videos about life with his family.
"Salam Aleykum! Hamjambo? We have just touched down in Mombasa, Kenya, and we can't wait to explore this beautiful country and meet its incredible people InshaAllah! Much and God bless always," he said in a Facebook post with a photo of his family.
The vlogger boasts of 6.3 million followers on Facebook and 1.6 million on Instagram.
Al Ameri, who is a full-time content creator, launched his YouTube channel on October 1, 2011 and has since been posting regular videos about life, love and family.
Through their (him and wife) daily videos, they hope to bring people from across the globe together to be able to live in peace and harmony.
He and his wife Salama met in Dubai while Khalid was working there.
His wife is a consistent contributor to his content. The couple in a past interview admitted that making videos has brought them closer together.
"In an interesting way, it brought us closer together. What people might not know is that the videos that we made together were pretty much lessons to ourselves as well. They were videos about moments that we've been through, about hardships that we've been through, and how we've come out stronger. It has made our marriage much better," said Al Ameri in an interview with Friday magazine.
While their videos continue to be received warmly by their fans, they have also received their fair share of hate. Asked how he deals with the hate in a previous interview, Al Ameri says that people are free to say whatever they want and that he does not let that affect him.
"Unless someone tries to harm my family or defame my country, I don't get offended at anything. People are free to say what they want, I won't waste time reacting to if it is not worth it. I would rather spend my time on the people who are positive and supportive and help me move my career forward," he said.
Apart from the global fame that comes from the popularity of his videos, Al Ameri is also an autism champion. He and Salama have a child who is autistic. He said he had to muster courage for two years to reveal to the world that their child is autistic.
"It's something my son is going to grow up with and look back on. I was very emotional when we found out and was not ready to share it with the world. We wanted to take more tests and be absolutely sure. It's not easy accepting it as a parent. We tried different schools, different programmes, until we were completely convinced," he said.