Sauti Sol's Bien and wife deny open relationship talk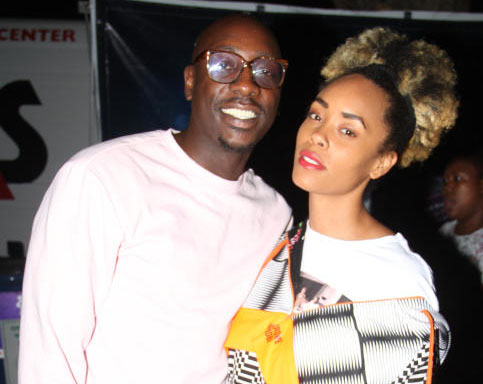 Sauti Sol's Bien-Aimé Baraza and his wife Chiki Kuruka are not in an open relationship as had been widely rumoured.
The celebrity couple, who tied the knot in March last year, told The Saturday Standard that Bien's comments had been taken out of context
They said they were all for honesty in their relationship, where even if one of them had a crush on someone else, they should be open about it and not try to hide the truth.
"We have this thing where if I ever meet my celebrity crush somewhere and I am in a situation where my celebrity crush wants to 'engage in coitus' with me, then so be it and vice versa.
"I don't have a problem with it. If that is what she wants, she should get it. You can't stop a human being from doing that. But also, I can't catch feelings, I'm after her happiness," Bien had said during a show, which saw entertainment blogs running with the story that the two were in an open relationship.
But speaking to The Saturday Standard, the celebrated pair stated that theirs was an open communication agreement, stressing that their private lives were not open for public scrutiny.
Chiki said the comments were taken out of context.
She, however, emphasised that they both value honesty and openness as key ingredients of their relationship even if it means speaking about their celebrity crushes.
"Bien and I were cracking jokes on Sol Family (show), and that's how a comment was interpreted. However, we deeply agree with honesty and communication, even if that includes lusting over celebs.
"How it was blown out of context is what puzzles me," she said.
When we probed further about her take on open relationships and where she draws the line, Chiki, was quick to stress that they like to keep their interactions private and she wants it to remain that way.
"Open communication? Yes. But I also don't believe our relationship is available for public involvement or entertainment. We (Bien and I) have always kept a lot of our interactions private, including our wedding. Allowing the public into your private life is unhealthy after a certain point," she said.
Well-guarded affair
She added: "People should mind their business."
The two wedded last year in a private ceremony attended by family and close friends.? They tied the knot at a civil ceremony held at the Registrar of Marriages before hosting an invite-only reception at the Pallet Cafe in Lavington, Nairobi, a well-guarded affair that even eluded the ever-probing paparazzi.
Asked why they had kept the union a small private affair at the expense of thousands of curious fans, they said a wedding is a personal, one-day affair that did not call for exorbitant spending and merrymaking.
"I am no longer interested in attending weddings because I have attended so many of them. It was my way of celebrating my commitment to my wife," stated Bien.
The couple said they spent less than Sh300,000 on the D-day.