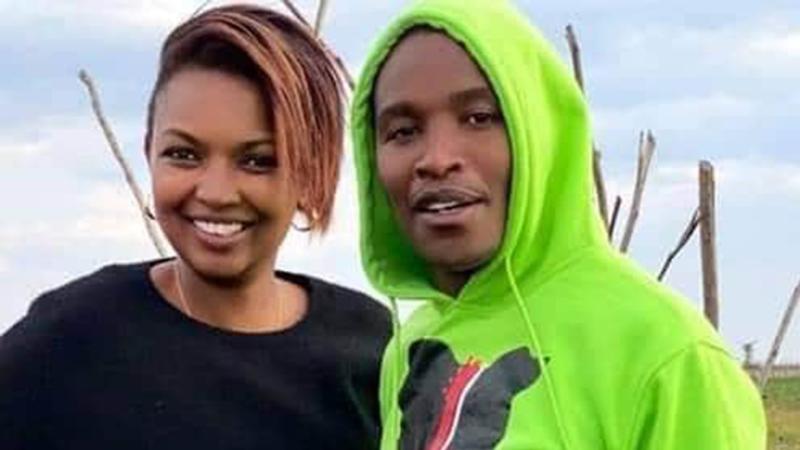 In As You Like It, William Shakespeare unleashes the force and fury of love, all in a simple ditty.
It goes:
It was a lover and his lass,
With a hey, and a ho, and a hey nonino,
That o'er the green corn-field did pass
In the spring time, the only pretty ring time,
When birds do sing, hey ding a ding, ding:
Sweet lovers love the spring.
The love story of Samson Muchoki aka Samidoh and the Karen Nyamu appears to have been brewed in the late summer of 2019 and gulped in the spring of 2020.
If Instagram analytics of Karen's account are anything to go by, Samidoh was in the crosshairs of the affable and saucy lawyer as early as August 27, 2019.
On that day, when she posted a photo of her beaming self receiving a phone call with the caption; "when your crush calls", Samidoh and 392 others liked it.
The day before, at a function in Embakasi East Constituency, she had danced with MP Babu Owino, and Samidoh had liked it.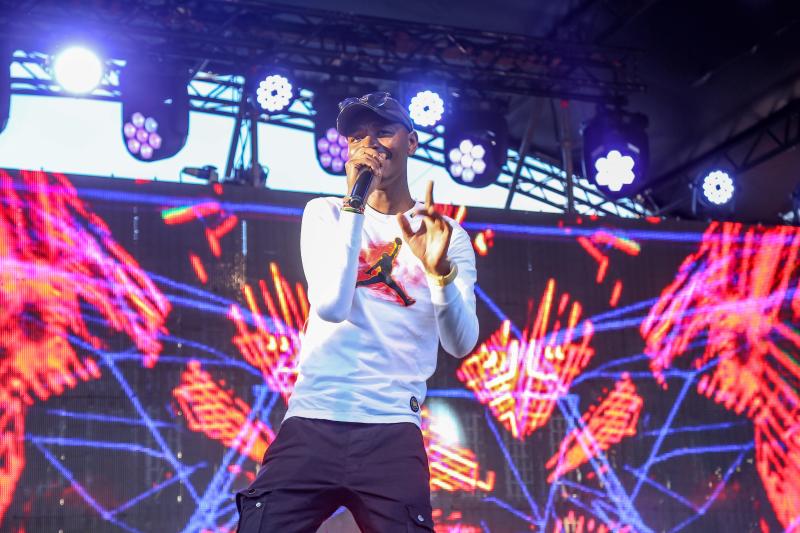 Before that, all the likes in Karen's postings were led by one hero: Mike Sonko, the Governor of Nairobi at the time.
Even with Samidoh beginning to emerge in the picture, Sonko continued to be the undisputed liker of Karen's postings on IG.
In September, however, Samidoh surged back so forcefully that by September 6, she was dancing on stage at Space Lounge Bar & Grill as he crooned. In a short video she posted, Karen's wish to be, like Toni Braxton's Spanish guitar playing all night long, could be seen right in her eyes.
"For the love of Mugithi. Ama ni the love of Samidoh?" she cryptically posed.
The following day, she was "live" in Sonko's Mua Hills home, for the 4th anniversary of the late Gideon Mbuvi Kivanguli, Sonko's father. She was received with full hugs and kisses by Sonko's wife, Primrose Mbuvi.
Sonko and Samidoh continued to alternate in leading the flock of likers of Karen's postings. In October, however, former Yatta MP Francis Mwangangi overtook both albeit briefly, leading the pack for the next six postings, burying their likes within the multitudes.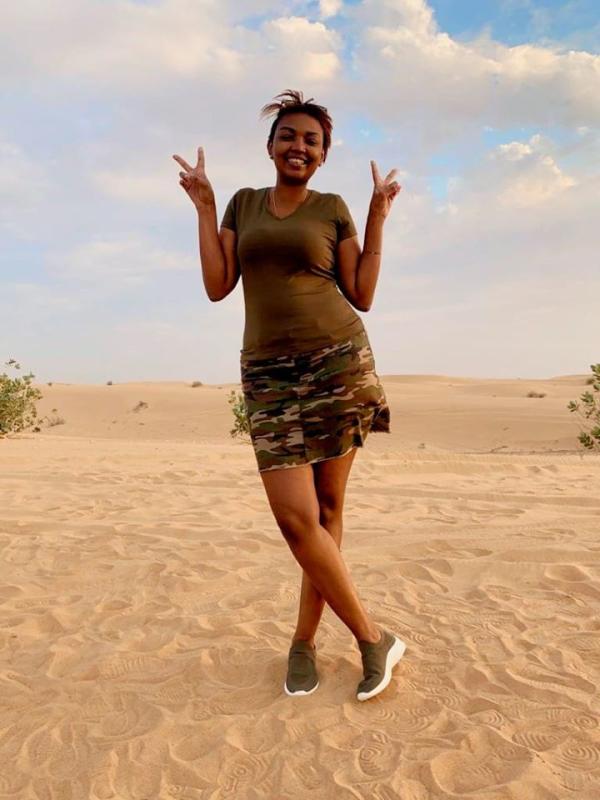 At the turn of the New Year, a 'wild and free' Karen was riding on speedboats with Sonko liking it. A few days later, Samidoh led 458 others in liking Karen's photo at an official function in her role as a board member of Nairobi Water and Sewerage Company.
In the next post, it was Sonko on top, leading a pack of 431 others. By March 29, Samido had grown enough courage to not just like but comment. When she posted her photo of her daughter attempting a catwalk, he responded:
"Ugali is made of unga." Karen giggled.
May 3 was a great day. On that day, Sonko and Samidoh staged a strong collabo, leading 66,801 views of Karen's daughter playing a miniature guitar as the real guitarist- the great Samidoh- played on TV.
But it was the caption of that photo that killed it all: "Who caught Samidoh live last night? Is a thirst trap."
She had spent the night watching Samidoh, and she was thirsting. Nobody knows of what.
From then, Sonko took full charge of the likes until June 23 when Samidoh overtook him, leading- on his own- 48,519 views on Karen's muted video post with a caption that "if it makes you happy, it doesn't have to make sense to others."
Sonko bounced back strong, leading all in liking Karen's new hair looks, dentist appointments and all.
By July, Karen posted a picture of a woman holding a smiling infant. Someone commented where there is smoke there is fire. She concurred; indeed. There was a bun in the oven.
The following month, Karen posted a Samidoh video in what looked like a private party, and where the crooner sang psalms of Sonko, corrupting a famous Mugithi song on money, its values and vices.
"Mbeca ciokire na mundu ukuitwo Sonko," he sang.
When she posted the first official baby bump video, Sonko liked it, alongside 87,222 views. The next posting was her mimicking Samidoh's song inside a car, making faces and looking so much smitten. Samidoh liked it.
On September 15, Karen accompanied by Samidoh visited Deputy President William Ruto in Karen. She left out Samidoh and posted the photo of herself and DP with the caption; "the future of the country in one picture."
A few days later, she posted a cropped photo of a man's torso, nay loins, enjoying tasty Ethiopian food. It was Samidoh, taken on the day they went to the DP's. Sonko liked this photo. She simply wrote; "cravings. A favourite."
Before September ended, a heavily pregnant Karen posted a video of herself being driven around by Samidoh, fooling around with him as he laughed sheepishly. At the close of the month, Karen did her baby bump photoshoot.
Sonko led the country in liking them. At her surprise baby shower early in October, Samidoh song opened the floor. Early December, Karen posted the first photo of her and the child, who had long been named after the father.
Sonko led the world in liking the photo. This would be among his last few likes of her postings for he soon took cover, you could say owing to the many problems he ran into at the time. He does not even appear to have liked her March 2021 birthday wish to him, where she praised his big heart:
"Those who have crossed paths with you know how soft your heart is towards all and sundry."
When the official video of Samidoh rocking his baby to sleep came, that is the moment when the shit hit the fan. She had to disable the comment section while Samidoh posted an apology. Karen also took a combative approach, taking on people one by one.
She taunted as much as she made it clear she was living her life. On March 12, she posted a photo of her rear self, inspecting what she described as her dowry: "Kamati ya roho chafu watasema ata sina bwana, hehehe wewe oliskia wapi?"
When in another post someone described her as a husband snatcher, she retorted: "We must learn to share. The only problem is when the shared man does not have the balls to stand with the truth."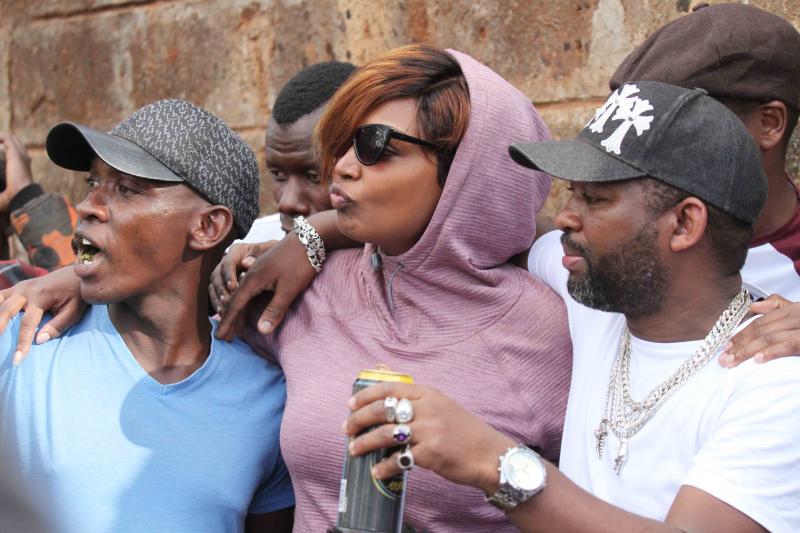 When someone else tried to paint the irony of a fine young man like Samidoh admitting to a relationship with "a woman who can't trace her body count," she hit the roof:
"I'm tracing my body count for what? Who wants the record. My friend, I am too hot. Too much for one man. You can never relate."
Yet another tried to tell her she may be having depression. She rounded her up: "Miss me with that depression shit. I'm too carefree, too happy go lucky for those problems of yours."
Her last posting before the latest video was the full picture of herself, Samidoh and DP Ruto in that September meeting last year: "The hustler narrative proposes a bottom-up approach," she said.
In the final stanza of As You Like It, Shakespeare crowns the ditty, in the same manner, the Samidoh-Karen love triangle is shaping:
"And therefore take the present time, with a hey, and a ho, and a hey nonino, for love is crowned with the prime. In springtime, the only pretty ring time, When birds do sing, hey ding a ding, ding; sweet lovers love the spring."