Rose Muhando on her troubled life, love for Kenyans, and meeting pastor Ng'ang'a'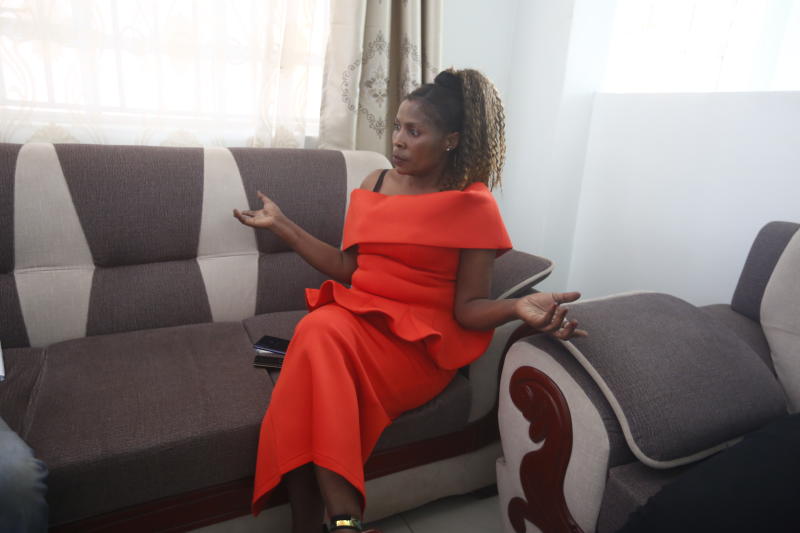 Rose Muhando's electric performance has been described by all manner of adjectives including spine-tingling and highly charged. When she steps on stage, it is almost impossible to imagine what she will do next.
She might ditch her shoes and perform barefoot like she did last week in Nakuru. She could gyrate, shake her braids or jump on stage.
Fans marvel at her energy on stage. Bodies sway to the rhythm of the songs, arenas shake with every stamp of feet and believers experience a spiritual moment of praise.
"Muhando is a magician. She has unique vocals and it feels like when she gets on stage, a part of her leaves the world," says Bento Oriko, a music producer in Nairobi.
Muhando has many personalities. There is the musician with electric performance. It is the personality most people are familiar with.
People rarely encounter the calm and composed woman who speaks in a low voice. When we catch up with her in a hotel in Nakuru, her face lights up when she talks about her music and plans for the future. Her voice lowers when she talks about her troubled life.
"I have battled stress and depression. I have faced the roughest time in my spiritual journey, faced insecurity but I am well now. I will narrate what I went through when God allows," she says.
Her confession hints at what her followers have been saying online and off the net. Muhando is not well. Over the years, the fire she ignited by churning out consistent music albums started waning.
Her songs, like Mteule Uwe Macho, Yesu Nibebe, and Yesu Nakupenda became a reminder of the voice that redefined gospel music in East Africa. Her stage appearances reduced, and by last year, she barely made any performance. When she appeared in public, the spark she had in her eyes and voice had been replaced by a blank look and emaciating body. Then came the viral video that showed controversial pastor of Neno evangelism centre performing exorcism on her as she lay wailing helplessly on the ground.
False narrative
"She was unwell. She requested for spiritual healing from me. I only facilitated that. She is like a patient in a hospital. Do you usually call the doctor to inquire about the health details of a patient you are not related to?" Pastor Ng'ang'a responded when questions on how Muhando ended up in her church emerged.
The musician now opens up on the incident saying she cannot remember what transpired before the event and has no recollection on how she was lured to Ng'ang'a's altar.
"Pastor Ng'ang'a had invited me to his church and I had reported a day earlier. However, on the day the video was shot, I had a lot of pain in my stomach and he told me he would pray for me. I blacked out after the first three words and to date-I still cannot tell what transpired," she says.
She says she has never gone back to that church, nor talked to the pastor.
Muhando's entry into music was as controversial as the life that followed her in fame. As a daughter of a Muslim sheikh, she says her father was opposed to the idea of converting to Christianity.
Trouble seems to follow her; from fallouts with her producers, rumours of procuring an abortion, hospitalisation after being attacked by a venomous snake, and being entangled in fraud cases.
Then came rumours that she had sunk deep into drugs. Her slow gait, burn marks on the body and erratic behaviour were linked to drug use. Muhando denied the allegations vehemently.
She accused her former manager of spreading the false narrative after she refused sexual relations with him.
"I refuse to be anyone's sex slave…" she had said when confronted.
Her other struggle is the turbulent relationships she has had, and her desire to remain single amidst a community that believes in marriage.
"All my children are in school. All of them have different fathers because every one of them left me when I was either pregnant or when the child was young. I have however managed to enroll them in good schools and soon my firstborn will be graduating with a degree in law," she says.
The musician says being unmarried is a blessing in disguise as it allows her to travel and perform.
Abject poverty
She says her children, a daughter, and two sons, are her biggest investment. Muhando discloses that she has businesses and land in Tanzania, disputing talks that she is wallowing in poverty.
Even her choice for role model is not typical of what her Christian followers expect. She draws her inspiration from the late Michael Jackson.
"People will find it strange but Michael Jackson was a great inspiration. His music brought the world together as mine did. My inspiration also comes from my everyday challenges. I sing every song to praise God for holding my hand in my music career," she says.
Since the year began, Muhando has made two trips to Kenya, sparking speculations that she could be working on a big project. She even composed a song about President Uhuru Kenyatta. She says Kenyans are her fans and she likes their generosity.
"That is why I composed a song for President Uhuru. Kenya is like my second home and has given me a lot of opportunities. I get inspiration from fellow artists like Emmy Kosgei and get to appreciate people with great music like Mary Atieno," she says.
Currently, she is nurturing upcoming artists like Stewart Dav idson who says Muhando is like a mother to him.
"She is doing great to help us, upcoming artists. I have already recorded one song and shot a video since we met last year," Davidson said.
One thing she believes is there is nothing under the sun that can take away her powerful voice.