DP Ruto to host 2019 drama festival winners as gala ends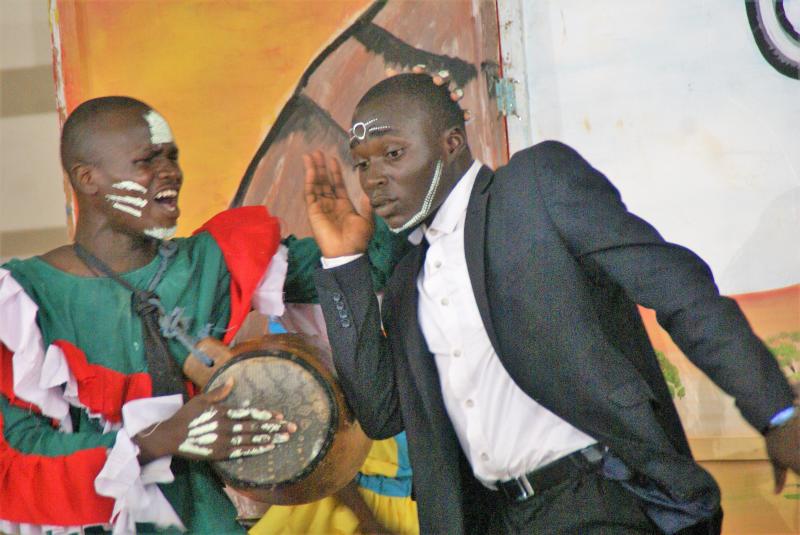 Deputy President William Ruto will today be entertained by the winners of the 60th edition of the annual Kenya Schools and Colleges Drama and Film Festival at Kibabiii University.
Dr Ruto will be standing in for President Uhuru Kenyatta who is abroad on State visit.
The winning schools and colleges would have presented their items at the Kakamega State Lodge but due to protocol, it cannot be held there unless the President or the First Lady hosts them.
During a gala graced by the PS Early Learning and Basic Education Belio Kipsang', students put up entertaining and informative items.
Moi Primary School Kabarak received a standing ovation when they performed the play Forbidden Acts that depicts a home beleaguered by greed among children.
In the play, the family patriarch Jake in an attempt to please his children (Adrian Ondieki and Joy Kasuma) gives them a lot of cash.
Unknown to him, he his planting the seeds of a vice that will grow its roots too deep.
The trusted watchman (Dan Kimutai) knowing the love these children have for money, recruits them into a money-laundering syndicate.
Ngiya Girls form Siaya presented a beautifully choreographed cultural dance depicting a bright schoolgirl, but whose goal to excel academically is jeopardised by her uncontrolled love for social media.
Adhiambo Kienyeji turns from a conservative village beauty into a fast lane "slay queen" whose pictures on social media platforms drive her into the path of self-destruction.
Parents were put on the spot when pupils from Christ The King Bungoma depicted parenting marred with misinformation, especially when assisting their children with homework.
When summoned by teachers to explain why they were misleading their children, parents realise they have been relying on books that had not been vetted by education authorities.
The choral verse advises parents to only buy accredited books.
In response to the verse Dr Ouma Jwan, the executive director of Kenya Institute of Curiculum Development, advised private schools to buy books at the institute at half the price they buy them from booksellers.
St Claire Maragoli School students left the audience asking for more when they presented an oral narrative Disco Matanga.
It depicts the tribulations of two students who study in a school that is strict on matters entertainment as their teacher, a Mr Mwandalo, does not allow music in the school compound.
But when a neighbour passes on, and as is the tradition, disco Matanga takes place every night to raise money for the funeral.
To their surprise, it was actually Mwandalo who was the DJ at the function. Much more unfolds.
Moi Girls Nairobi's performance was based on a sect that believes in prayers more than modern medicine.
Produced by Margaret Njaga, the verse My Pastor My Preacher shows how people are duped by unscrupulous clergymen and women.
Riara Springs Nairobi kept the audience on the edge of their seats with a thoughtful play Camels of Tarbaj.
Also performing at the gala yesterday were Eldoret National Polytechnic, Laikipia University, Kenyatta University, Shanzu TTC, Liganwaa ECDE, Furaha Academy, Mawego TTC, Kibabii TTC, Kabete National Polytechnic, Asumbi TTC, Ugenya TTC, among others.
Speaking at the event Dagoretti MP John Kiarie hailed the organisers and teachers.