Miss Kenya raises Sh1.3M in China
By Stevens Muendo -Pulse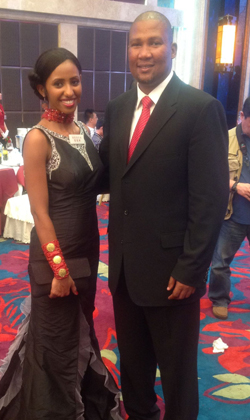 Miss Kenya with Nelson Mandela's grandson.
After making it to the finals in the ongoing Miss World Beauty with a Purpose beauty pageant in China, Kenyan beauty Shamim Ali has scored yet another first.
She was the first Mombasa girl to win the Miss World Kenya title three months ago and on Tuesday evening, the 18-year old Architecture student raised $16,000 (Sh1, 345,000) during a charity dinner.
Her action item, item the Family of Elephant from Maltbronze was one of the highest sold during the night.
"I have done my country proud and am so happy about this," Shamim told Pulse.
"I never expected to go this far in the competition. Am asking Kenyans to keep voting for me," she added.
It was the Beauty with a Purpose night, a major component in the Miss World pageant were contestants raise money for international causes.
Each contestant carried with them from their country an auction gift, something to symbolise their country and share some of their culture with the auction bidders.
Over the past two weeks each auction item has been photographed, filmed and listed and they were ready to be presented to the high profile businesses invited to attend the auction dinner.
A staggering 26 Million RMB was raised and donated on the same night to local causes.
The grand finale will be held on Saturday and Shamim is expected back in the country on Monday.
Besides, she is among the top 40 who made it to the finals — out of 115 country representatives from allover the world.
She is in the company of Terry Mungai who holds the Miss World pageant in Kenya.
ODM's strategy to win over Central
The team mandated to deliver the Mt Kenya voting bloc to ODM presidential candidate Raila Odinga is pegging all its hopes on Mau Mau freedom icons to attract youthful voters.