Achieng' and Okwiri lit up the year for Kenya in professional boxing
WOMEN IN SPORTS By Ben Ahenda | December 27th 2021 | 3 min read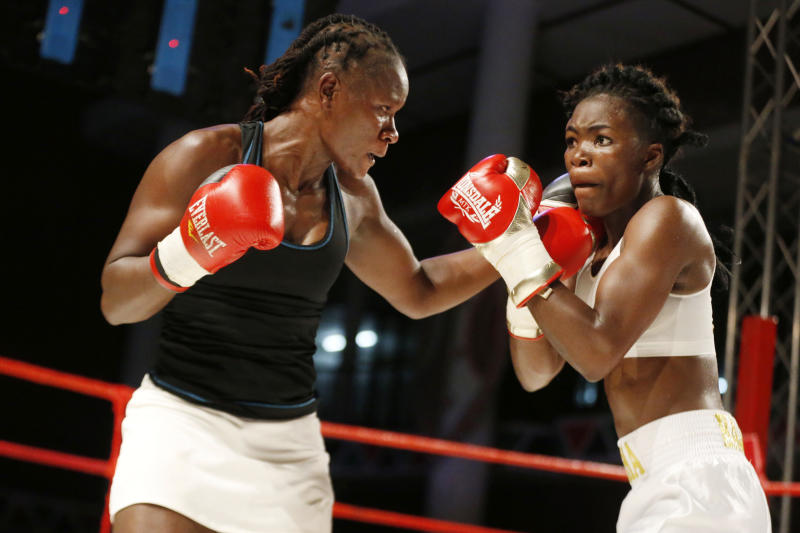 Universal Boxing Organisation Inter-Continental female lightweight champion Sarah Achieng' and former Africa Boxing Union super middleweight champion Rayton Okwiri were the two professional boxers who made Kenya proud in 2021.
After a two-year lull, the two boxers engaged in title and non-title fights that are considered to be the best pro-fights of the season.
As Achieng' had her fight in Nairobi, Okwiri's fights were in Dar-es-Salaam, Tanzania and in the United States of America.
After push and pull by their promoters, it resulted in postponements and cancellation of some fights before the duo finally landed crucial fights.
Achieng' had one title fight after her previous match against Ruth Chisale of Malawi was cancelled at the eleventh hour as Okwiri had three non-title fights which he all won.
Eventually Achieng' faced Anisha Basheel of Malawi in a 10-round Commonwealth super lightweight title fight and won on unanimous points decision to become the female champion.
On his way to winning the three non-title fights after losing the ABU middleweight title belt last year due to his participation in the Africa Olympic Qualifiers in Dakar, Senegal for the 2020 Tokyo Olympic Games, Okwiri was desperate to stay afloat as a professional boxer and therefore exploited every opportunity that came his way.
He was lucky to have landed training sessions sponsorship by betting firm Sportpesa that took him to the US. He left the country on May 2021 for intensive training in Boston before a series of fights lined up for him in the US and East Africa by promoter Michael Reyes of Reyes Boxing International.
Before getting to US, Okwiri first landed in Cancun, Mexico for intensive physical conditioning training with Namibia's Walter Kautondokwa before moving to Boston for sparring camp.
His first fight was against Fidel Munoz of Colombia whom he knocked in the second round of the 8-round non-title fight in Portland, Maine in the United States of America on August 15, 2021.
Okwiri's second fight was against John Serunjogi of Uganda in a 10-round non-title fight in Dar Es Salaam, Tanzania on October 13, 2021.
He also knocked out the Ugandan in the eighth round.
"Winning a world title as a professional boxer has been my dream. And the win against the Ugandan was a great milestone towards becoming a world champion to break the record of former national boxing legends," he told Standard Sports.
When he was through with the Ugandan, he was to face Enock Musambuzi of Zimbabwe in another non-title fight in Dar es Salaam on November 26, 2021 but the fight was cancelled following unreasonable financial demands by the Zimbabwean.
Later, Okwiri landed a World Boxing Federation Africa super middleweight title against Joshua Kpakpo Allotey of Ghana, but was again cancelled.
The last crucial fight of the year was the national light welterweight (67kg) title fight between defending champion George Onyango against Fred 'Nekes' Nyakesha, which he successfully retained in October 2021 at Charter Hall.
On her part on October 6, 2021, former World Boxing Council super-bantamweight champion Fatuma Zarika was breathing fire against Kenya Professional Boxing Commission for ignoring her plight in fixing a rematch against World Boxing Council super-bantamweight champion Yamileth Mercado of Mexico.