Beach volleyball pair calls for support after Tokyo Olympics experience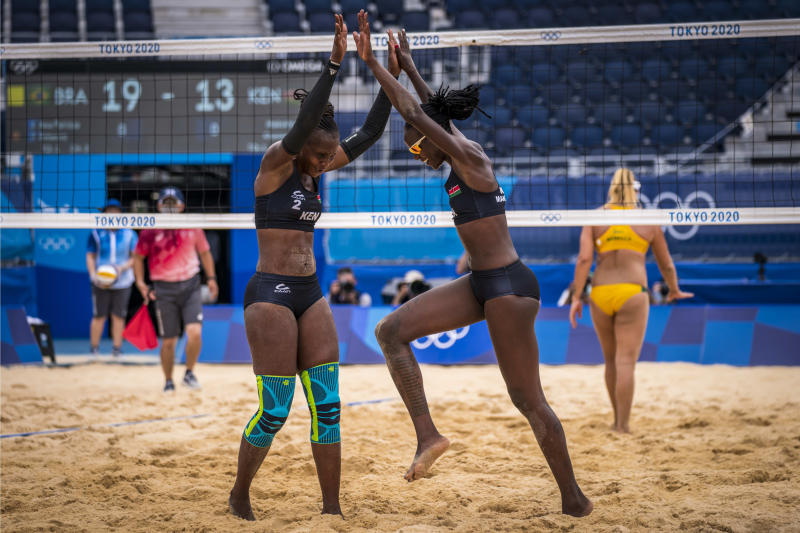 Kenya's beach volleyball pair at the Tokyo Olympics Gaudencia 'Gau' Makokha and Brackcides Agala believe that Kenyans can do even more in the event if they can get enough exposure before major championships.
The duo which lost 2-0 (21-8, 21-6) to USA's Sarah Sponcil and Kelly Claes yesterday also urged the Kenya Volleyball Federation (KVF) and the government to do more by investing in beach volleyball if Kenya is to continue playing at the Olympics and other global events.
"We can play in the World Tour where the top players in beach volleyball are playing, but we don't have sponsors and we are reduced to only play against ourselves in Mombasa," Agala said.
The Kenya Prisons player, who has been a regular in indoor volleyball for Malkia Strikers before switching to the beach, said the World Tour does not need qualification, but just sponsorship to enable the Kenyan pair join the rest in playing at the top level.
'Blackie' as most of her peers call her is however happy with the experience she has gained so far and also to have fulfilled her dream of playing at the Olympics.
"I always fought hard with Malkia Strikers hoping to qualify for the Olympics in indoor volleyball, but it was never to be. I am however happy that God had other plans for me and I have fulfilled by Olympics dream in beach volleyball," Agala said.
She is also hoping that the federation and the government can help support beach volleyball by nurturing young players who will take over from her when she exits the scene.
"Where are the young players who will take over from Blackie when she retires?" Agala asked after the game against USA.
But she is not keen to take up a coaching role.
"I have not had a smooth time in volleyball and will not be quick to take up coaching. If I have to then maybe I nurture youngsters and also try my hand in handling a men's team in indoor volleyball," added the former Malkia Strikers captain.
Her partner and captain 'Gau' is also hoping that more can be done to support the sport.
'We have not played well here in Tokyo, but we have had a good experience in our first Olympics by playing against the best players in the world.
"If only we can play in the World Tour, then we can be able to gauge our levels before playing at a major event like the Olympics," Gau said.
The team captain was quick to point out that just like Kenyan fans they are demoralised with the results in Tokyo.