Nairobi, Nakuru inch closer to National Para-Volleyball semis
VOLLEYBALL AND HANDBALL By Ben Ahenda | October 23rd 2021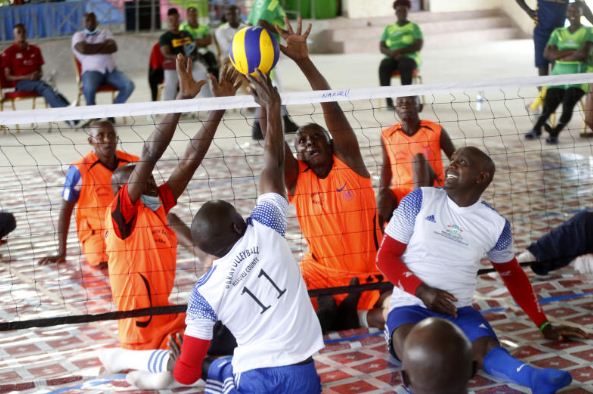 Nairobi and hosts Nakuru won their opening matches to take early lead in men and women's championships of the National Para-Volleyball Championships at Gioto Social Hall in Nakuru yesterday.
First, Nakuru humbled Nairobi in straight sets of 25-19, 25-16 and 25-13 in the men's championships before they (Nairobi) lost 3-1 to Kisumu in their second match.
Nairobi were beaten 25-6, 25-17, 23-25 and 26-24 against Kisumu in their second match.
Nakuru then thrashed Uasin Gishu in straight sets of 25-9, 25-15 and 25-15 to lead the table standings with six points from two matches with two matches left.
Kenya Para-Volleyball Federation Secretary General Justus Kutuma said players were happy to have resumed their calendar of events after the nationwide curfew was lifted by President Uhuru Kenyatta on Mashujaa Day.
"It has just come at the right time when all of us were eager to start our operations and we are happy to have resumed our matches," Kutuma told Standard Sports.
He said the second tournament will be hosted either in Bungoma or Mombasa which will act as the season ender.
During the tournament, participants were taken through the Anti-Doping training sessions by officials from Anti-Doping Agency of Kenya (ADAK).
In another men's match, Kisumu won the first two sets 26-6 and 25-17 before losing the third one 16-25 against Nairobi. They however bounced back to win the fourth set 25-14 to claim a 3-1 victory.
In the women's championships, defending champions Nairobi humbled hosts Nakuru with straight sets of 25-21, 25-21 and 26-24 before thrashing Kisumu 3-0 (25-12, 25-8, 25-15).
The victory saw Nairobi move at the top of the table with six points.
Nakuru bounced back to see off Uasin Gishu 25-15, 25-10 and 25-9 to inch closer to the semifinals.
Vihiga their opening two matches by straight sets to Uasin Gishu (25-19, 25-14, 25-14) and Kisumu (25-13, 25-9, 25-15).
The tournament enters the final stage this afternoon.