Shooters impress with skills at Dry run marking countdown to the IDPA African Championships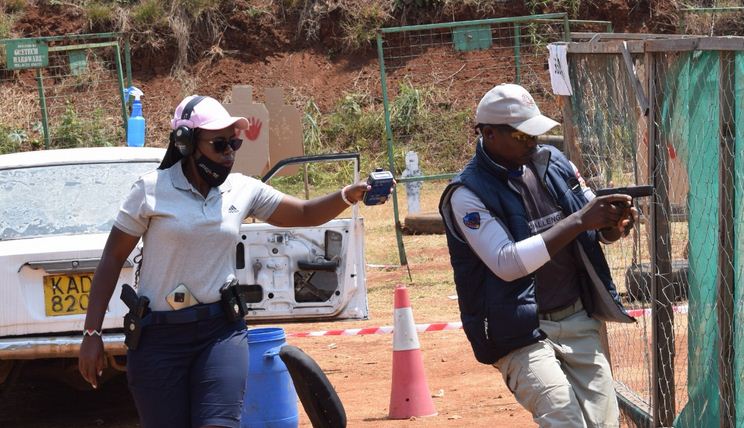 It was a battle for the finest in various divisions over the weekend as Kenya's IDPA national team conducted a dry run for the upcoming continental championship scheduled to take place at the Kirigiti shooting range from the 2nd to 5th of September.
The Tier 1 match attracted 100 sports shooters who registered to take part in the contest and among them were 26 ladies and over 40 officers drawn from the disciplined forces.
"Today's shoot is a countdown to the African champs that will be happening in about 30 days. This is the main event before the championship and the turnout has been great."
"We are expecting nothing less than 200 shooters in the championship. Said National Gun Owners Association (NGAO-K) chairman Martin Chengo.
According to Chengo, around 30 international shooters have confirmed participation in the championship, among them - 15 from South Africa, 4 from Asia, 2 from USA and 1 from Switzerland. The list could increase as they are expecting more entries before the D-day
"The Firearms Licensing Board has been very cooperative in terms of import/export permits, and even temporary permits for both local and international shooters. Everything is set to go." Confirmed Chengo.
According to the Match Director for the IDPA African championship 2021 Eng. Sammy Onyango, capacity building for the event will still be ongoing before kick off on the 2nd of September.
"Besides registration to take part in the championship, there has been an increase in the number of licensed firearm holders who want to improve their proficiency. We shall run a safety officers class and conduct regular group trainings before the event." Onyango said.
"I would like to assure all our international participants that the Kenyan government has taken all precautions necessary to ensure that covid19 matters are taken into account."
"Through the Ministry of Health; we have trained 115 of our own members who are now trainers of trainers in covid19 awareness." Onyango disclosed.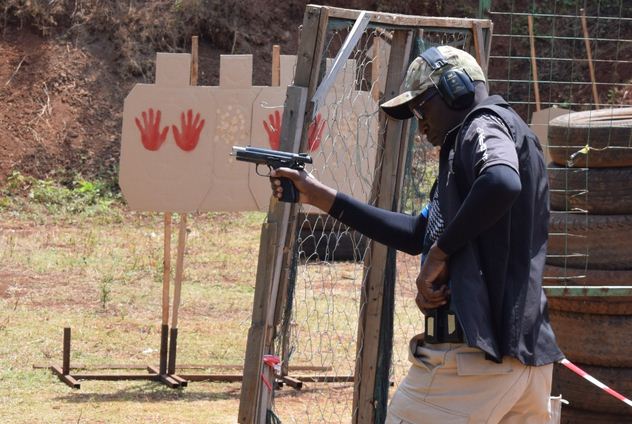 The Saturday fixture which was conducted under strict adherence to covid19 protocols saw both seasoned shooters and new entrants strive to outclass each other in different scenarios on 10 Courses of fire with a round count of 200.
RESULTS
DIVISION WINNERS
SSP HIGH - Mohammad Omar
ESP HIGH - Sammy Onyango
CCP HIGH - Peter Njoroge
CO HIGH - Tony Karanja
PCC HIGH - Geoffrey Pesa
SSP DIVISION
SSP MASTER CLASS
- Mohammad Omar
SSP EXPERT CLASS
- Memba Muriuki
- Wilson Kabugi
- Morris Muriithi
SSP SHARPSHOOTER CLASS
- Peter Muli
- Joshua Vundi
- Amos Mathenge
SSP MARKSMAN CLASS
- Pravir Vora
- Alex Onyapidi
- Irene Wanjiku
SSP NOVICE CLASS
- Priscilla Mburu
- Joseph Kiragu
- Alice Njuguna
ESP DIVISION
ESP MASTER CLASS
- Sammy Onyango
- Eric Wachira
ESP EXPERT CLASS
- Anthony Wahome
- Samuel Chacha
- Mike Kiptanui
ESP SHARPSHOOTER CLASS
- Peter Mwangi
- Moses Rono
- MohammadNoor Ahmed
ESP MARKSMAN CLASS
- Issa Issa
- Satnam Channa
- John Kyalo
CCP DIVISION
CCP EXPERT CLASS
- Thomas Kiilu
CCP SHARPSHOOTER CLASS
- Peter Njoroge
- Martin Chengo
- Gikonyo Mwangi
CCP MARKSMAN CLASS
- Orlando Lyomu
- Said Mohamed
- Robert Kibutiri
CCP NOVICE CLASS
- Patrick Makau
- Shabram Athman
CO DIVISION
CO EXPERT CLASS
- Tony Karanja
CO SHARPSHOOTER CLASS
- Sunny Syan
PCC DIVISION
PCC EXPERT CLASS
- Geoffrey Pesa
PCC SHARPSHOOTER CLASS
- Sylvester Gitau
- Elizabeth Onyango
LAW ENFORCEMENT CATEGORY
- Daniel Mutiso
- Samuel Chacha
- Peter Muli
MILITARY CATEGORY
- Irene Ndunda
- Brenda Ajiambo
- John Njenga
LADIES CATEGORY
- Elizabeth Onyango
- Belinda Akoth
- Irene Wanjiku