I will bounce back, says Okutoyi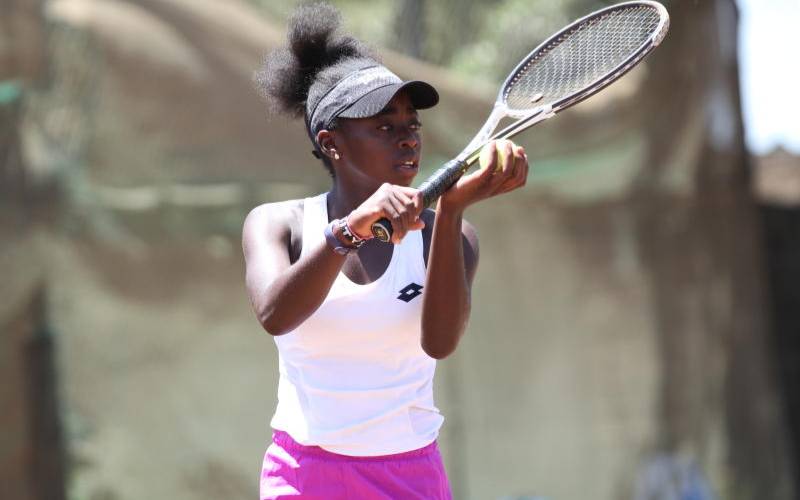 The Kenya tennis sensation who turned 18 on Saturday said the Australian tour is behind her and will not look back.
"I am going out for a winning streak in my next encounter, I will not look back," said Angela Okutoyi.
She noted that her success is a win for all Kenyans and Africa at large.
"It makes me feel proud for everyone who made me reach the third round. I assure those African tennis players out there they can make it and nothing is impossible. Reaching this far is the first step for Africa," she added.
She credited her coaches and tennis Kenya as well as the ministry of Sports, Culture and Heritage for supporting through her career and preparation for the tournament.
"I am greatful all for your immense support, I don't take anything for granted. You have made me reach this far."
The 2021 African Junior champion is now poised her eyes on bigger tournaments.
"Going forward I am looking forward to playing at the French Open and other international platforms," concluded Okutoyi.
She said this when she jetted back to the country where she was received by the ministry of sports, Culture and Heritage officials, Kenya Tennis Union, tennis players and friends.
Mary Juma, her guardian noted that it is only through prayer and hardwork and dedication that has seen her excel.
"I have never thought of this in my life. This is a dream come true. We have raised Angie in a humble way and we can see God's manifestation as a family," she said.
Her coach Francis said Okutoyi has set pace for the next coming generations.
"We have many things in the cooking and we hope to get more Okutoyi. Her name is on everyone's lip. Okutoyi was in a structure and we need many structures in place since this is not a one man's show," he said.
The Tennis Kenya president James Kenani alluded to Okutoyi saying she delivered to everyone. "She delivered and for this is a great achievement for Kenya. Okutoyi and her twin sister are Serena Williams of Kenya."
He notes that the union has lined up several international tournaments to sharpen her skills.
"We are appealing for sponsors to come for her support as we prepare to have her take part in the French Open which will be held between May and June in Paris, Wimbledon June-July in London and US Open August to September in New York. I believe she will travel with her coach this round," he said.
The CS for Sports, Culture and Heritage representatives said the minister is planning for Okutoyi homecoming party soon.
The two-time African Champion Okutoyi previously registered her two straight victories at the Australian Open Junior Championship at Melbourne Park which earned her an entry to the third round.
She defeated Italian Federica Urgesi 6-4, 6-7 (5), 6-3 before toppling the Australian on local soil. She went on to lose to Lola Radivojevic in the third round.
Okutoyi revived Kenyan tennis on an international platform after over sixteen years of absence. Susan Wakhungu was the first to feature at Wimbledon in 1998.
Related Topics