Djokovic returns from injury with a bang at the Australian Open
TENNIS By Game Yetu | January 16th 2018 | 2 min read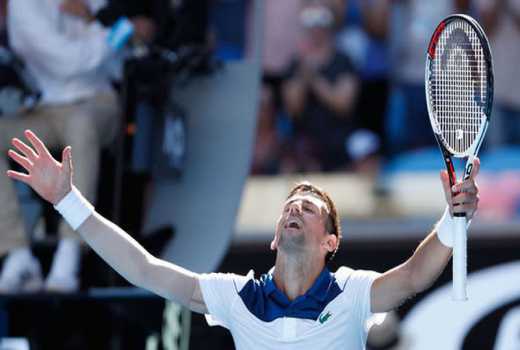 Novak Djokovic won convincingly in the opening round of the Australian Open 2018 against American Donald Young in his Grans Slam return.
The former world champion was playing his first official match since retiring during his Wimbledon quarter final match against Tomas Berdych last summer with elbow problems that forced him to miss the rest of the season.
There were doubts whether Djokovic would be fit enough to play at Melbourne park, where he has a record of six titles, when he withdrew from tournaments in Abu Dhabi and Doha because of pain in his right elbow.
On the eve of the tournament, Djokovic wore a compression sleeve since he was cautious about his fitness but he was still in god form as he eased to a 6-1 6-2 6-4 over American Young.
With the help of coaches Andre Agassi and Radek Stepanek, the 30-year-old has remodeled his services action which shortens the back swing in order to protect the elbow and yes, it held up perfectly.
Young, who's is world number 63, helped Djokovic out with a promiscuous start scattered with errors. The only move of doubt came when he failed to serve out the second set at the first attempt, but he was not seriously disturbed as he cinched victory in 1hr 51mins.
"A month ago, I didn't know if I was going to come to Australia or not because the elbow was still not prepared for this level of competition," said Djokovic on BBC, UK. Djokovic will now face France's world number 39 Gael Monfils in the second round of the tournament.
"It feels great to be back here, to be back on the tennis court, there I no better place for me to start playing after six months away that here in Australia. I love coming here." Added Djokovic.
Known for being a family man, Djokovic spend quality time as possible with his family during the long period without any official match. He also became a father for the second time.
BBC quotes him saying, "It's been a long period without any official match but is used this time to spend much quality time as possible with my family. Becoming a parent for the second time is a blessing, so I had my hands full."