Kenya names 50 players for the Mombasa Open tournament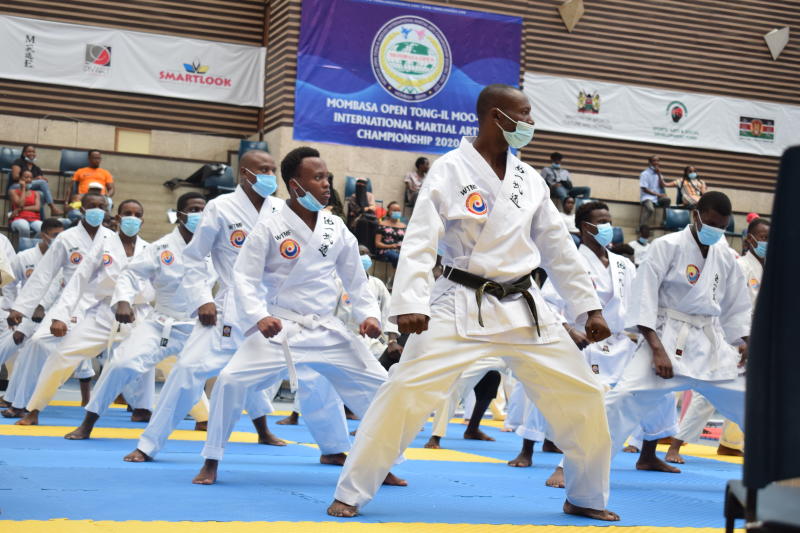 Kenya has named 50 players to participate in the annual Mombasa Open International Tong Il Moo Do martial arts tournament slated for next week.
Master Clarence Mwakio, President of the Kenya Tong Il Moo Do Federation said the players were named after the conclusion of the national trials held in Nairobi and Mombasa.
"We have selected 36 men and 14 women to represent the country in the ninth edition of the martial arts tournament that has attracted 25 countries," said Mwakio.
The tournament will be held at the Aga Khan Academy, Mombasa.
He said the tournament starts with the arrival of foreign teams from next week Wednesday with the official program starting on Thursday with clinics and training to be conducted by the founder of Tong-IL Moo-Do, great grand master Joon Ho Seuk and the World Tong Il Moo Do Federation President grandmaster Takamistu Hoshiko.
The participants will be trained on martial arts skills, character education and participate in martial arts styles that include demonstration, sparring, special techniques and form competition.
Mwakio said there will be a number of events leading to the actual dates of the competition, which will be on December 18 and 19 where Kenya will be defending the overall title.
"We have picked the best Team Jasiri ever for the tournament and we are optimistic of defending the title despite tight competition from our opponents such as Philippines and South Korea," said Mwakio who is also the President of the Africa Tong Il Moo Do Federation.
He said with the easing of the Covid-19 restrictions, fans will be allowed to the hall but all Covid-19 guidelines will be observed.
"In order to make the event more competitive, the invitation has been extended to Karate, Tae Kwondo Judo, Kung-fu, Aikido, Jiu-jitsu, Ninjustu, Wushu and other alternative martial arts," he said.
He said this is expected to bring an increased number of international participants compared to the previous years.
Some of the couhntries expected are Paraguay, Ethiopia, Nigeria, Brazil, Cyprus, Cote d'Ivoire, Philippines, South Korea, Cambodia, Japan, Congo Brazzaville and Iran.
Others are Turkey, Zambia, Malaysia, Democratic Republic of Congo, Burkina Faso, Central Africa Republic, Nepal, Angola, United States of America, and Germany.