Kenya grabs three medals at maiden Africa Championship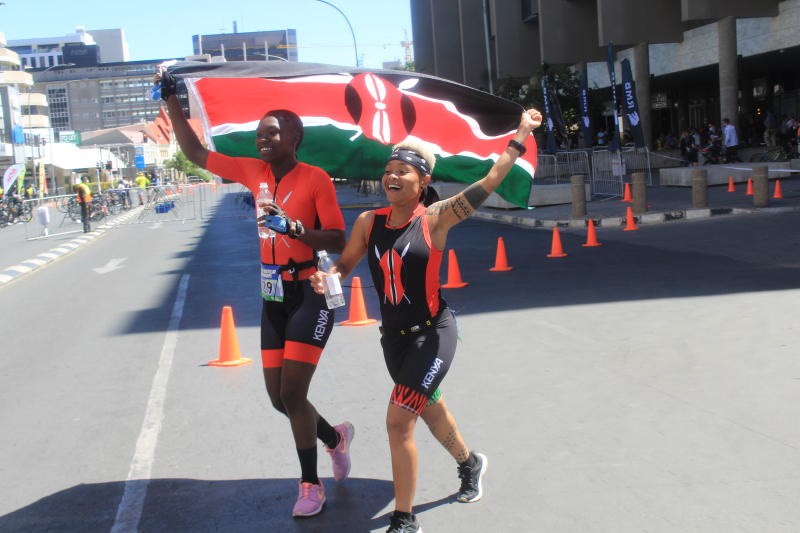 Kenya made her entry at the continental Duathlon stage in style after winning three medals in her maiden appearance at the 2021 Africa Duathlon Championship staged over the weekend in Namibia.
Though the sport is still relatively new in the country, 27-year-old Yvonne Ojijo led compatriot Christine Shambi to a one-two finish in the women's 25-29 Female age group- Sprint.
The weekend event was not only historic to Kenya, but also Namibia who staged her first championship.
Ojijo's victory came just a few minutes after Mungai Kairuki's had grabbed third place in the junior men's race.
Ojijo who was born just a year after Shambi (1993) clocked 01:28:46 while the latter timed 01:29:26 in a photo finish event held at the heart of Namibia's Capital.
Mungai clocked 01:12:39, just .03 seconds behind Namibian Nicholas Du Plessis who clocked 1:09. 35 for second place.
Homeboy Johannes Van Der Wesrguizen took the first position after timing 01:02:56.
James Mwaura was the best placed Kenyan in the men's elite race after settling for fourth. Namibian Joan-Paul Burger clocked 01:51:57 for first place, ahead of South African duo of Dylan Kruger (01:56:26) and Jonathan Benjamin who clocked 01:56:41.
Gabriel Ambeba, Eddy Odhiambo and Gideon Rutto were fifth, sixth and seven positions in that order.
Kenya however, had a relatively disappointing outing in the junior women's race where participants cover 5km first run, bike 19.98 km and another 2.5 km second run. Vivian Hiller was the top-ranked Kenyan in position five while Terry Kariuki finished ninth.
That event that was also being held in Namibia for the first time, attracted over 50 participants mostly from Kenya, Namibia and South Africa that had the highest entries.
The NTF is hoping to see at least 150 entries, while athletes from across Africa are expected to attend and compete for the title of African duathlon champion of 2021.
Kenya was making her duathlon debut at the continental stage.
For Kenyan athletes, attention will now shift to the African Cup National Championship (sprint) to be held in Mombasa on November 6.