Zetech Varsity students on sports scholarship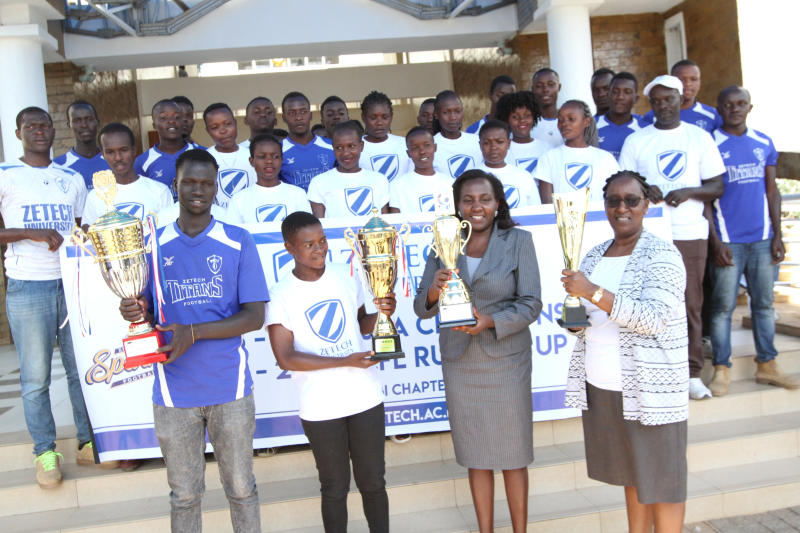 Zetech University has pledged to support more than 38 students on sports scholarships even as the COVID-19 pandemic bites.
The news will be a welcome relief to the students as the worldwide pandemic continues to wipe out resources leading to massive job losses across all sectors of the economy.
However, Zetech University's announcement is sure to turn the beneficiaries' fears into joy. The university offers scholarships to needy talented students in basketball, football, volleyball and rugby.
Making the announcement, Zetech University Deputy Vice Chancellor-Academics, Research, Extension and Student Affairs Alice Njuguna said it was important they are not left behind as the institution adopts digital training and transitions to blended learning.
"The times are tough but despite being on scholarships, it is crucial for our players to continue their studies online like the rest in other universities. We are pleased they have shown commitment by adhering to all blended learning requirements as the world fights the coronavirus," she said.
Zetech football team coach Bernard Kitolo commended his players for transitioning to digital learning, urging them to remain focused even as they stay fit and train from home.
"Our sportsmen and women are busy with online studies and are balancing this with a training schedule that is shared with them every week. I am confident we will be in good shape once the leagues resume." said Kitolo.
He praised the men's team, the Zetech Titans, for raising funds to support the less fortunate in Ruiru.
Football stars Purity Anyetu, a purchasing and supplies management student who plays for the Harambee Starlets, hospitality trainee Lavender Atieno and Economics student Brandon Obiero, expressed gratitude to the university for enabling them pursue their passion as they study.
The university is focused on supporting talent while providing quality education, having signed an agreement with the Kenya Footballers Welfare Association.