From a dumpsite to a football pitch: The story of Austin Ajowi and Futbol Mas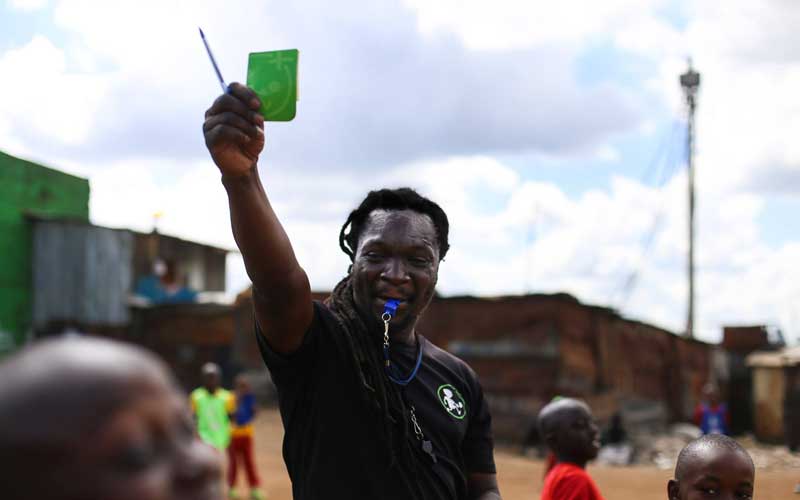 William Shakespeare once said, "A good heart is worth gold."
In Nairobi's Mathare slum area, one man's heart of gold has not only shone above the rest but improved the lives of people residing in the area.
This is the story of Austin Ajowi. Also known as 'Baba Yao' in his residential area, Ajowi took the initiative of transforming a dumpsite in Mathare to a football ground used by children.
Ajowi is a community coach in the overcrowded Mathare slum area. Having boasted a football career as a goalkeeper during his younger years, a knee injury forced him out of the game. However, his passion for the game, accompanied by his good heart, made him do so much more.
As he came home from training while still a goalkeeper, Ajowi noticed children in his area lacked a decent playground. A dumpsite in his community was the only thing children would marvel at.
Austin mobilised residents and began clearing the garbage in efforts to at least create space for children to play.
Difficult at first, Ajowi had to get the help of children aged 12 and below to clean the dumpsite. He also sought the help of the county government, who possessed Lorries and trucks capable of clearing the dumpsite faster.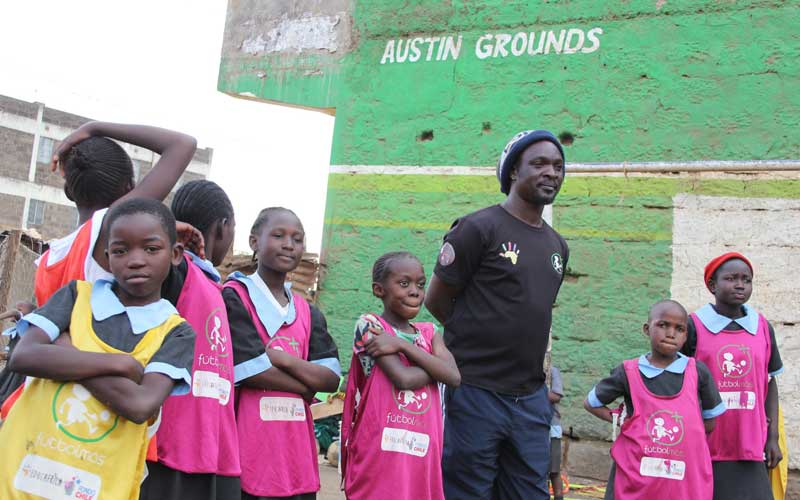 "I could not do it myself with my bare hands so the kids used to help me, those 12 years and below. But still, the field wasn't big enough. I sought the help of the county government who had tractors, and lorries hat could carry loads of garbage. I spoke to them, told them of the field, and how I wanted us to get rid of the garbage so the kids could have space to play. They agreed to help and we got rid of the garbage," says Ajowi.
Ajowi's pitch-clearing efforts saw him incorporated into Futbol Mas, an organisation focused on strengthening children's resources by using football as a tool to develop skills.
Assisted by another community coach, a community coordinator and a social coordinator, Ajowi now uses the pitch, now renamed to 'Austin Grounds' to educate hundreds of children in Mathare slums on social awareness.
"Futbol Mas usually targets an area that faces many challenges. We usually teach the children Life Skills and engage on social topics. Social Topics include violence, fires, gender equality, drug abuse – which we try to educate them on through football. Life skills include confidence, self-esteem and teamwork, which we try to teach through football," he explains.
What is Futbol Mas?
Futbol Mas is an organisation started in 2008 aimed at spreading happiness and well as endorsing resilience among children and adults living in 'contexts of social vulnerability'.
The organisation has five main values that govern the way it operates. These include Joy, Responsibility, Teamwork Respect, and Creativity.
In Africa, Futbol Mas hit the ground running in 2016 following a partnership with the EducÁfrica Foundation and the Fondo Chile support. Through this framework, the spread its wings to Nairobi, Kenya, where it started working with two schools located in the informal settlements of Kibera and Mathare.
They usually carry out social football programs, where they use a community field to promote and develop resilience in children and adults living in disadvantaged communities.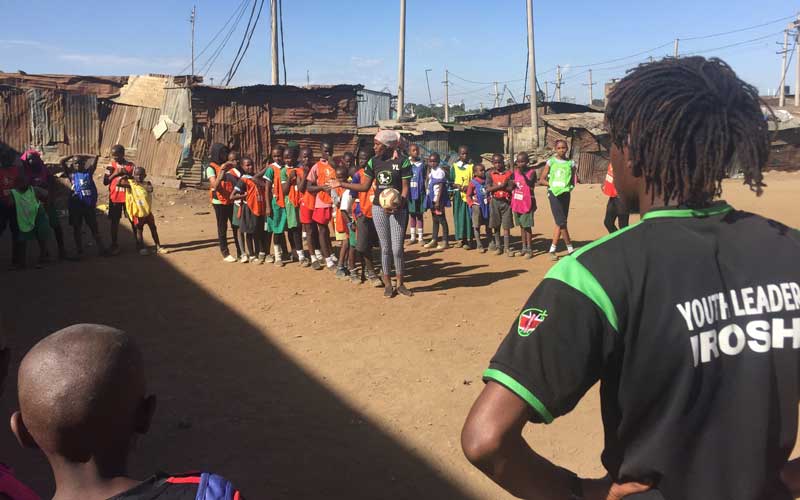 They are currently in partnership with Saint Martin´s School in Kibera and Destiny and Valley View in Mathare, where kids are taken through social activities that help them become better in society.
Having built its experience working in emergency contexts, Futbol Mas aims to create safe spaces for children in disadvantaged areas using psychological rehabilitation.
Austin Grounds is now home to many. Ajowi's efforts have borne fruit. Alcoholics, as well as homeless people, have found solace in the pitch, where most spend their nights. Ajowi has also been able to include children with disabilities in the program, helping them cope with the social struggles of life using different activities and challenges on the pitch.
"At the grounds here we also have "Hustlers". Some just sleep here since they don't have anywhere to sleep. I can't chase them away since they are like our brothers. We just tell them to ask them to keep the grounds clean. They respect the children, the field and when the kids are here they do not disturb," Ajowi says.
Parents to disabled children have come out to confess the miracles Futbol Mas has brought into their households. Disabled kids who used to be short of confidence with low self-esteem can now interact with other children in the community on the pitch and feel at home.
Amos Nyotu, a village elder in Mathare popularly known as 'Kamale', narrates to GameYetu how his child's legs, which were deformed, went back to being normal after he was introduced to Futbol Mas.
"I have a child who is disabled called Derrick Mbuvi Nyutu. He was born with deformed legs. After I took him to Futbol Mas and he started playing with the other kids, his legs, which were bent to the back slowly turned to a normal position," an ever-elated Kamale says.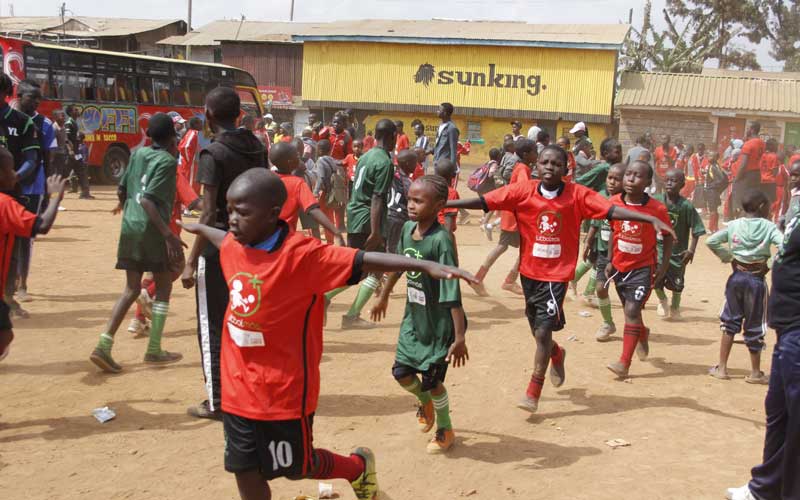 Teachers in schools partnered with Futbol Mas admit it's now easier to deal with children following the arrival of Futbol Mas.
"The teachers get an easy time when they are handling these children. The children also feel part of the teachers and the system is now running smoothly," says Eunice, a teacher at Destiny Education Centre.
"I really love Futbol Mas as an organisation and with what they are doing to our school. I used to hear of it and what it was doing in other schools. I had to convince them to include us in the program because with the new curriculum (CBC), Children should have more outdoor than indoor activities," admits Moses Sumba, the Headteacher at Valley View Academy.
Eunice Mukai, a grade 8 pupil at the school, admits Futbol Mas gave her the confidence to express her talents, the confidence she never had before. She also says it has helped her educate others on the need to stop violence in her community.
"Futbol Mas has taught me you should express your talent. I was scared I couldn't do acrobatics in front of people, But now I am confident I can do that. On violence, In Bondeni, there are many types. But now I have the confidence to tell them to stop violence," Mukai tells GameYetu.
Samuel Musembi, Futbol Mas' social coordinator outlines the organisations beliefs and how they help children possess values in the community:
"It believes in creativity, so they get to get creative in the field. Respect, the value of joy, happiness and responsibility. Values that are really key for any child as they grow in any society," Musembi says.
They say making the choice to exercise compassion is an expression of Love for Humanity and Life itself – Well done Ajowi, Well done Futbol Mas.
HERE IS THE FULL VIDEO OF AUSTIN AJOWI'S STORY AND FUTBOL MAS BELOW: