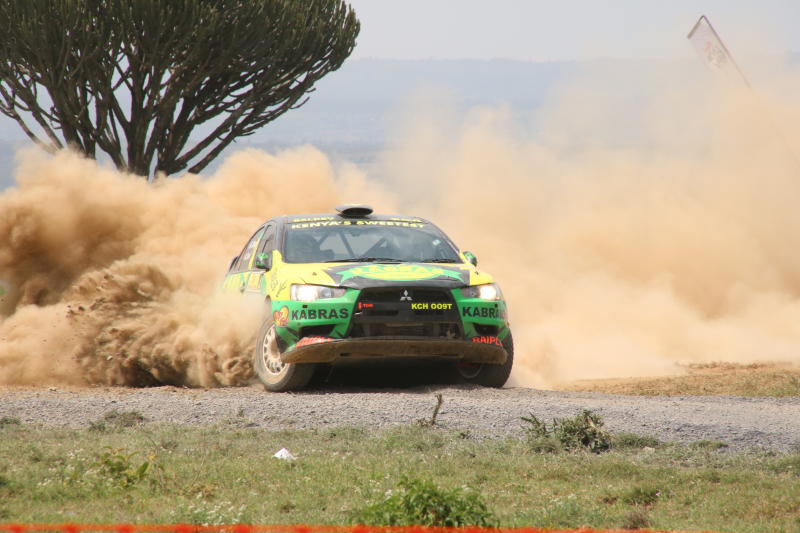 The return of Safari Rally to the World championships after an 18-year hiatus and being fixed into the calendar of International Automobile Federation (FIA) was the greatest achievement of Kenya Motorsports Club Federation this year.
Backed by their strong presence in the African Rally Championship (ARC), a second-tier FIA event, Safari Rally - one of the global legendary fixtures- made a comeback to the global stage, restoring hopes of millions of fans in the region.
SEE ALSO: NFL: Washington to retire Redskins name and logo
For years, Kenya Motorsports Club Federation chairman Phineas Kimathi had been a busy man. He was relentless as he campaigned for the annual race to be readmitted to the World Rally Championship.
And after an inspection tour by FIA official and former rally ace Michelle Morton in Kenya early this year, it was a done deal. Safari Rally was coming 'back home'.
SEE ALSO: Athens marathon to go on
Safari Rally was relegated from a World Rally Championship status to the African Rally Championship (ARC) in 2002 after the government failed to meet several conditions set by FIA management.
The event, that first ran in 1953 to celebrate the coronation of Queen Elizabeth II, will run as the eighth round of FIA Championships from July 16 to 19, marking the beginning of the second half of the 2020 campaign in the wake of a mid-season break.
SEE ALSO: United did not deserve the points against Saints says Solskjaer
Japan, Kenya and New Zealand returned to the World Rally Championship (WRC) calendar in a refreshed plan displaying a more global profile.
The trio was confirmed on a 14-round schedule approved by the FIA, world motorsport's governing body. Their promotion follows the introduction of a second South American round in Chile this year.
It was the first time the WRC included six continents – Europe, North America, South America, Asia, Africa and Australasia – in its 48-year history.
Not since 1999 had Africa and Asia appeared side-by-side in the fixture. President Uhuru Kenyatta confirmed Safari's 2020 WRC comeback in September.
The initiative to readmit the Safari to the WRC enjoyed government support with President Kenyatta and other ministers attending July's successful candidate event at Kasarani Stadium.
The race was famed for being WRC's toughest round with rocky and rutted open-road gravel tracks, unpredictable weather, which could transform dry and dusty trails into glutinous mud baths in minutes.
The routes are three times longer than other rallies, which created hazards unmatched elsewhere.
The 2019 candidate Safari was organised by the Kasarani-based WRC Safari Rally Project, a joint venture between the Ministry of Sports and the Kenya Motor Sports Federation.
WRC Promoter managing director Oliver Ciesla congratulated the Safari Rally Project team and CEO Phineas Kimathi for their work, saying that running the WRC in the wild gives the global series something unique as usual.
"Kenya's Safari Rally holds iconic status across East Africa with fans from countries like Uganda and Tanzania savouring the moment."
"It's no secret that we wanted to further globalise the series by incorporating more events outside Europe and we will achieved that from next year with this exciting new-look calendar," said Oliver Ciesla, who is the managing director of WRC Promoter that owns the championship's commercial rights.
CHAGER RULES
Cool, steady, patient driving gave "Flying Singh, Baldev Chager victory at this year's WRC Candidate Safari after Manvir Baryan suffered radiator gremlins on thick volcanic ash soil.
Hot favourite Carl "Flash" Tundo, speed master Manvir Baryan and Onkar Rai all looked headed for victory but Chager, previously winner of only one stage in the 2019 Safari, an ARC round, tracked them to come out top "at the death" at Kedong' in Naivasha. It was Chager's third Safari win, following the head-to-head of 2013 and 2014.
BARYAN BAGS THIRD ARC
Kenya's Manvir Baryan and his co-driver Drew Sturrock from Scotland clinched their third consecutive Africa Rally Championship title with another impressive victory in the Pearl of Africa Uganda Rally in August.
Baryan and Sturrock easily cruised to a third consecutive Pearl Rally win in what turned out to be a dominant drive in a Skoda Fabia R5, Baryan led all the way posting the fastest time of the two-day event.
BAD WEATHER
After the win in Uganda, Baryan headed to Kilifi for the Mombasa Rally as he resumed his fight for KNRC points.
But his intended maiden KNRC title came a cropper when he suffered a high-speed roll in the Meru Rally, which saw him airlifted to Nairobi for specialised treatment.
Tundo did not compete in the Mombasa race, but fought back to win the KCB Eldoret Rally, thus taking the title fight between him and Chager to the wire.
Chager savoured a 20-point advantage going into the season-ending Guru Nanak Rally, which was for the second time, declared a force majeure prompting the KMSF to decide the Championship with seven instead of eight rounds.
Manvir"s Skoda Fabia R5 and Onkar's new VW Polo R5 (first driven in Mombasa) were the fastest cars beating Tundo's Evo10 on long stages including the Loldaiga in Nanyuki where Tundo posted a dominant win.
Chager, in an Evo 10, won the season opener on Kajiado Rally beating Manvir by two seconds as Tundo held on to finish third despite hitting a wildebeest. Physically challenged driver Nikhil Sachania won the KNRC SPV (Specially Prepared Vehicles) class along with his partner Deep Patel.
Nikhil piloted a hand-controlled SPV Mitsubishi Lancer Evolution 10. Geoff Mayes and his partner Suzanne Zwager became the new KNRC Division 3 drivers and navigators Champions, a career first following a spirited run in their Land Rover Tomcat.
The Kenya National Karting Championship had new winners in Myles Imbaya (60cc Comer Class) and William Kim (Junior Rotax).
The KCB National Autocross Championship had seven champions.