Eliud Kipchoge: A mother's pride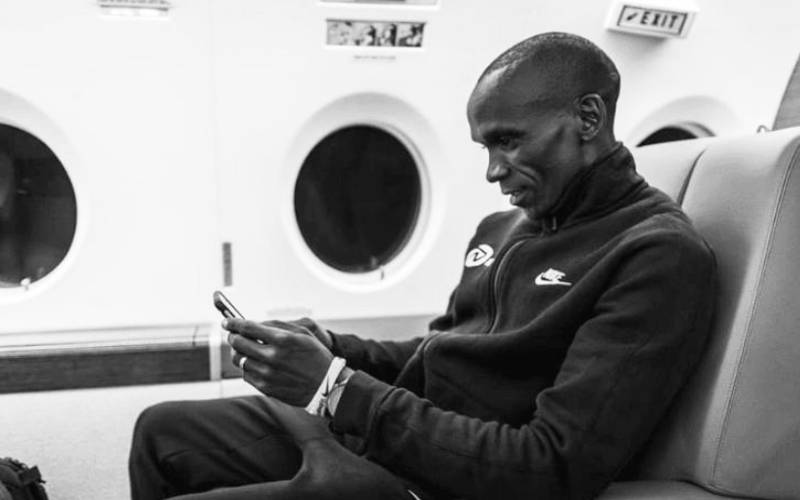 "I'm praying for my son."
Janet Rotich is a soft spoken woman, but the pride on her face when she talks about Eliud Kipchoge, is one all will understand.
Speaking to KTN News a few hours before her son started the race in Vienna, Austria, Rotich said she is praying for her son.
Kipchoge's family said they believe their 34-year-old son would run the 42km marathon in under two hours.
"The world will know that the son of Kapsisiwa can break the record," Rotich added.
Kipchoge is a former butcher and milk vendor.
He admits that Kalenjins are naturally farmers.
Asked whether he thought he'd end up in athletics, he didn't think so.
The five-time world champion is married to Grace, who describes him as shy, a comment that makes him chuckle.
Kipchoge has won 12 out of the 13 marathons he has run, perhaps making Kenyans even more confident in his ability to break the record in Vienna today.
Politicians were among the many Kenyans, some of whom were up at dawn to secure the space to watch the race, who shared their messages of support.
Sports Cabinet Secretary Amina Mohammed joined Kenyans and former athletes at the KICC where the race would be shown live.
The race will also be broadcast to supporters in Eldoret and Nandi.
Kipchoge's supporters took to Twitter to share messages of hope and encouragement.
I am already proud of you @EliudKipchoge You have already done it even before you begin. Wish you all the best son of our soil. #Eliud159 #KipchogeINEOSChallenge #NoHumanIsLimited #IneosChallenge #iameliudkipchoge pic.twitter.com/zH96RG0ofj — Julian Wanjiru Kamau (@JulianWanjiru) October 12, 2019
The idea of @EliudKipchoge attempting the #IneosChallenge just makes him a hero. How many of us have ever tried attempting something that they have once failed? #NoHumanIsLimited #IneosChallenge #KipchogeINEOSChallenge #ineos159challenge — Visah simiyu (@Visahsimiyu) October 12, 2019
Today, the whole world will witness the greatest marathon runner of all time race against time. All the best Eliud Kipchoge . Make us proud and show the world "No Human is Limited" #IneosChallenge #NoHumanIsLimited #KipchogeINEOSChallenge # pic.twitter.com/w0Rzp3x0W2 — Ms. Vundi (@MsVundi) October 12, 2019
He has uplifted the whole region he comes from, he trains with his colleagues and friends who help him to achieve the goal of breaking this record. I applaud this man.#KipchogeINEOSChallenge #IneosChallenge #Eliud159 #ineos159challenge — Nassir (@nassir_naz) October 12, 2019