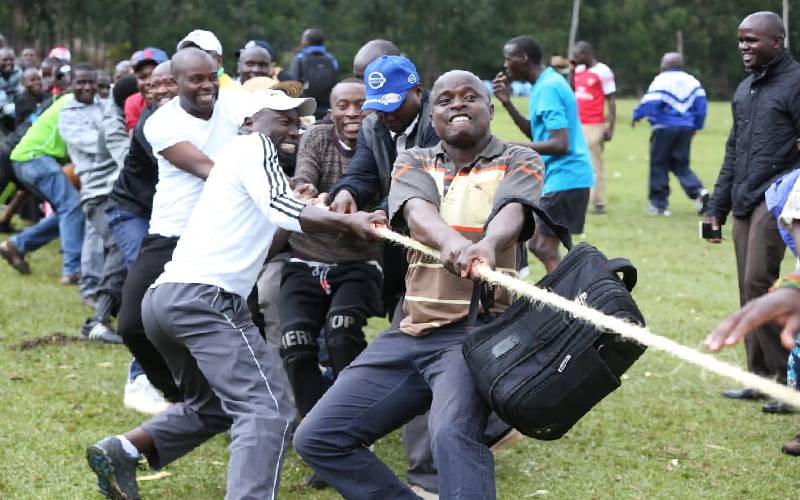 Teachers will next weekend compete at the inaugural edition of the Kenyenya Sports Extravaganza slated for Kenyenya Green Stadium in Kisii County.
The event's coordinator Walter Ontweka said more than 500 teachers drawn from across the county will battle it out in various disciplines including soccer, tug of war, volleyball, draughts, chess, scrabble, table tennis, ajua and badminton.
SEE ALSO: Mr President, where are the nine stadiums, 500, 000 houses?
Ontweka said indoor games will be held at Kenyenya Secondary School, adding that basketball will not be held.
"We expect a highly successful event. We have learnt lessons from the two Gucha Teachers Sports Extravaganza editions and we want to make the event better," said Ontweka.
SEE ALSO: African Champions League final stages in doubt
He said the event aims to bring teachers together to bond, socialise and interact. Kenya Union of Post Primary Teachers Kisii Branch chairman Laban Bosire encouraged teachers to participate in such events.
Last week results
SEE ALSO: Big loss for Nyanza hockey giants as Term I school games fate unknown
Bosire who is also the Kenya Rugby Union regional development officer in charge of Nyanza region told the Standard that the union will continue to support the events.
Last weekend, teachers gathered at Tendere Secondary School for the second edition of the Gucha Teachers Sports Extravaganza. Diaspora Combined edged Gucha Combined 2-0 to win the soccer title.
Diaspora A beat Diaspora B 2-1 in the first semifinal while Upper Gucha defeated Lower Gucha 4-1. Organisers decided to combine the teams for the final.
Evans Magembe won the darts trophy with Fred Sagwe winning the chess trophy. George Orenga emerged winner in scrabble.
In volleyball, Upper Gucha defeated Diaspora A 2-1 to lift the title. In the semis, Diaspora A defeated Diaspora B 2-1 while Upper Gucha beat Lower Gucha by the same score.