Kenya Regiment Rifle Club captain optimistic of a great season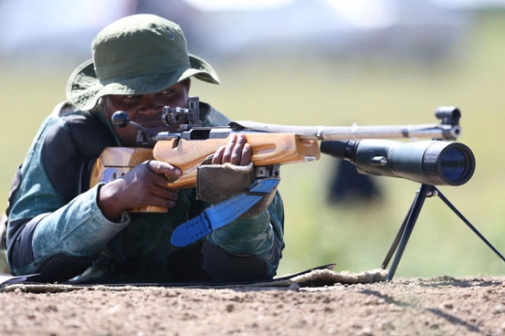 Shooting remains an ordinary sport in Kenya compared to other sports like football, rugby, volleyball and athletics that has dominated scenes for so many years now.
Shooting as a sport is an annual calendar comprised of Full bore normally staged at Nanyuki, 22 Rifle staged at Embakasi, Shot Gun at Limuru while 9mm pistol and 177 Air Weapons is staged Langata Sailing Club.
Most shooters can take part in all events since the calendars are harmonized by section captains. Kenya Regiment Rifle Club (KRRC) captain Wilberforce Kerema is pessimistic the sport has come on leaps in bounds over the years adding this will be a unique season for the shooters.
After having a fruitful first round event of the year dubbed Eleanor Malik Trophy/Bob Morgan Trophy at Kenya Defense Forces (KDF) LAB a couple of weeks ago, Kerema says they are ready for the second round event dubbed Inspector General of National Police Service Trophy in March Laikipia.
The event will mark the cut off selection for a team to represent Kenya during the 2017 UK Bisley and Pre-Commonwealth games to be held in Brisbane-Australia in October. "KRRC brings together all shooting clubs from discipline forces as well as civilian shooters.
We had our first event in January although we experienced some challenges mainly weather factors mirage and wind but it was successful.
We are now preparing for our next event that will be in Laikipia. It is a big one because it will act as a qualifier for the pre-commonwealth games," he said. Despite the club ranked top in Africa and currently having 22 Riffle small bore champions in Gulraj Sehmi and Farihya Mohamed in the men's and women's category respectively, Kerema admits that there is more to be done for the sport to be at par with other disciplines in the country.
"The clubs main objective is to have world class shooters representing our Country during International competitions and also promote young and upcoming shooters so as to have continuity in the sport. Equipment and Finances is a major factor in shooting.
The sport is expensive and requires proper shooting gear and finances for you to achieve good results," he says. Despite the high demands in the sport, Kerema adds: "Mostly we do sponsorship applications to various firms to enable us meet the cost of running the sport. However, every shooter pays a minimum of range entry fee of Shs 1,000 per day to participate," Over the years KRRC's has participated in the UK Bisley and produced fabulous results.
More than five shooters have qualified for the prestigious Her Majesty the Queens finals in the last six years, something the club wants to maintain.
The club's greatest achievers are Maj Peter Mathenge, Sanford Otundo,Mike Lekalaile,David Kirui and Christopher Saina who have won all won the Her Majesty the Queen Gold Badge. "Good performance is all we want this season and I believe with the help of stakeholders we will push the sport to a higher level in terms of empowerment," says Kerema.
KRRC is yet to find someone to duplicate the late Peter Kokon who won a gold medal at all 700meter aggregate during the World Long Range Shooting Championship at Mexico in 1992 but Kerema assures that everything is possible with training and hard work.