Mixed results for Shujaa in 7s series opener in Dubai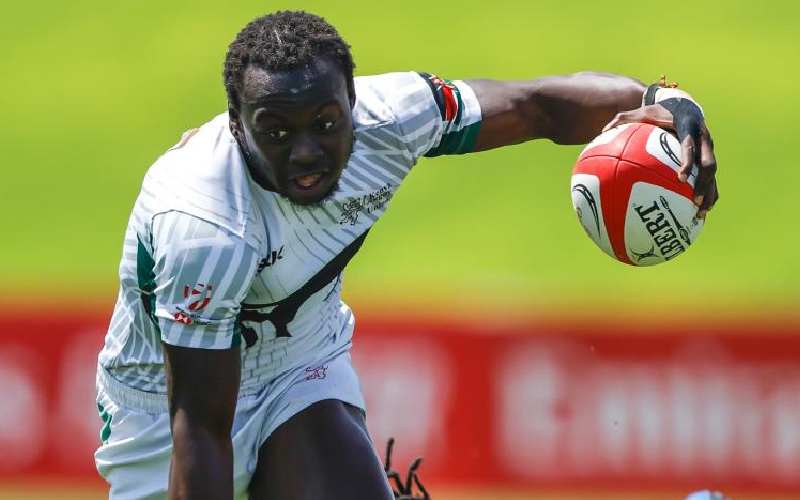 Kenya Sevens team Shujaa registered mixed results yesterday as the 2021-2022 World 7s Series season kicked off with the Dubai Sevens leg at the Sevens Stadium in Dubai.
Shujaa suffered two defeats and bagged only one win in the Group B matches played against Argentina, USA and Spain.
Innocent Simiyu's charges only victory came during the final pool match after defeating Spain 26-12.
Shujaa headed into the match after suffering back-to-back defeats to USA and Argentina and needed a win to keep the quarter-finals hopes alive. Spain had gone down to Argentina, but bounced back to beat USA.
Billy Odhiambo scored a brace with Herman Humwa and Johnstone Olindi also crossing over for the win.
Shujaa remained third in the log with five points and were forced wait for the completion of other matches to determine if they qualify for the quarterfinals today as one of the two best losers.
The Kenyans began the World Sevens Series season yesterday on a low note after going down 14-7 to USA in a tight opening match.
Shujaa went into the Pool B match having lost to the Americans 19-14 in last meeting in Edmonton 7s in the 2021 World 7s Series.
Mike Friday's USA enjoyed early possession in the Kenyan half but could only manage a late try in the opening half after Stephen Tomasin scored and converted his own try for a 7-0 lead.
In the final half, substitute Daniel Taabu split USA's midfield and raced on to gain crucial ground for Shujaa before being stopped by speedster Perry Baker near the try line.
The stop mattered less as Herman Humwa was on hand to claim a penalty which he quickly tapped and landed Kenya's only try which Taabu converted to level the scores at 7-7.
Parity was short-lived as USA reclaimed the lead with Logan Tago fending off Levy Amunga to score their second try. Tomasin belted in a conversion from a tight angle for a 14-7 lead. USA would hold on to win the match.
In the second match, Shujaa were dealt another blow after going down to Argentina 22-17 despite a much improved performance.
Kenya looked hungrier than in their opening loss to USA, managing to come from behind twice but could not hold on as the South Americans levelled at 17-17 before capitalising on Alvin "Buffa" Otieno's sin-bin to punish them at the death.