How Kabras 'bottled' Kenya Cup final against the bankers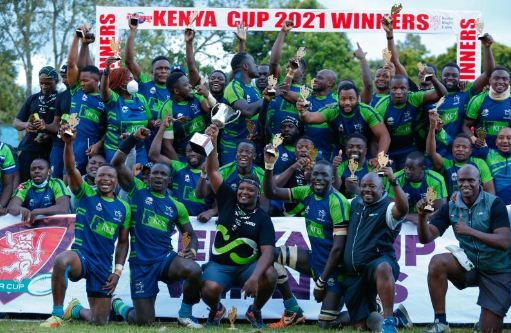 The 2021 Kenya Cup championship slipped from the fingers of Kabras Sugar for the fourth consecutive time with KCB completing one of the most stunning comebacks in the Cup history to win the title at Nandi Bears Club on Saturday.
Kabras Sugar led 20-0 by half time and 25-11 by the 75th minute but a late surge by the experienced bankers saw the game level 25-25 at full time before they won it 28-25 in extra time.
This was the fifth Kenya Cup final Kabras have lost at the hands of KCB after defeats in 2015, 2017, 2018 and 2019.
Kabras have come close in the last two finals, losing by five points in 2018 (29-24) and by eight points (23-15) in the 2019 final hosted in Kakamega.
The millers have managed just one win in the last five final appearances which came against Impala in 2016-their only championship title triumph.
Kabras went into the finals enjoying a 100% win record this season winning. They knocked out Strathmore 39-19 in the semifinals to reach the final for the sixth time in a row.
The Kakamega-based side had also beaten the bankers in their last two meetings in the regular season before the finals. The last meeting in Nandi saw Kabras win 30-23.
Despite the challenges brought by the coronavirus pandemic, Kabras staged the finals at Nandi Bears Club after earning the hosting rights by virtue of finishing top in the regular season, marking the second consecutive time the finals are played outside Nairobi.
In what was their 13th meeting in the Kenya Cup (fifth final) against KCB, Kabras, whose squad is full of youth, got off to a perfect start and led by 20-0 after 37th minute with South African fly half Ntabeni Dukisa and Fijian full back Jone Kubu scoring for the hosts.
However, the match was marred by poor safety protocols that saw it delayed for over an hour after KCB player Rocky Aguko broke his leg in the 37th minute.
With lack of an extra ambulance after the initial ambulance had rushed Aguko to the hospital, play was halted.
Play finally resumed after almost one and quarter hours of waiting later something that Kabras coach Dominque Habimana feels affected their momentum.
And like a wounded lion, KCB backed with the experience of Jacob Ojee, Andrew Amonde, Darwin Mukidza, Vincent Onyala and Michael Wanjala stormed back into the game in the second half to break the hearts of Kabras fans.
Habimana said the long delay was mentally draining to his young team but congratulated the eight time champions for their never-say-die attitude.
"We executed everything we had planned in the first half which everyone saw after our massive 20-0 lead. We came to win it and we were nearly doing it," said Habimana.
"However, the two stoppages, one for the concussion and the second one that stretched for over one hour killed the young boys. To stand waiting for that long not knowing whether the match will continue tortured not only my players but also the fans watching from home."