Kabras maul Oilers to keep pressure on league leaders KCB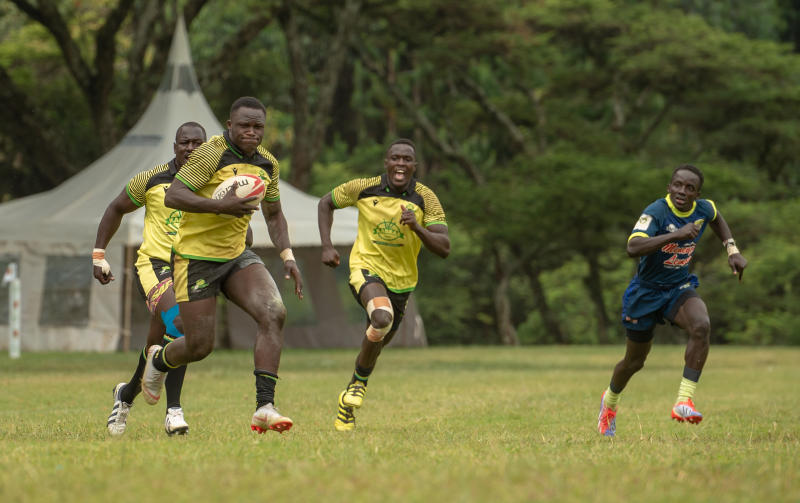 Kabras Sugar thrashed Menengai Oilers 38-9 to stretch their unbeaten run to six matches in yesterday's Kenya Cup match at Nandi Bears Club.
The win saw the 2016 champions take their points tally to 30 from their six-consecutive bonus point wins as Oilers lost their third match of the season.
The match started with a minute of silence in honour of the departed Kenya Rugby Union referee Peter Mbithi Leo who died after a road accident along Mombasa Road on Thursday.
Ntabeni Dukisa Gabe the hosts a 3-0 early lead from a penalty before Austin Sikutwa responded with two quick penalties to give Oilers a 6-3 lead.
Kabras would score their opening try through youngster Eugene Sifuna with Dukisa adding the extras for a 10-6 lead.
Returning prop Asuman Mugerwa bulldozed his way to the try-line to score at the centre for the millers' second try with Dukisa adding the extras for a 17-6 lead.
Kabras' Timoci Senaite was sent off for 10 minutes following a yellow card towards the end of the opening half, a result Oilers capitalised to try to narrow the gap gap to 17-9 after Sikutwa converted his third penalty.
In the final half, Brian Tanga side-stepping past Oilers defence for a converted try that widened the gap to 24-9 before the Kenya Simbas scrum half dotted the bonus point try after breaking from his own half and racing on to make the score 31-9.
Bryceson Agesa sealed the win with a center post try as the game ended 38-9.
At the same grounds, Masinde Muliro University of Science and Technology (MMUST RFC) fought back to hold former champions Kenya Harlequin to a 17-17 draw.
Quins, who are winless since March, failed to hold on to a seven-point lead after conceding in the final minutes of the clash which saw their winless run stretch to four matches.
MMUST began the clash on the front foot after scrum-half Keith Imbwaga beat his markers to score the opening try that Norbert Lumbwani convert to lead 7-0.
Despite Quins going on the offensive looking for a reply, it was MMUST who stretched their lead after Lumbwani converted a penalty to give the Kakamega-based students a 10-0 lead.
However, Quins would go again into offensive and this time they would reap from their resilience after crossing over the white wash twice to take a narrow 14-10 halftime lead.
First on the scoresheet for Quins would be center Leroy Kamau who bullied his way to touchline before Kevin Angote ensured the side led at halftime after landing a conveted try for a 14-10 score line.
In the final half, Quins' Allan Odiyo added three more points after a penalty call to widen their gap to seven points.
MMUST would however not give up in search for an equaliser which came through Jadah Abdon at the death with Lumbwani adding the extras to secure a 17-17 draw.
Meanwhile, defending champions KCB hammered Mwamba 50-3 to consolidate their top spot as Strathmore Leos bagged their third win of the campaign after a commanding 44-5 win over Nakuru.