Benjamin Ayimba: The simple boy who took Kenyan rugby to the skies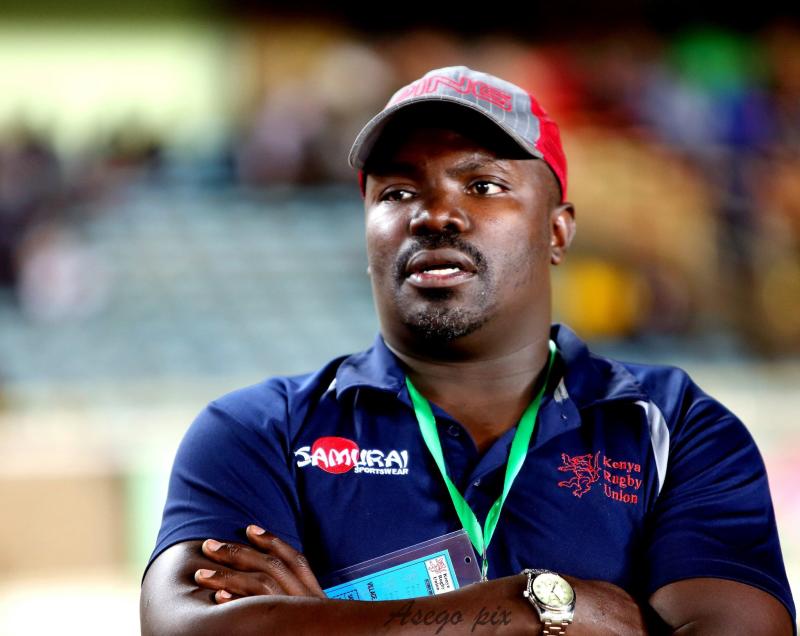 The Kenyan rugby fraternity and the entire sporting world was in shock yesterday after Shujaa legend Benjamin Ayimba died of cerebral malaria on Friday night. He was 44.
The news of Ayimba's death, who was a national hero after establishing himself as one of the greatest rugby coaches in the country, brought an outpouring of mourning and remembrance on social media, headlining almost all the discussions.
"Benjamin succumbed to the multiple complications he was being treated for over the past couple of months," read a statement from family's spokesman Oscar Osir.
"The family and close friends would like to extend their deepest gratitude for the prayers and the overwhelming moral and financial support that you all have offered during Benjamin's last days."
The former Kenya Sevens and fifteens captain's legend grew into international reverence in 2016 when he masterminded Kenya's Main Cup triumph at Singapore Sevens. Shujaa pulled off a shocking 30-7 victory over Fiji to clinch their first ever World Sevens Series title on Ayimba's second stint as the national team coach.
And from President Uhuru Kenyatta to opposition leader Raila Odinga, Kenya Rugby Union chairman Oduor Gangla, Shujaa coach Innocent 'Namcos' Simiyu, captain Andrew Amonde and his former teacher cum rugby coach at Maseno School Milton Nyangaga, all described Ayimba as a true servant of the game.
While paying tribute to his predecessor and former coach, who introduced him to international level, Simiyu urged the government to give Ayimba a state funeral.
"I'm saddened by the loss of Benja. He was a true rugby man who dedicated his life to the game. He was a national team player, a captain and a coach. It is a big loss not only to the rugby fraternity but the entire country," Simiyu, who replaced Ayimba as Kenya 7s coach in 2016 told The Standard Sports.
"It is at this time that the government should come in and even give him a proper sendoff. He actually deserves a state funeral or a sendoff that best befits him like someone who dedicated his whole life for Kenya. He has been a true servant of the game.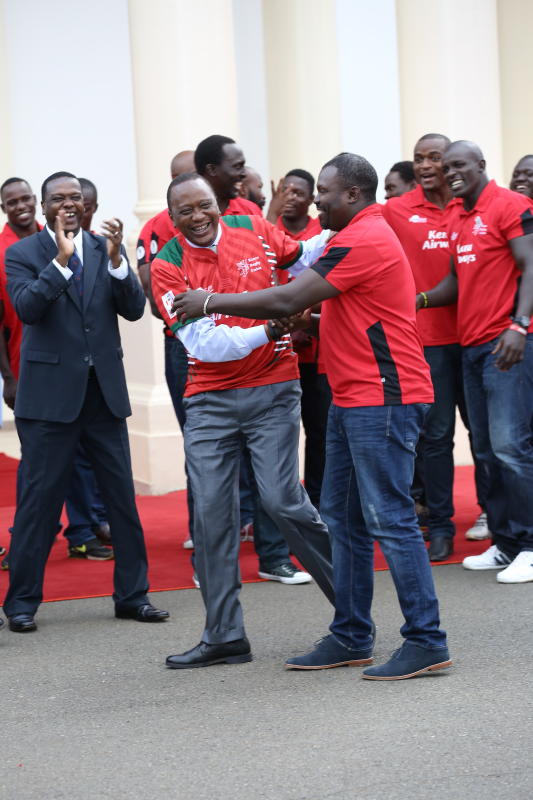 He continued: "I remember when I left High School and made it to the national team, Benja was the captain. He walked us through and introduced us to the international level. He was a very inspirational captain and even when he became the coach, I was his first captain.
"We had a very good year in getting to the finals for the first time ever in Adelaide. He really mentored us to challenge the norm and renew our thinking and change our mindsets. There was that notion that we are the underdogs and that's what he changed; we can compete with the big boys."
KRU chairman Oduor Gangla simply said: "A true servant of the game, Benjamin was an inspiration to many, on and off the pitch."
But Ayimba also made friends and foes in equal measure with his perceived no nonsense approach and unflattering statements during his two coaching stints at Shujaa.
Though Ayimba was portrayed as a coach who attracted both admiration and resentment in his line of duty winning himself love and loathe at the same time, Amonde considers him as a revolutionary.
He clashed with KRU bosses in some occasions that mostly led to his sacking both in 2011 and 2016. In 2011, Ayimba was fired after opposing the fielding of the team's main players in the Safari Sevens tournament before he faced the same wrath in 2016 following the Rio Olympic Games fiasco.
"Ayimba was a special person. He came through the Kenyan rugby system and he has been able to give us a road map that we will have to follow in the future. Ayimba did his part and showed us the way, and now it is up to us to make him proud in heaven. We are all mourning for having a legend gone too soon," said Amonde.
"I feel Benja was more than a servant of the game. He gave it all. I think he is one mentor that has brought a different bit into the game. Rugby will forever remain indebted to Benja and his family because he brought us at a place where no one ever did and achieved a lot."
Before the Singapore triumph, Ayimba had masterminded Kenya's first ever World Series final in 2009 in Adelaide followed by a maiden semifinal appearance at the 2009 Rugby World Cup Sevens in Dubai.
But it is at the historic Singapore Sevens that Ayimba left an imprint in the game after literally killing three birds by one stone during his second short spell.
First, he guided the team into booking its Olympics ticket in Rio before leaving a legacy of having introduced several youngsters on the World Rugby Sevens scene.
And it was after Ayimba's reappointment following the departure of Felix Ochieng in 2015 that immediately turned around the team's fortunes after a difficult 2014/2015 season, where they had flirted with relegation for the better part of the campaign.
But his return in the dugout ended on a relatively low note after disappointing outing in 2016 Rio Olympics Games, where Kenya finished eleventh on overall before guiding the team to reclaim the Safari Sevens.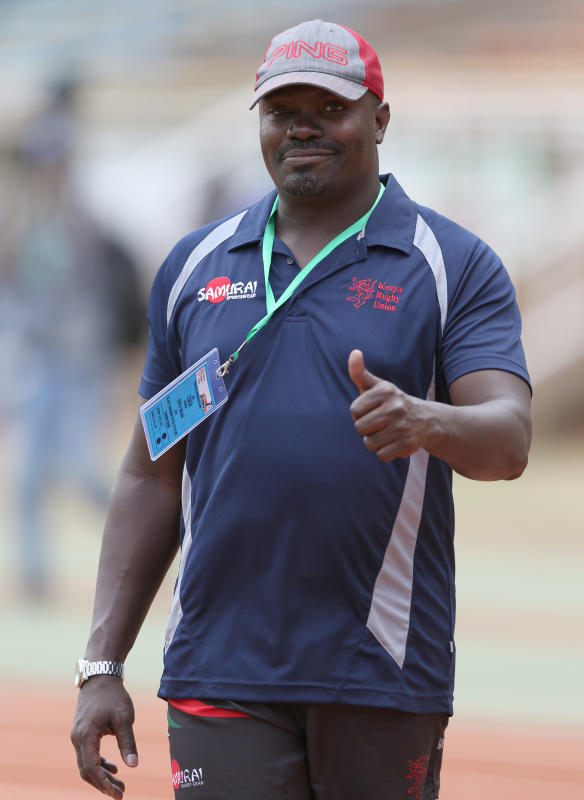 The multi-talented Ayimba, who tried his hands and legs in nearly all sports while at Olympic Primary School, Nairobi, began his rugby career at Maseno School.
And for Nyangaga, a man who honed Ayimba's rugby skills at Maseno between 1991 and 1994, his student outdid him in coaching.
"I'm the one who introduced Benjamin to rugby. He was not a good player, but as a coach he did much better than me. It is unfortunate to hear of his demise. We have lost a great man," said Nyangaga.
However, Ayimba is credited for laying the foundation of Kenyan rugby after scouting and nurturing many players before eventually introducing some of them to the global scene. Samuel Oliech, Donald Aluoch, Robert Aringo, Nelson Oyoo, Jeffrey Oluoch, Alvin Otieno, Samuel Motari, Alex Olaba and Frank Wanyama were all handed their World Series debuts by Ayimba in the 2015/2016 season.
By doing so, Ayimba was preparing for a smooth transition in Shujaa when the time comes for the likes of Humphrey Khayange, Collins Injera, Dennis Ombachi and Andrew Amonde to exit the field.
While Ayimba was critically ill and fighting for his life in a city hospital, the family was struggling to raise funds to offset an estimated medical bill of Sh 1.7 million. He had not been seen in public since the beginning of the year.
Ayimba played for Impala as a rookie (backrow) in 1995 after completing his school studies and went on to captain the Red Shirts to two Kenya Cups, Enterprise Cups and Floodlit tournaments in 2000 and 2001. He also inspired the team to three National Sevens Circuit titles between 1999 and 2001.
He then moved to record Kenyan champions Nondescripts in 2002 before joining English side Cornish Pirates the following year.
Before venturing into coaching, Ayimba had featured for Shujaa at the 1998,2002 and 2006 Commonwealth Games as well as the 2001 and 2005 Rugby World Cup Sevens tournaments in Argentina and Hong Kong respectively.
He then had a short coach/player role for the Simbas before serving as Shujaa coach between 2006 and 2011 after succeeding his Impala coach Bill Githinji.
His achievements didn't go unnoticed as he was awarded the Order of the Grand Warrior (OGW) by former President Mwai Kibaki.
Ayimba is also credited for being part of the team that introduced popular tournaments like Masaku7s, Meru 7s and Kitui 7s in the country.