Oloo drops the chalk to nurture rugby talent at grassroots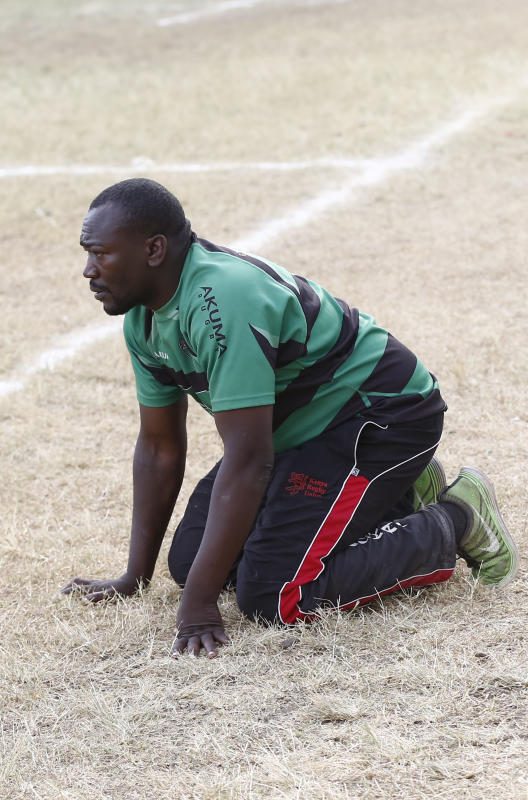 Over 400 children have taken up playing rugby in Nakuru
Coach Felix abandoned his teaching career to nurture young stars.
Felix Oloo, commonly referred to by his peers as "Ade" or "Mwalimu', had an illustrious 15-year playing career turning up for the Nakuru based rugby Club Top Fry Nakuru RFC.
Joining the club in 2003, Oloo's prowess helped guide Nakuru RFC to the 2012-2013 Kenya Cup title.
The team defended the title the following season (2013-2014) with Oloo among the outstanding individual players.
Oloo, known for his mobility and versatility to win the ball at the lineout and kickoffs, played as a flanker as he helped the club win two Bamburi Super Series titles, one Enterprise Cup, Mwamba Cup and finished second in Prinsloo tournament.
With all these achievements and perfections, Oloo had his heart beating and his eyes firmly focused on identifying and nurturing young players into rugby.
For over eight years, Oloo, who is also the national women's Sevens team coach, juggled between teaching, playing and coaching rugby before he hung his boots in 2017.
His first attempt to introduce mini rugby at New Life International School in 2009, where he was a Christian Religious and Mathematics teacher, was met with a negative reception.
Oloo's spirited effort later bore fruit as he was named the 2016 Safaricom SOYA Community Coach of The Year for his services in developing rugby.
"It has not been easy. I tried to introduce mini rugby at New Life International in Nakuru in 2009, but it was received with a lot of resistance. The idea didn't seem to sit well with most teachers and parents. To me, rugby is the only game that teaches character, discipline, honesty and integrity," said Oloo.
The coach, however, pressed on as he believed he will one day make his seniors see the need to start a rugby programme at the school.
Oloo eventually got a go-ahead. Shockingly, the number of children who turned up for training sessions was overwhelming. And with only one ball and a small playground at their disposal, Oloo was good to go.
"I started with 73 players and one ball. The number of players was overwhelming. I later approached Nakuru RFC and asked if my players could serve as ball boys during league matches and they responded positively. I took the players to the rugby club and we conducted training sessions there every Sunday," he said.
In 2011, Oloo got a chance to take 20 under-14 boys to a tournament in the United Kingdom where they finished second after South Africa.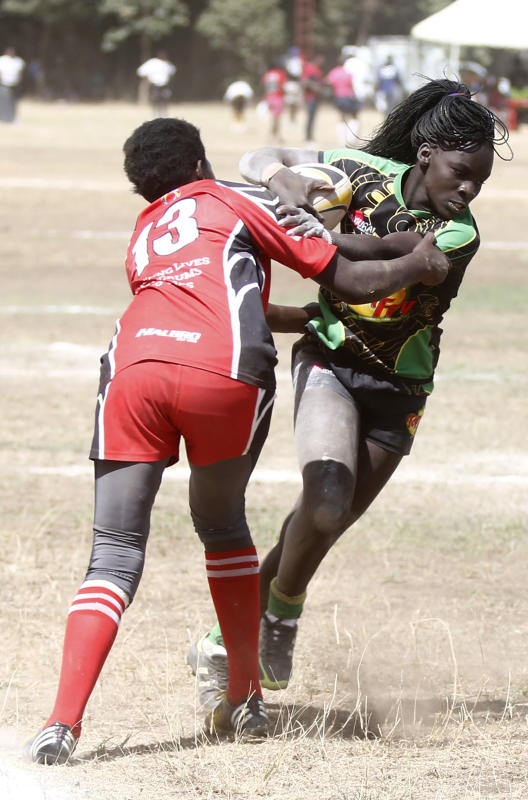 In 2012, the tactician, together with the then Nakuru RFC coach the late Erick Situma, launched the Saving Kids Rugby Mission project Kenya (SKRUM) where players from slums in Nakuru were introduced into rugby.
"The whole idea about the project was to get young boys and girls out of immorality, ethnic, hatred among other viles. The project saw many schools join the sport," said Oloo.
In 2013, Oloo received an invite for the Under-14 girls to participate in the annual Touraid Festival tournament in England.
This tour, according to Oloo, was more than rugby. The young players got more exposure, experienced different cultures, learned more skills and improved their emotional intelligence.
The tour then gave birth to Top Fry Nakuru RFC ladies team.
With Oloo's efforts in developing rugby, over 20 primary schools in Nakuru have embraced rugby. The schools include Kenyatta Primary, Harambee, Freehold, Pangani Primary, Langalanga, Flamingo, Moi primary, Nakuru West Primary School.
The boys' team has since played an under 15 tournament in France.
In 2013, Nakuru won all major age-group tournaments - Safari 7s, Impala floodlights, Community Rugby Association, Prinsloo and Great Rift 10s.
Thanks to Oloo's efforts in developing and nurturing the young talents, Menengai Oil refineries Limited offered to sponsor the players by paying their school fees, a move that saw more children from poor families join the game.
"Approximately 80 percent of the players, who were in the Mini rugby programme, are among the pioneer players of Menengai Oilers RFC, which was formed a few years ago," said Oloo.
Some players who have gained from Oloo's coaching skills include Noreen Liyosi, Beryl Akinyi and Lorence Ishuga.
Monate Akuei, who recently signed for Old Blue RFC in USA, has played for Kenya Simbas and Kenya Morans, Harold Anduvate and John Okoth have both represented Chipu before donning the Shujaa and Simbas jersey respectively.
All Top Fry Nakuru RFC women players are products of Oloo's programme.
They include Grace Adhiambo, Veronica Wanjiku, Vivian Okumu, Loreen Akoth and Anjeline Akoth, all playing for Kenya Lionesses. Others are Coleta Auma, Jane Chanya, Agnes Wangare and Mourieen Khisa.
Currently, over 400 children are playing rugby in Nakuru due to his initiative.