Kabras Sugar make light work of Strathmore Leos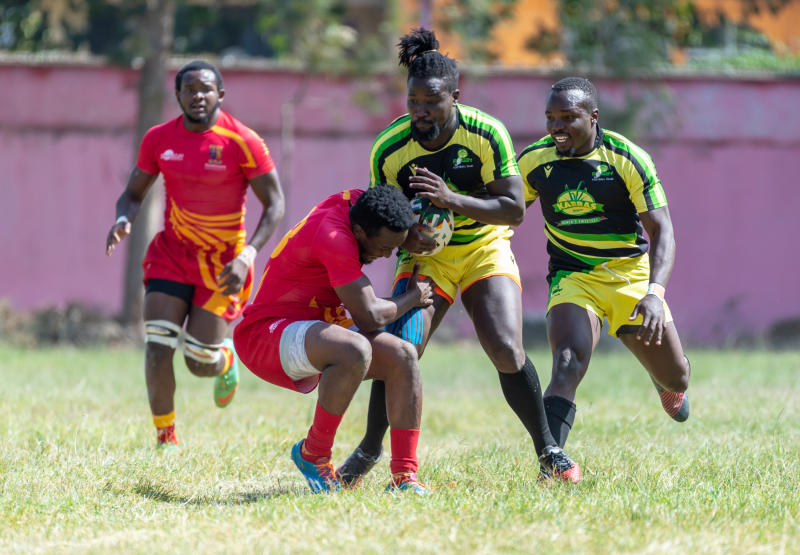 Kabras Sugar continued their impressive start to this year's Kenya Cup season after seeing off a stubborn Strathmore Leos 35-9 in a tight match played at Impala Club in Nairobi on Saturday.
Strathmore Leos took an early 3-0 from a penalty by Brunson Madigu before veteran forward Lawrence Buyachi went over the line to bag Kabras' first try from a scrum as Ntabeni Dukisa added the two's.
Leos reduced the deficit to one point after converting their second penalty before Kabras scrum half Brian Tanga dummied his way to the try box off a scrum to hand the visitors a narrow 14-6 halftime lead.
Kabras started to pull away in the second half when Jeanson Musoga dotted their third try of the match as Leos responded with their third penalty of the match before Eugene Sifuna bagged the miller's bonus point try as Kabras led 28-9 with ten minutes remaining.
George Nyambua would then land a late try with Dukisa completing the match with a perfect conversion rate as Kabras won 35-9.
The two were facing off for the first time since the 2018/19 season when Kabras completed a double over the students winning 62-13 and 54-7 respectively.
The win saw Kabras Sugar bag their second win in a row ahead of next week's battle with Kenya Harlequin in Kakamega.
Kabras lead the Kenya Cup standings with 10 points, same as defending champions KCB who held on to defeat Kenya Harlequins 35-.32 KCB at RFUEA grounds.
SQUADS
Strathmore Leos: 1. Gabriel Adero (c) 2. Rodney Ambale. 3. Arnold Omollo. 4. John Aswani. 5. George Ooro. 6. Trevor Opondo. 7. Philemon Olang. 8. Barnabas Owuor. 9. Arnold Muita. 10. Brunson Madigu. 11. Cecil Otieno. 12. Wiseman Aganya. 13. Richard Liva. 14. Matoka Matoka. 15. Lucas Oppal.
Replacements: 16. Charles Kiarie.* 17. Fidel Omondi.* 18. Fanuel Aduda 19. Walter Omanyo. 20. Mathew Mogaya. 21. Alex Maina 22. Amos Mokoro. 23. Gilbert Otieno.
Kabras squad: 1.Ephraim Odour, 2. Teddy Akala, 3. Asuman Mugerwa, 4.Hillary Odhiambo 5.Brian Juma 6. C) Dan Sikuta 7.Kevin Wekesa, 8. Lawrence Buyachi, 9. Brian Tanga, 10. Ntabeni Dukisa, 11. Paul Abuto, 12. Walter Okoth, 13. Bryceson Agesa, 14. Derrick Ashiundu , 15 Jone Kubu
Replacements: 16. Eugene Sifuna, 17 Lee Kanga, 18. Joseph Odero, 19. Jeanson Musoga, 20.George Nyambua 21.Barry Robinson, 22.Valerian Tendwa, 23. Felix Ayange