Humphrey Kayange: Who stole my gold?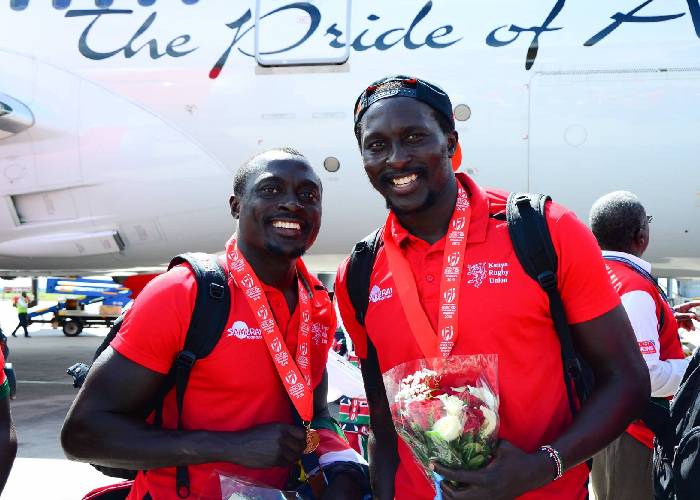 Former Kenya Sevens captain Humphrey Kayange is still holding to slim hopes that he will one day recover the original Gold medal that he won with Kenya Sevens after lifting the Singapore Sevens, about five years ago.
Kayange captained Shujaa to her first-ever victory at the HSBC World Series in 2016.
But unlike most of his teammates who inked history at the Singapore circuit when Shujaa hammered Fiji 37-5 in the final, Kayange's medal that he has termed as "so dear to me", mysteriously went from his house.
"This is the Singapore medal," he says while holding a replica medal in his left hand.
After realising that his precious and only gold medal from a major tournament was missing from his cabinet, Kayange requested for a replacement.
Even though they heeded his request, the rugby legend admits that he has never overcome the ordeal of a missing original gold medal.
"I kid you not, this is my second medal. The first one was stolen from my house. So I had to write and plead with organisers of Singapore Sevens.
"I told them that "the only gold that I had ever won has been stolen, can I please get a replacement?
"They were really brilliant and fantastic. They were like: "We are sorry about that; we will send you a replacement," Kayange said in an interview with world Rugby.
Kayange, also a member of the International Olympic Committee (IOC) even joked that if anyone finds a Singapore Gold medal being sold on eBay, then it's his.
"It (medal) is really amazing thing to me. It took us 11-12 years to get a gold medal at the World Series.
"This medal talks about the (rugby) journey that started in 2005-2006 and getting to 2016.
"I really keep it dear and it is one that will be there for my life, my career and my kids."
Kayange who studied Organic Chemist at the Bristol University-United Kingdom was inducted into the World Rugby Hall of Fame early this year, alongside Osea Kolisau, Huriana Manuel, Cheryl McAfee, Jim Telfer and Will Carling.
He was awarded the Presidential Order of Golden Warrior (OGW) in 2010 by former President Mwai Kibaki for his contribution to rugby at the 2008/2009 IRB World Series.
Growing up in Eldoret, Kayange had developed an interest in athletics (sprints) then later football but would play rugby after college. He first played club rugby for the defunct Ulinzi Warriors and later Mwamba RFC.
Kayange, 39, captained Shujaa's Sevens at the 2016 Olympics in Rio de Janeiro, Brazil, before announcing his retirement from the game, in October the same year.