Brutal opening matches for Kenya Sevens team in Tokyo
It was always going to be a brutal pool as many had predicted and indeed.
Yet again, it was a tough outing for Kenya's Shujaa in pool C as the Sevens rugby kicked off on Monday at the Tokyo Stadium.
When you have the likes of South Africa, USA, Kenya and Ireland in the same group, then one or two big names in Sevens rugby are bound to have a rough time and qualification to the quarter-finals becomes a matter of relying on what happens in other pools.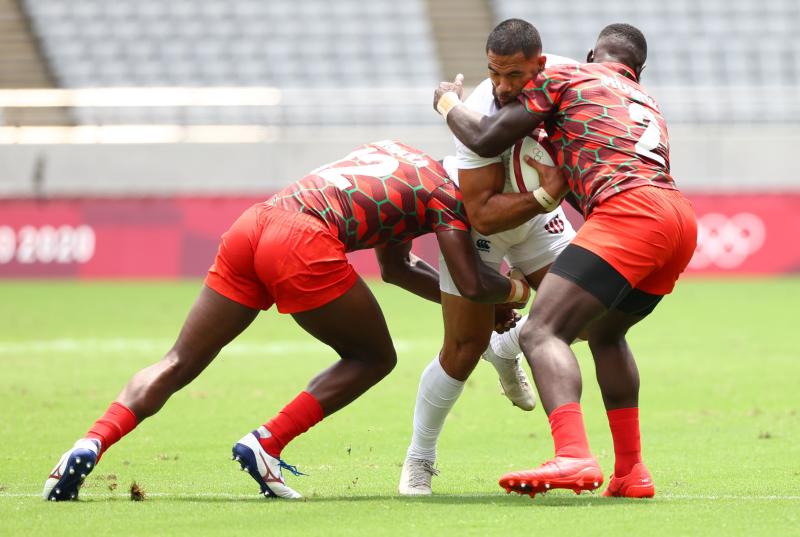 Kenya's Collins Injera had predicted after the loss to USA earlier on Monday that this was a brutal group and USA coach Mike Friday also said it was survival for the fittest and in the end, it was USA and South Africa, who picked themselves up and limped to the last eight.
Kenya lost 19-14 to USA before falling to continental rivals South Africa 14-5 in the second match of the day.
Friday's USA also beat Ireland 19-17 while South Africa had also beaten the Irish 33-14.
Kenya and Ireland, who were on the receiving end from the two top teams in the pool, are now left to look around their shoulders with the hope that one of them will be squeezing into the semi-finals.
They were to battle against each other early this morning at 11am (5am Kenyan time) which means by the time Kenyans wake up, they will either be reading news of their team going through or bowing out of the Olympics once again in the pool stages.
Kenya captain Andrew Amonde was quick to say that the competition had once again showed them that one will always get punished if they don't utilise their chances.
Amonde was referring to the fact that Kenya had chances to score several tries against both USA and South Africa in what was a close game, but they were left licking their wounds at the end of their second match of the competition.
Despite the two loses, there were some positives from the Kenyans who were making their debut at the Olympics with Jeffery Oluoch saying he was happy to have scored his first try at the Olympics.
"I am happy to have scored my first try at the Olympics which is a major boost. It is an amazing experience. They were close games and the results didn't go our way but it is never over until it is over," Oluoch said.
Coach Innocent Simiyu was also impressed with his charges despite their fate not being in their hands.
South Africa captain Siviwe Soyizwapi said it was tough going in the group for both South Africa and Kenya and it is his hope that both the African sides can do well in the competition.