Kenya U20 edge Madagascar to retain Barthes Cup title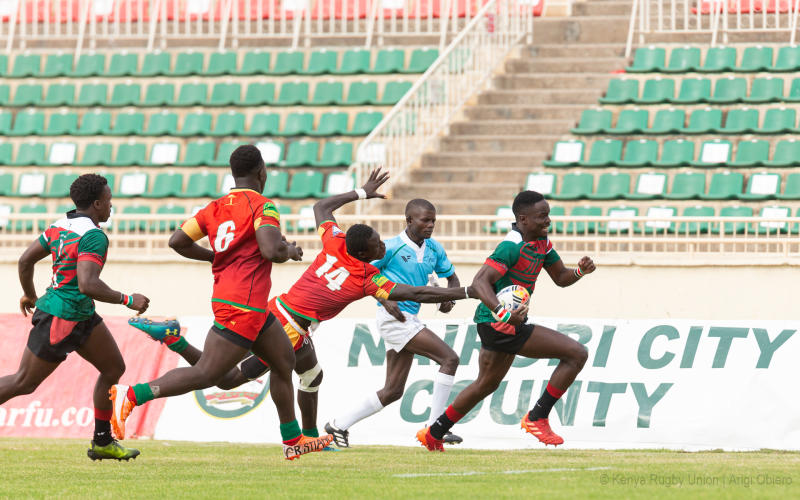 The Kenya national Under 20 rugby team, Chipu, are the 2021 Rugby Africa U20 Barthes Cup Champions.
Chipu retained the title they won in 2019 after a narrow 21-20 win over a resilient Madagascar side in a tight match played at Nyayo Stadium on Sunday.
Maxwell Atera, Andrew Matoka and John Baraka each crossed the whitewash once in addition to Matoka's two penalties to seal the win against Makis' three tries, one conversion and a penalty.
Both Chipu and Madagascar headed into the match behind massive wins with Kenya having thrashed Senegal 50-3 and the visitors seeing off Namibia 21-18.
Curtis Olago charges started off impressively after Atera at the back of the maul grounded the ball for the first try of the match in the fifth minute to lead 5-0 after the conversion went wide.
In the 14th minute, the Makis youngsters looked sure to respond through Randriatiana Francky but the winger was pushed out of play.
Against the run of play, Kenya doubled their lead to 10-0 after Owain Ashley quickly released a pass to Matoka who sidestepped past his markers on the left wing to score the second try with Owain missing from the twos.
Matoka would drill a 20-yard penalty moments later to stretch the lead to 13-0 before Madagascar responded with a try of their own in the 38th minute through Erica Bruno to cut the lead to 13-5.
The try cheered up the Makis who from a penalty scored through their captain Setra Solofoniaina before converting to cut Chipu's lead at the break to 13-12.
In the final half, Matoka stretched Kenya's lead to 16-12 after converting a penalty before captain Baraka touched down Kenya's third try off a maul for a 21-12 lead.
Just like the opening half, the visitors pushed Kenya to their limit with a late penalty and a try with Fionana Rolland failing to convert at the death and handing Kenya a 21-20 win.