Masinde Muliro: Trailblazing rugby success in Western Kenya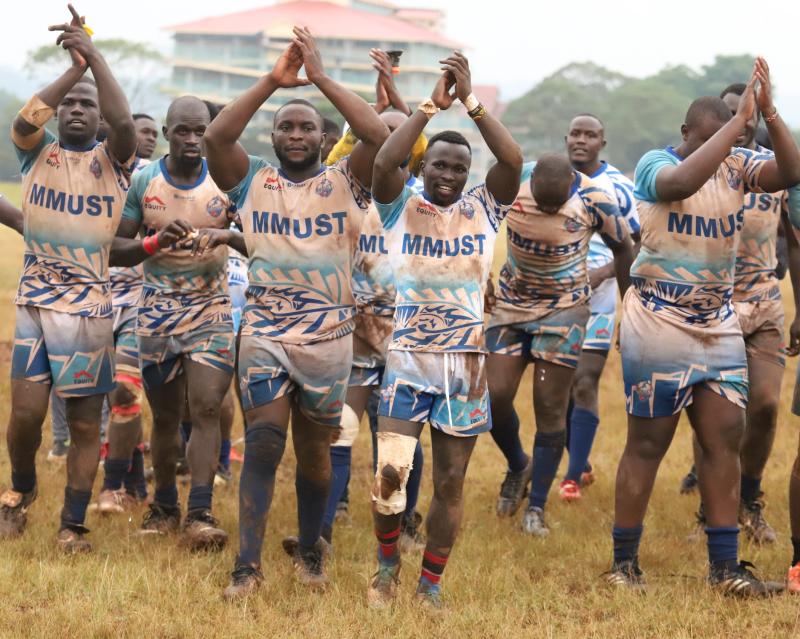 Five years ago, Western Bulls and Kabras Sugar, stood out as the only clubs that played rugby from Western Kenya despite the steady, rich flow of talent from the region.
The two clubs have acted as a fulcrum on which the sport rotates in the region for the better part of the last decade producing not only local but also players who have gone on to conquer the international scene at the Rugby World Series.
However, following the entrance of Masinde Muliro University of Science and Technology Rugby Football Club (MMUST RFC), the region is dominating in a sport that has gained huge following in the region as they seek to make their backyard a treasured fortress.
The students side has risen to stardom in the past three years, exhibiting their strength in the lower tier of Kenya Rugby Union (KRU) championship league after winning 15 of their 16 season calendar matches on route to earning promotion to the Kenya Cup.
MMUST rugby club is keen to eclipse the success of other education institutional clubs such as Strathmore Leos, Blak Blak from Kenyatta University and UoN's Mean Machine and compete consistently in the Kenya Cup , in addition to churning out top talent to feed the national teams.
Playing in their first ever Kenya Cup, the university outfit has already sent warning shots to the big wigs of the league after flooring former Kenya Cup champions Mwamba RFC.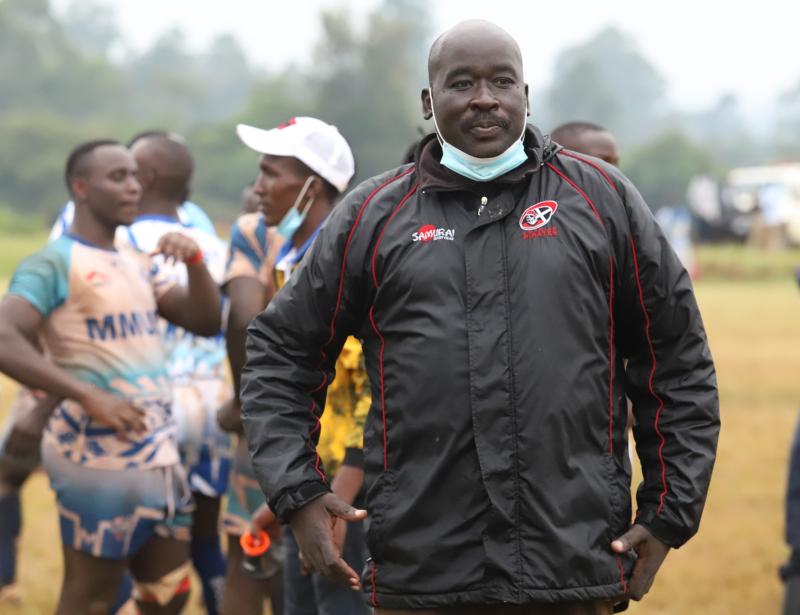 This crucial 12-6 victory came during the fourth round of the league last month before the league was suspend temporarily by the government due to Covid-19 pandemic.
Previously, the students had endured a difficult start to life in the top tier after a humiliating 56-0 loss to three time finalists Kabras Sugar and 23-10 loss to Top Fry Nakuru Rugby Club.
Take a quick survey and help us improve our website
Take a survey
However, while the fans and players celebrated their achievement on the pitch, two men have been responsible for the success the team enjoys. The team has earned so much from the services of MMUST head coach Ochieng Ahaya and his assistant John Asila.
"The victory against Mwamba, a formidable side with talent wealth including Kenyan great Collins Injera is not an easy stroll in the park. That was a statement win that we are not just joyriding but a side ready to compete," Ahaya told the Nairobian Sports.
MMUST are currently seventh in the log, four points above Mwamba, Impala, Nondies and Strathmore Leos, a position Ahaya believes would have improved if the government had not suspended sports activities to curb the spread of Covid-19.
"Teams are very lucky. We had just started to find our mojo and the team chemistry was almost perfect. We were very much ready to grind teams but the government pulled a break on our cruise and our dreams. However, we are eagerly waiting to hit the pitch running once again when it is declared safe to train and compete," Ahaya added.
MMUST story emerging from grace to grace has been championed by many before. However, their quick rise is what is leaving many famns dreaming of how far they can go.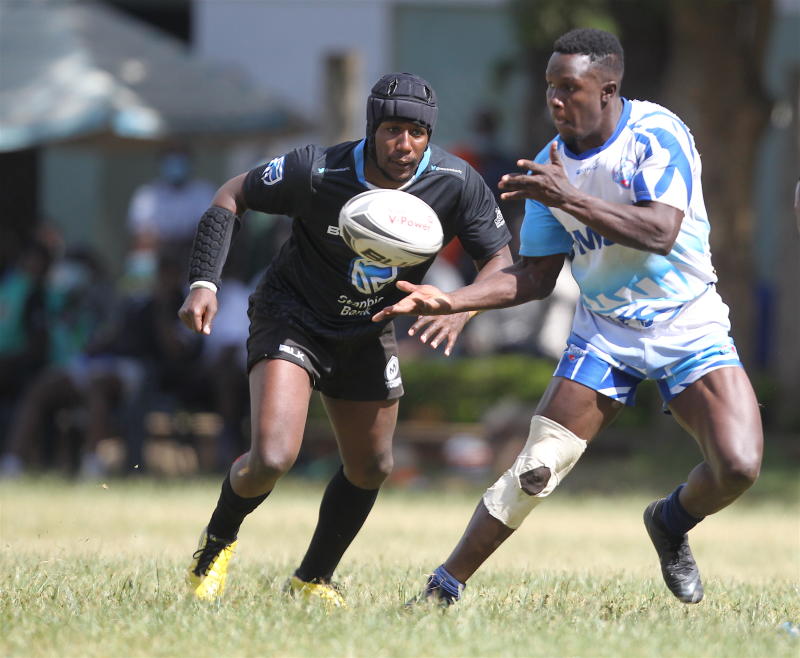 In fact, nobody remembers that it was MMUST which gave birth to Western Bulls and Kabras Sugar with the latter going on to make history as the second club outside Nairobi, after Nakuru RFC, to win the Kenya Cup in 2016. The clubs were to take over a formation similar to the South Africa rugby franchise.
The journey started in 2012 when MMUST merged with Kakamega Rugby Club to form Western Bulls with the advice of the then Kenya Rugby Union chairman Mwangi Muthee.
According to Asila, the merger for Kakamega Rugby Club formed in 2000 and MMUST in 2008, was in pursuit of producing a strong team that would represent Western Kenya in the top tier league.
"Ahaya bought the idea sold to him by the then KRU boss Muthee and we formed Western Bulls. MMUST's key players like captain Bram Shikanda and Chenge joined with other players from Kakamega RFC to form a united Western Bulls that immediately joined Kenya Cup in 2012," Asila explains.
However, MMUST reassemble another team a year later in search of regular playing time in the nationwide league before Kabras Sugar approached them again in 2014 looking to partner with their side and form their own club.
Kabras was then promoted to the Kenya Cup in 2014 but MMUST thought it wise to regroup again after disentangling from Kabras Sugar.
The students, determined to join Bulls and Kabras in the Kenya Cup, started their journey in 2018 after gaining promotion to the KRU Championship.
In their maiden season in the championship, MMUST finished fifth in a star-studded league that comprised Kisumu RFC, Western Bulls, Catholic Monks and USIU RFC.
Unfortunately, their dream of qualifying for the Kenya Cup went up in smoke after being knocked out by winners Kisumu RFC in the quarterfinal playoffs.
"We did not give up despite being bundled out. At the at a time we were enjoying good form. I believed we could make it and I am glad the boys stayed positive the following season," said the 40-year-old Asila.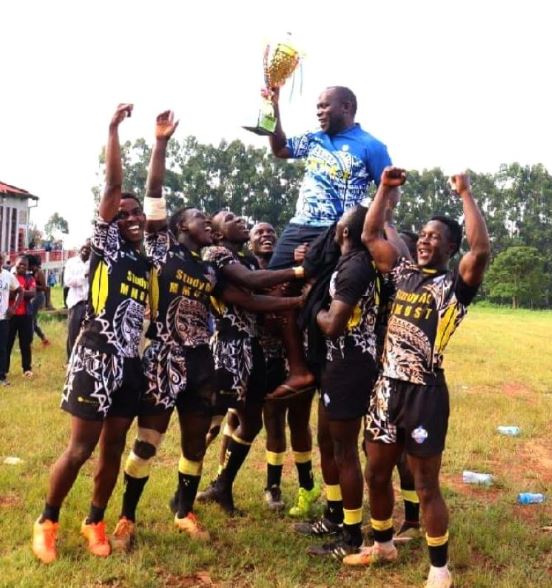 The 2019-20 season saw the relegation of Kenya Cup sides Mean Machine of University of Nairobi and Strathmore Leos, who were viewed as stronger sides and contenders for the two promotion slots. But they got a rude shock.
MMUST came out as one of the strongest sides in the championship in that season. They beat Mean Machine in their backyard before losing their only match of the regular season to eventual table toppers Strathmore Leos.
"It was not easy. In that season we gave it all and I am glad that the boys came through at a time when we most needed the wins," added Asila.
However, their dreams were delayed after Kenya was forced into a lockdown in March last year due to the coronavirus pandemic.
Their dreams were further shut when KRU predominantly cancelled the season with no promotion or relegation, a decision that was reversed to allow the playoffs, which were played earlier this year.
MMUST edged out University of Nairobi's Mean Machine 21-12 to become the first Western region university to qualify for Kenya Cup.
"It's hard to describe what we have achieved as a young team. We are more than excited to qualify for Kenya Cup. It makes us really happy and can't wait to brush shoulders with the big boys," a jubilant Ahaya said in an earlier interview.
The coaches thanked the university for their full support to the team, a gesture they say will propel them to be Kenya Cup contenders in the near future.
Furthermore, Asila notes with no promotion and relegation this year, his players have an opportunity to get exposed to playing rugby at the higher level for the national 15s and Sevens teams.
"Our vision is to win the Kenya Cup in the next coming years and make history as the second university after Mean Machine to lift the cup," said Asila.
Sports, sex and scandals
In the testosterone-driven world of professional sports, it should come as no surprise that stars are regularly caught up in...