Rugby: Kenya Rugby Union optimistic of receiving green light to restart training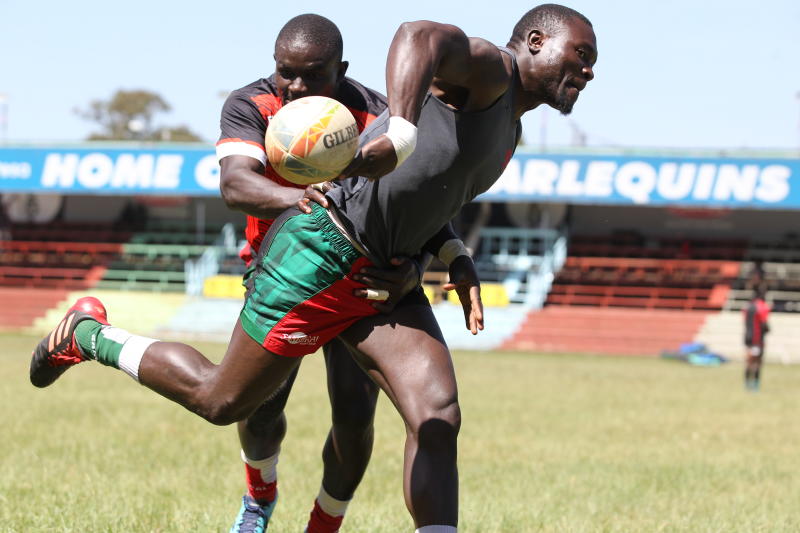 Many players underwent Covid-19 tests on Tuesday as team seeks government approval to head to camp.
After months of inactivity, the national men's rugby Sevens team Shujaa is set to resume training in readiness for next year's Olympic Games.
Shujaa, which is under the tutelage of Innocent Simiyu who was reappointed as the head coach in September, underwent coronavirus testing on Tuesday as they seek the government's green light to head to a camp organised by the National Olympic Committee-Kenya (NOC-K).
Kenya Rugby Union (KRU) Director Thomas Odundo said they are yet to receive the go-ahead from the Ministry of Sports to resume activities. He, however, confirmed that plans to send the team to camp this month were in place.
"We are still waiting to hear from NOC-K but their idea is to have the team resume training and receive physical assessment. The plan is to have only the tested players accessing the camp,'' Odundo said.
With the exception of captain Andrew Amonde, Collins Injera, William Ambaka, Oscar Ouma and Oscar Dennis who recently helped South African franchise SX10 to win the World Ten-Aside Series in Bermuda, 28 Shujaa players showed up at the RFUEA grounds on Tuesday, with a KRU source telling Standard Sports the players are expected to receive their test results before the weekend.
With the 2019-20 World Sevens Series ending prematurely due to travelling challenges caused by the coronavirus pandemic, Shujaa finished the season in 12th position with 35 points after six of the 10 legs were successfully played.
Having enjoyed a breakout season with the national Sevens team last season, KCB youngster Geoffrey Okwach is optimistic they will be allowed to go back to the field so as not to lose ground on some of their opponents ahead of the Olympics showpiece slated for Tokyo, Japan.
South Africa's Blitzboks is one of the teams which has started preparing for the Summer Games which will be held between July 23 and August 8.
"We shall be happy if the government allows us to resume training in a safe environment even if it involves working in small groups for a start. I feel we might lag behind some of our competitors and that's why we need to start working on our fitness without having to wait for next year since it might be too late,'' Okwach said.
The speedy winger is excited at the prospect of playing under new coach Simiyu, who is set for a second stint with Shujaa after taking over the team's reins from New Zealander Paul Feeney.
"I am prepared to work with him since he is a great coach who knows a lot of the players well. He will definitely bring new ideologies and we have to adapt to the changes,'' said Okwach.
Uncertainty surrounds the 2020-21 World Sevens Series, with the first four legs scheduled for Dubai, Cape Town, Hamilton and Sydney cancelled.