Court orders retrial of Frank Wanyama, Alex Olaba - Kenyan rugby players convicted of gang rape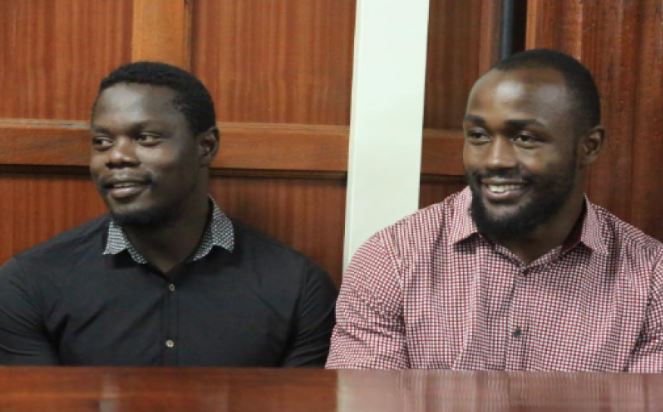 There will be a re-trial of former rugby players Frank Wanyama and Alex Olaba, who were last year found guilty of raping a woman, High Court has ordered.
According to reports, the High Court has also ordered the two be moved to Kilimani Police Station to prepare to take plea before Tuesday, July 11.
The court, in the ruling, noted existing records did not show whether one of the witnesses was sworn or not.
This case will now be heard again at a lower court.
In August last year, Milimani Chief Magistrate Martha Mutuku ruled that Frank Wanyama and Alex Olaba be jailed for 15 years each.
"The complainant was traumatised hence a deterrent sentence is necessary," she ruled.
The verdict was read in-camera, meaning only the accuser and respondents were present.
The rugby duo played for Kenya Harlequin and the national rugby 7s team.
They were charged with gang-raping a woman named WA on February 10 last year at an apartment in Highrise, Nairobi County.
The events that have now culminated into the sentencing started at a party in Spring Valley.
The artiste said one player lured her to his house after they left the party. According to her, the two raped her in turns, as she fell in and out of consciousness.
In a series of posts on social media, she narrated how she had been raped on her birthday.
WA claimed she became pregnant from the ordeal. She claimed to have gone to Nairobi South Hospital for a medical test.
Frank and Alex maintained the sexual escapade was mutually agreed.