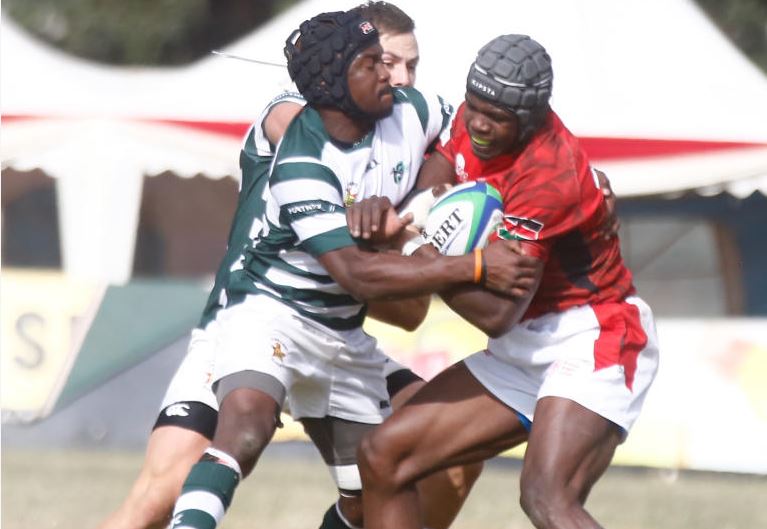 Kenya Simbas defeated Zimbabwe Sables 36-14 to finish runners up of Victoria Cup Championships at Nakuru Athletic Club last evening.
Kenya's victory was sweet revenge for the homeboys and a bitter pill for the Sables, who edged the Simbas 30-29 in Bulawayo two weeks ago.
SEE ALSO: Livewire Lukaku leads Inter Milan to Europa League semi-finals
Although the Zimbabweans won the Victoria Cup, they left disappointed from the defeat even as they received the cup from Kenya Rugby Union President Oduor Gangla in the presence of his Zimbabwean counterpart Martin Shawl.
Zimbabwean coach Brendan Dawson blamed their loss on unfair officiating from the referees, who he said called unnecessary fouls on his players.
SEE ALSO: Jesus prays for one more miracle in Lisbon
"It was evident the match was unfairly officiated with the referee calling unnecessary fouls on my players," Dawson told Standard Sports.
Kenya led 17-7 at half time from two tries by Vincent Onyala and Bonwell Gwinja with conversions by Anthony Onyango and Anthony Omondi as Anthony Odongo later converted a penalty. The Zimbabwean reduced the deficits from a try by Chibuwe Ngoni and converted by Dudley Whittle Sharpley.
SEE ALSO: Liverpool sign Greece defender Tsimikas from Olympiakos
After several subsitutions from both sides in the second half, the visitors were completely outplayed by the homeboys who banked on home support to terrorise the Zimbabweans resulting in three unanswered tries by Anthony Omondi and Sammy Were from the spadework of Onyala.
As a result, Omondi converted two tries but missed the first try by Were.
Onyala was voted as the Most Valuable Player for the Simbas.