Kenya Simbas ready to roar again
RUGBY By AFP | November 21st 2018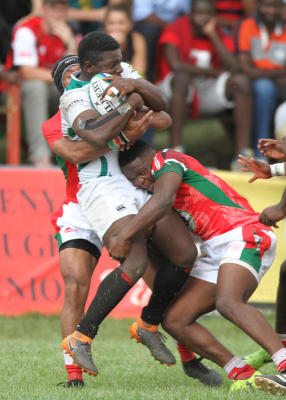 Wounded Simbas ready to roar again
National team to challenge athletics in coming years
How rugby has evolved in the shadows of Olympic athletics champions.
The one sport which has been associated with Kenya for decades is middle-distance running but the national 15-a-side rugby side is taking strides to change that.
Kenyan athletes are reigning Olympic champions in four track events as well as marathon title holders in both men and women's races and they have amassed more than a century of medals at various games since Tokyo in 1964.
In contrast, the Simbas (The Lions), led by New Zealander Ian Snook, have failed to claim a place at next year's World Cup in Japan after two defeats in the ongoing qualifying repechage tournament in Marseille, losing 65-19 to Canada and 42-17 to Hong Kong.
But team manger Wangila Simiyu thinks the sport is evolving.
"Rugby has really grown in Kenya, both in primary and secondary schools, especially in the (housing) estates," he said.
"The number of children playing this game is over 10,000, (ranging) from six to 18 years old," Wangila added.
Despite the surge in interest at grassroots level, the senior side still faces huge obstacles as it tries to climb from its world ranking of 30th.
"We lack a lot of financing to support the national team, to run the programme and camps that we require," Wangila said.
"We're actually struggling so much in terms of sponsorship. It's quite expensive to run a 15-a-side that lacks sponsorship and lacks the basics of sports like kit, having a stadium, nutrition and allowances for players," he added.
Wangila believes support is needed from politicians and authorities both locally and internationally.
"We have requested from the government to get financial assistance for the national team," he said.
"It's a shame, when you run a team to represent the country, you need all the support possible," he added.
Wangila said with Kenya having come so close to a first-ever spot at the World Cup, rugby's global administrators should also now step in.
"I'm appealing also to World Rugby to consider Kenya as a country that needs help and assistance," Wangila said.
"This is the second time we've been knocking on the door of the World Cup, without any resources. We need assistance, we need facilities, we need equipment, we need uniform, we need food!"
Coach Snook, who only took up his position in April, also sees the potential.
"If they are prepared to invest money in it, in infrastructures which they need to construct from the bottom, they could really go forward and develop," the 68-year-old said.
One Kenyan rugby success story comes in the shorter form of the game. The seven-a-side team has competed with the world's best for almost two decades as core members of the world series competing against the likes of Olympic champions Fiji and Commonwealth Games gold-medallists New Zealand.
The Shujaa won a bronze medal at the 2009 Sevens Rugby World Cup.