Ayimba slams new World Rugby rule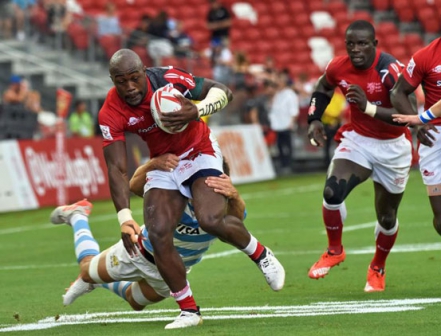 World Rugby's apparent plan to ban players from writing messages on strappings worn on their wrists in matches in the Sevens World Series has received widespread criticism across the globe.
The move was revealed to Associated Press by New Zealand players who said they had been warned they could be fined up to $1,000 (Sh1m) for breaking the rule which bans the appearance of any messages — personal, religious or political — on strapping tape.
Last season, Kenya winger Frank Wanyama played with a 'Webuye' writing on his left hand-strapping, while All Blacks prop Kane Hames was censured for writing a message on wrist strapping which supported Native Americans protesting against the routing of an oil pipeline through tribal lands.
But the decision has not gone down well with many administrators, with former Kenya Sevens coach Benjamin Ayimba terming the controversial rules as hogwash.
"I think it is a lot of hogwash. World Rugby are clinging on the excuses that people are out there to advertise, but a church is not an enterprise. What people mostly write there are their family names, loved ones, bible verses and probably crosses for many Christian nations that play there," Ayimba told The Standard Sports.
"So, to me, it doesn't make sense at all. What next are they going to ban? Tattoos or what? Because that's exactly the direction they are going.
"It might work yes because they are the authority but that's like limiting the freedom of expression to players. Being the authority, people might just follow it just because there will be repercussions, but otherwise it doesn't serve any purpose.
"Nobody should tell you what to write on your strapping or body while playing. It is your belief and in many cases it is our family lovers that we are inspired to play for," he added.
Ayimba's sentiments were echoed by the New Zealand Rugby Players Association chief executive Rob Nichol, who said the rule was "buried" in a participation agreement signed by teams ahead of this weekend's season-opening tournament in Dubai.
"I think the whole process that's been around it has been poor. It hasn't gone out for consultation and that's a big problem," Nichol told Fairfax media.
"It makes the game and themselves look a bit stupid. By just unilaterally making this decision and then imposing it on the athletes, that's just completely contrary to the values and the character of the game."
"From a rugby perspective, how prevalent is it?" he said. "I'd say 99.9 per cent of athletes that do it, there is nothing wrong with what they write."
Meanwhile, Kenya will face either USA or Jamaica in the round of 16 of the 2018 Sevens World Cup.